Green Bowl Beach: Climb Hundreds of Stairs to See the Beauty of a Surfer's Dream Beach
Green Bowl Beach is an alluring hidden destination with bowl-shaped corals covered in green moss at low tide, a unique sight that sets it apart from other beaches. It was originally only accessible by climbing 328 steep steps. The beach attracts surfers with its big waves, divers with its exotic underwater beauty, and also travelers seeking tranquility and unspoiled natural beauty. Green Bowl Beach is the perfect destination for a different travel experience in South Bali, with its captivating natural beauty and exciting activities.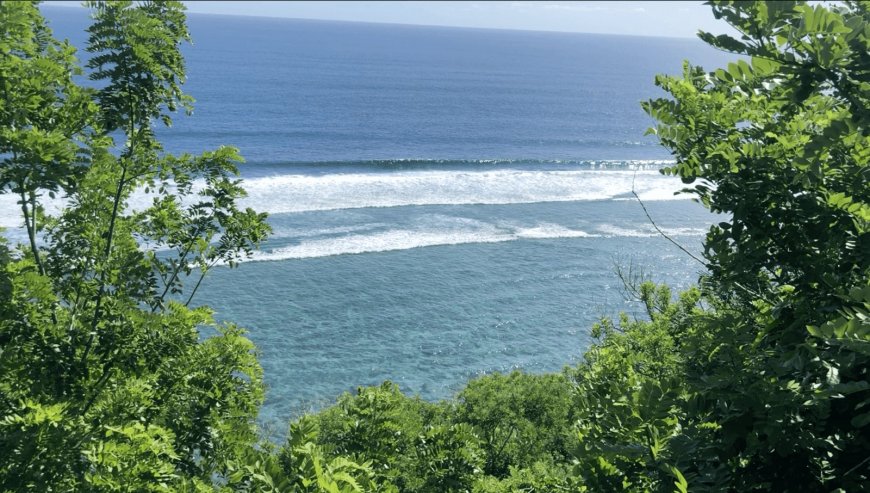 View of Green Bowl Beach from the Cliff (source: author collection)
The natural beauty of southern Bali is stunning with its array of white sand beaches, such as Kuta Beach, Tanjung Benoa Beach, Jimbaran Beach, Dreamland Beach, and Pandawa. However, behind the glitter of these popular destinations, there are hidden charms that require a little extra effort to reach. Green Bowl Beach is one of the answers. 
Currently, the only access to Green Bowl Beach is via 328 steps. Therefore, you should prepare enough stamina before visiting this beach and make sure to wear comfortable clothes so that you can do all activities freely and it is advisable to bring your own food and beverage supplies because there are no food or beverage vendors on this beach.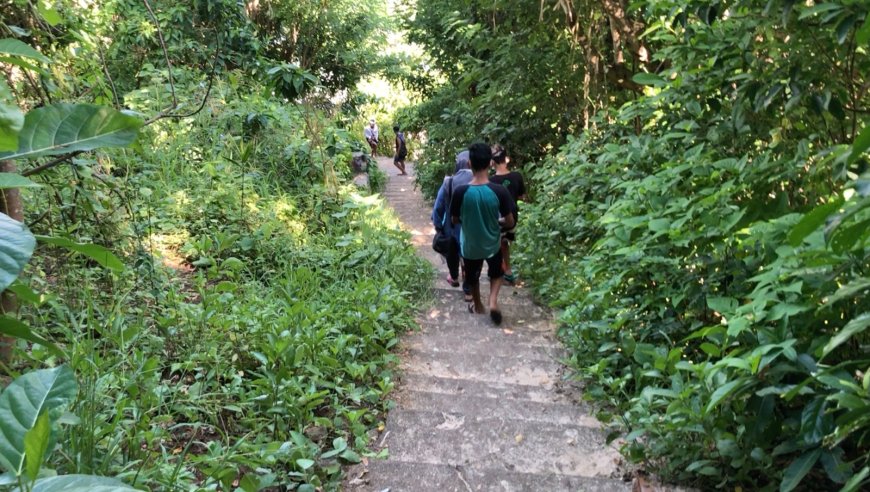 Road to Green Bowl Beach (source: author collection)
Although the access via hundreds of steps can be tiring, the beauty and experience offered by this beach is worth it. The beach is stunning, with clean white sand and clear water, surrounded by the Ungasan hills that add privacy and comfort in enjoying Bali's natural beauty.
Uniqueness of Green Bowl Beach 
Green Bowl Beach is unique with a cave in the beach area. In the cave there are hundreds of bats hanging around that will come out at night. This semicircular cave can also be an interesting photo spot, shade and this cave is also commonly used for Hindu prayers during the first month or certain events.
One of the Caves in the Green Bowl Beach Area (photo source: editorial collection)
Before being known as Green Bowl Beach, this beach was known as Bali Cliff Beach. The term "Bali Cliff" refers to the luxury Bali Cliff hotel that used to stand in this area. This place is also known as "Hidden Beach" because it is hidden and often difficult to find by tourists. This place is also known as Batu Pageh Beach because it is located under the Pura Dalem Batu Pageh.
But now, this beach is better known as Green Bowl Beach which means green bowl. This name was given because when the water recedes, there are bowl-shaped corals covered with green moss. In addition, when looking at the beach from the top of the cliff, the view resembles a green bowl. This is a distinctive feature that distinguishes it from other beaches in the vicinity.
Green Bowl Beach is a true example of a hidden natural wonder. Hidden behind a hill, its beauty is almost untouched by the crowds of tourists, making it a peaceful and serene place. For those looking for a different, away-from-the-crowd, and peaceful vacation experience on Bali's Island of the Gods, Green Bowl Beach is the perfect destination.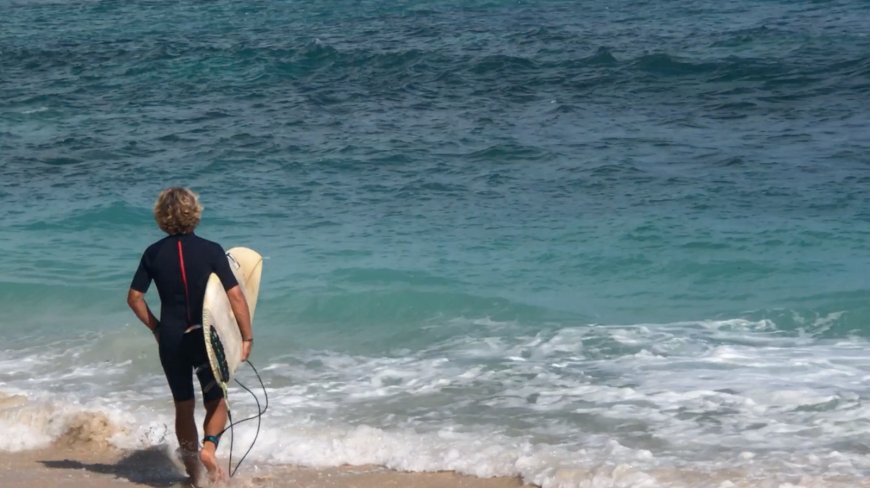 View of surfers on the edge of Green Bowl beach (source: author collection)
The location of Green Bowl Beach is on Pura Batu Pageh Street, Ungasan Village, South Kuta District, Badung Regency. Ungasan Village is a hill directly facing the Indian Ocean. Its existence facing the sea makes this beach offer a stunning and challenging coastal panorama for surfers.
Surfing is a very popular activity for visitors, especially by foreign tourists who want to try the challenge of facing big waves on this beach. It is not surprising that many tourists are willing to go down hundreds of steps while carrying a surfboard.
This beach hidden behind a hill combines the charm of white sand with the cliffs that surround it, creating a quiet, peaceful and impressive place. Undisturbed by crowds and pollution, a few wild monkeys are occasionally spotted amongst the trees, making this place very quiet from human activity. In fact, visitors to this area are also relatively rare, so this beach offers a peaceful and quiet atmosphere that makes visitors can feel the quiet and comfortable atmosphere as if they are on a private beach.