Alas Jerem: The Starting Point that Holds the Origin of Ketewel Village
The island of Bali is a tropical paradise that captivates the heart with its stunning natural beauty and charm as well as its rich cultural heritage. Within the wonders of this island, there are villages that have emerged as guardians of ancient heritage and priceless cultural treasures. In this beautiful skyline, Ketewel Traditional Village is one of the villages that adheres to authentic Balinese traditions and culture.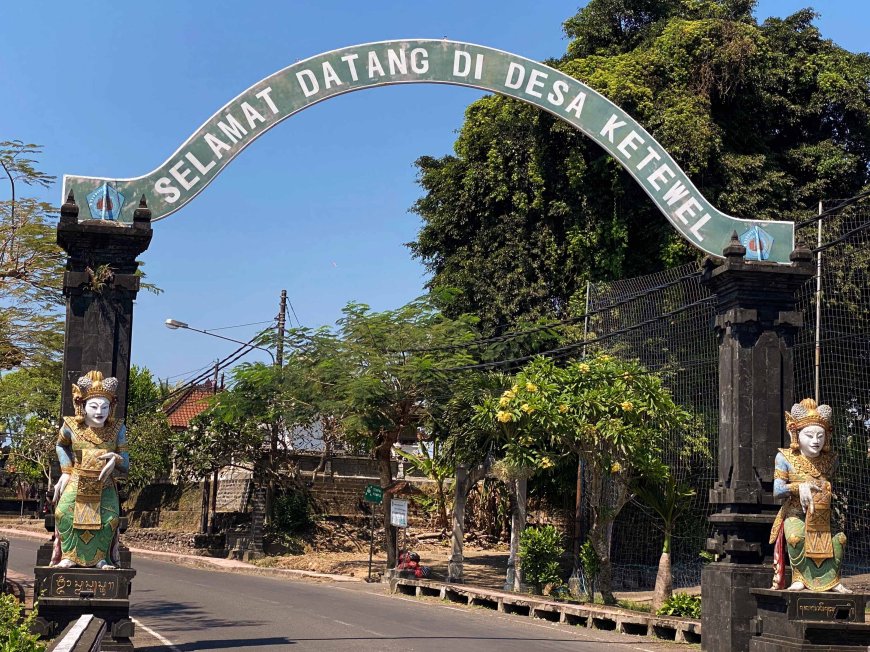 Ketewel Traditional Village (Source: Personal Collection)
Bali is often nicknamed the "Island of the Gods" because of its stunning natural beauty, rich culture and unique traditional villages. One of the villages that holds deep historical stories and cultural heritage is Ketewel Village. Geographically, Ketewel Village is part of Sukawati District, Gianyar Regency, Bali Province. Ketewel Village has an area of ​​6.75 Km2 or around 1.83% of the area of ​​Gianyar Regency and is at a position of 8°38'26"S South Latitude and 115°17'43"E East Longitude.
The geographical location of Ketewel Village is quite strategic, located close to the sub-district center and the center of the provincial capital, which is the center of trade. This opens up opportunities for the economic development of the Ketewel Village community, especially with good transportation facilities, including a quality road network and adequate vehicles. Furthermore, the existence of the Bypass Road that passes through Ketewel also opens up opportunities for the development of various new economic sectors.
However, as we go deeper to understand how Ketewel Village became what we know today, we must contemplate its long historical roots. The village's history stretches back to a distant era, when a marvelous old story was the genesis of Ketewel Village. In the historical record of "Raja Purana Payogan Agung Ketewel", Ketewel Village was established during the Gelgel administration.
It is said that there was a Pasek Prawangsa who came to Bali from Tulis Majapahit Valley. He was titled "Mangku Sang Kulputih" who became Pamongmong Widhi at Pasar Agung Besakih. He was very wise and studied divine philosophy. Mangku Sang Kulputih had two sons named I Wayan Pasek and I Made Pasek, who each had their own families and also understood the science of divinity.
Mangku Sang Kulputih served his role as the spiritual leader of Pasar Agung Besakih for a long time, and during this period, Bali was safe and peaceful. Eventually, however, Mangku Sang Kulputih died in a way called "Moksa", which means to free oneself from the cycle of birth and death. After Mangku Sang Kulputih's death, his son, I Made Pasek, decided to leave Pasar Agung Besakih along with his wife and child. They wandered into the forest, not realizing that they were secretly followed by a white parrot.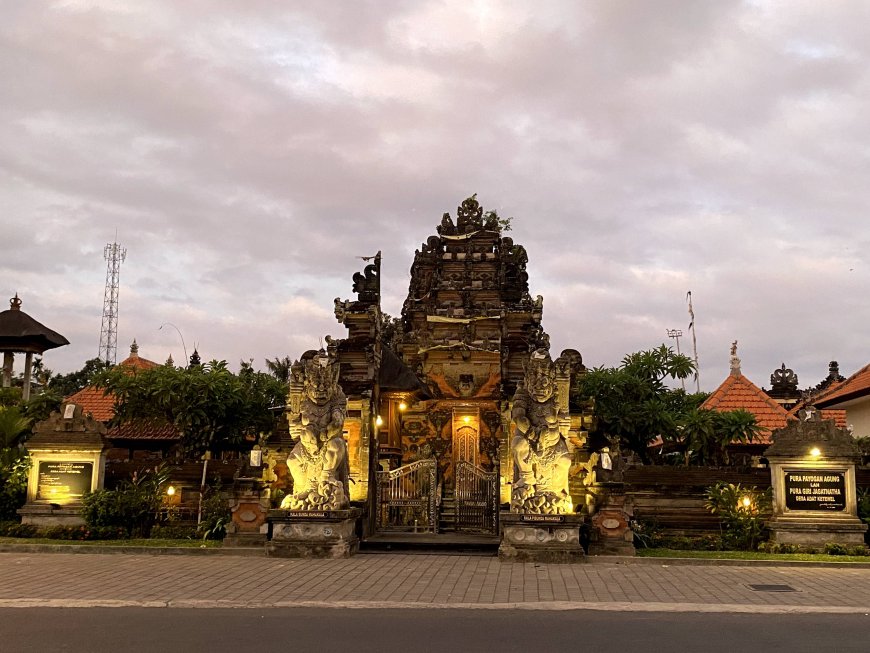 Payogan Agung Temple (Source: Personal Collection)
One day, when I Made Pasek was feeling very tired, the white parrot approached him and gave him three yellow seeds to eat. After consuming the seeds, I Made Pasek felt refreshed and continued his journey. He wandered in the forest for several years, until finally arriving at "Alas Jerem" or Jerem forest. It was here that he felt very tired and fell asleep at the edge of the forest. When he woke up, he felt as if he had been dreaming, but then a supernatural voice from the sky gave him a message. The message came from Hyang Pasupati who told I Made Pasek to stop his journey. He was given the sacred task of becoming Pamongmong Widhi in the Great Temple at Alas Jerem. Ida Hyang Pasupati changed I Made Pasek's status from the Pasek dynasty to the Dukuh dynasty with the title Dukuh Murti/Dukuh Sakti. In addition, he was asked to forget his old Pasek dynasty identity. After receiving the message from Hyang Pasupati, Dukuh Murti accepted his duty seriously. He lived his life as a pemangku in Payogan Agung Temple in Alas Jerem and served Hyang Widhi diligently.
Dukuh Murti's son Dukuh Centing lives on the Mercika pedestal (Mercika Wana). Dukuh Centing lived a very spiritual life by doing yoga semadi and undergoing brahmacari (not marrying). On the auspicious day of Soma Wage Dukut, Purnamaning Kasa, Dukuh Murti was called to return to the afterlife (passed away) by "Moksa" without leaving a body. He only left a fragrant smell and a drop of blood to convince his son, Dukuh Centing, that he and his wife had left this world.
One day, Dukuh Centing felt compelled to return to Alas Jerem and visit his parents. However, when he arrived there, he found a strange silence. Suddenly, he smelled a fragrant odor from the sky and found a drop of blood that provided evidence that his parents had passed away. With great respect, Dukuh Centing consecrated the blood and buried the ashes in the yard of his hut.
Some time later, Dukuh Centing returned to Mercika Wana to continue his spiritual life. However, one day he returned to Alas Jerem to go to Payogan Agung. Upon his arrival, he was surprised by the presence of two twin jackfruit trees that grew large in a short time. In addition, there was a baby's voice coming from inside the jackfruit trees. In his fear, Dukuh Centing heard a supernatural voice from the sky telling him that the trees were a sign that his parents had incarnated back into this world.
Dukuh Centing was assigned to cut down the jackfruit tree and two baby girls were born. On the instructions of Ida Hyang Pasupati, the boy was named I Gede Mawa who was later titled I Gede Ketewel. Meanwhile, the girl was named Ni Mawit Sari. Both children are punarbhawa/reincarnation of Dukuh Murti lanang wife. Ida Hyang Pasupati gave permission to all their descendants to use the name of the Ketewel dynasty and made Alas Jerem a village called Ketewel Village.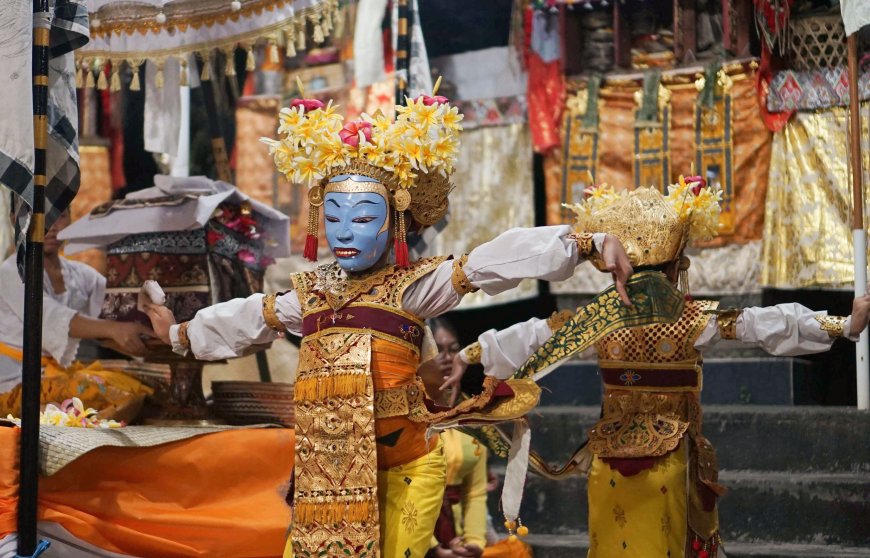 Legong Ratu Dedari Dance (Source: Personal Collection)
In every corner of Ketewel Village, traces of the past continue to live in harmony with everyday life. Tradition and dance have become an integral part of life and culture in Ketewel Village. The dances that are the most respected and preserved artistic expressions in Ketewel Village are "Legong Ratu Dedari" and "Topeng Ratu Lanang". Legong Ratu Dedari is a sacred dance danced by children who have not yet reached adolescence or have not menstruated. Based on "Raja Purana Payogan Agung Ketewel", the mask of Ratu Dedari was made by Ki Lampor from the Kingdom of Daha. Ratu Dedari's mask is made of Jorjenar wood as an offering to Ida Sang Hyang Pasupati on Mount Semeru. The Legong Ratu Dedari Dance Variety was created by I Dewa Agung Anom Karna who was inspired by a dream in his yoga semadi.
The movements in the Legong Ratu Dedari dance depict the movements of angels dancing in heaven. This dance is accompanied by Semar Pegulingan gamelan, which is named "Tabuh Subandar". The performance of Legong Ratu Dedari Dance is only performed during ceremonies both puja wali in temples and piodalan in the homes of residents throughout Ketewel Village. Legong Ratu Dedari dance functions as a repellent. Thus, if there is a plague in Ketewel Village, the people offer geti-geti pisang mas to Ratu Mas Suci Giri Suci and Ratu Dedari.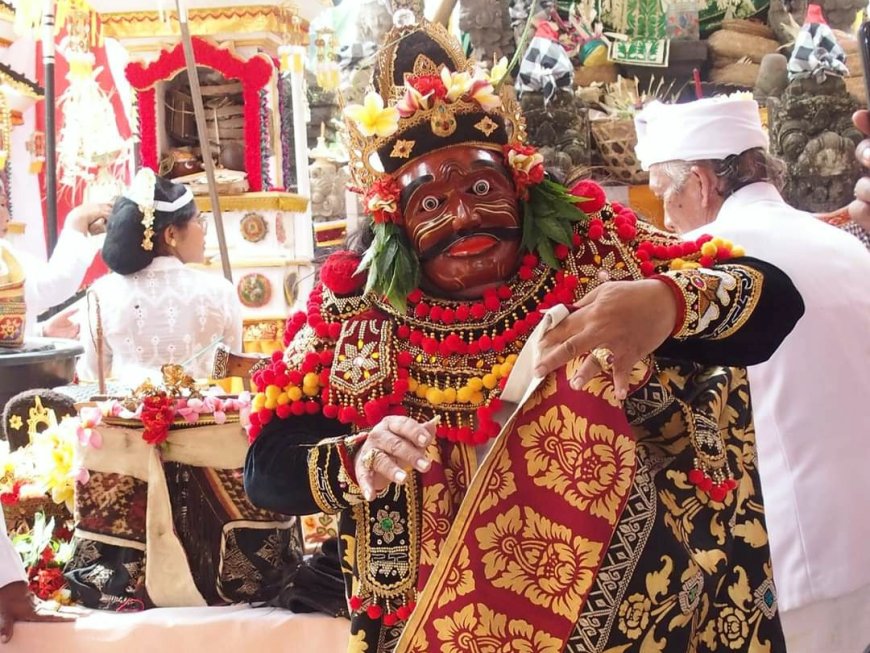 Ratu Lanang Mask Dance (Source: Personal Collection)
Ratu Lanang Mask Dance is a sacred dance that is only danced by men who have mewinten and mepedambel. The Ratu Lanang mask is made of maya wood and was made on the orders of Ida Sang Hyang Pasupati to Ida Bhatara Gana to imitate the faces of the Kings and Mantri in the Majapahit Kingdom. When finished, the mask is presented to Ida Sang Hyang Pasupati who resides in Payogan Agung Temple. Ratu Lanang Mask Dance functions as a repellent and can only be performed during the Mapedudusan Agung or Mapedudusan Alit ceremonies in kahyangan-kahyangan.
Ketewel Village is not just a place, but a long story of spiritual wisdom, devotion and cultural resilience. Ketewel Village is a priceless treasure, preserving ancient traditions with unwavering elegance. Through sacred dances such as Legong Ratu Dedari and Topeng Ratu Lanang, as well as a deep historical heritage, Ketewel Village tells a beautiful story of Bali that has spanned centuries. Every time we set foot in Ketewel Village, we are reminded of the rich ancient heritage that remains enchanting in the island often called the "Island of the Gods". Regardless of the passage of time, the cultural and spiritual richness of Ketewel Village will continue to enchant those who enter its gates, and be a lasting reminder of Bali's mesmerizing beauty.