Batubulan Puseh Temple: The Actualization of Art in Nandi Sculpture
Each temple has its own unique characteristics, with stunning architecture and sacred statues depicting Hindu mythology. Puseh Temple in Batubulan Village, Gianyar Regency, is one such temple and serves as a place of worship for Lord Vishnu. In addition, the temple also has a Nandi-styled statue associated with Lord Shiva. Statues have a central role in religious practice, representing deities or figures with divine traits, and are used as a medium to communicate with ancestral spirits. This demonstrates the important role of statues in the practice of Hinduism in Bali, where statues are an integral part of the ceremonies and spiritual beliefs of the local community.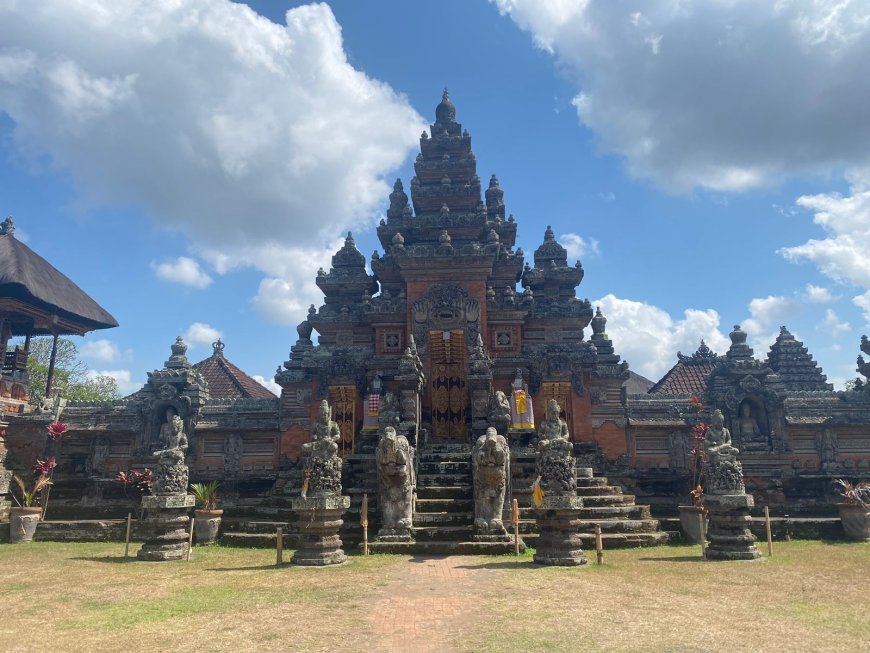 Batubulan Puseh Temple: Nandi Enthroned Statue (source: private collection)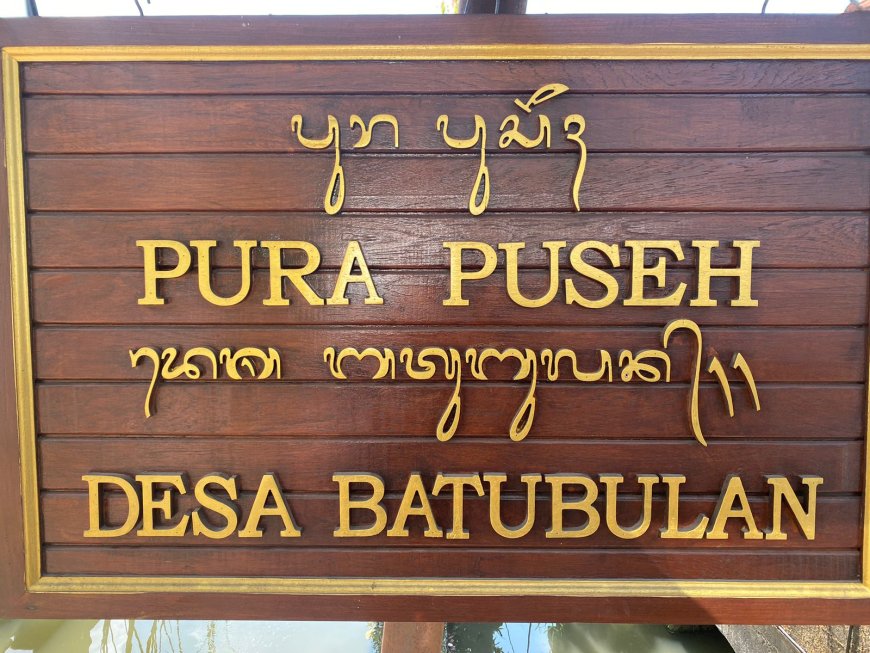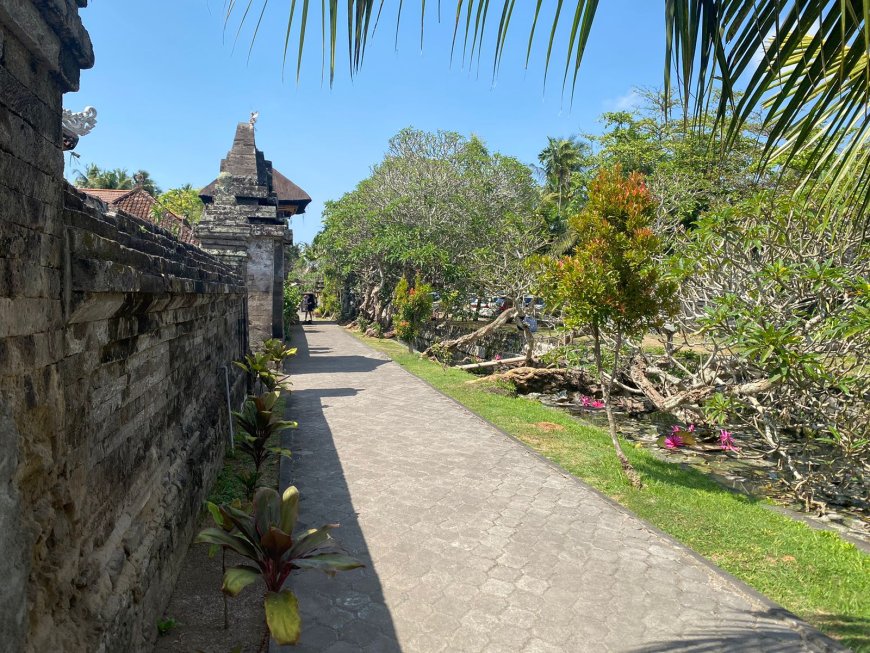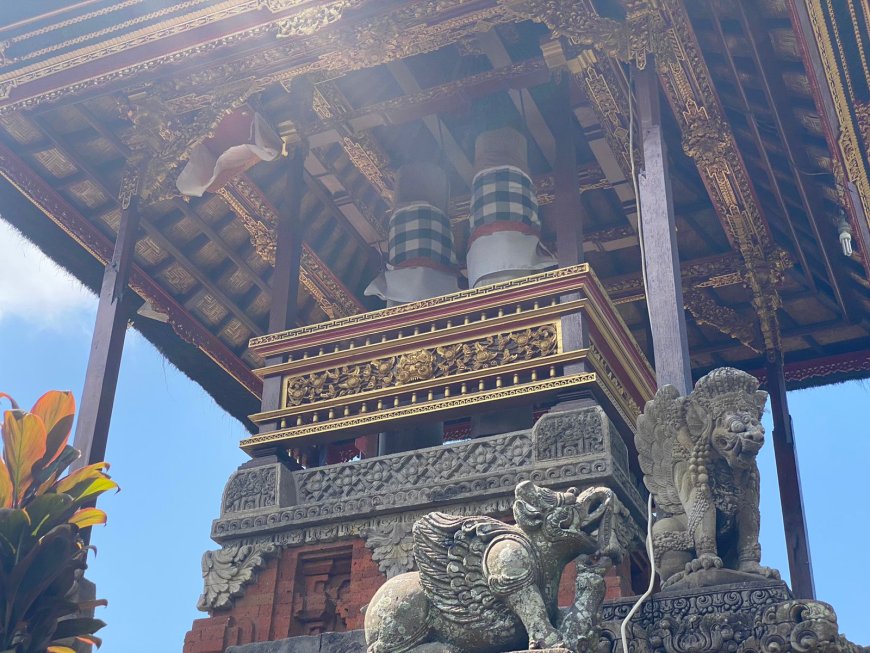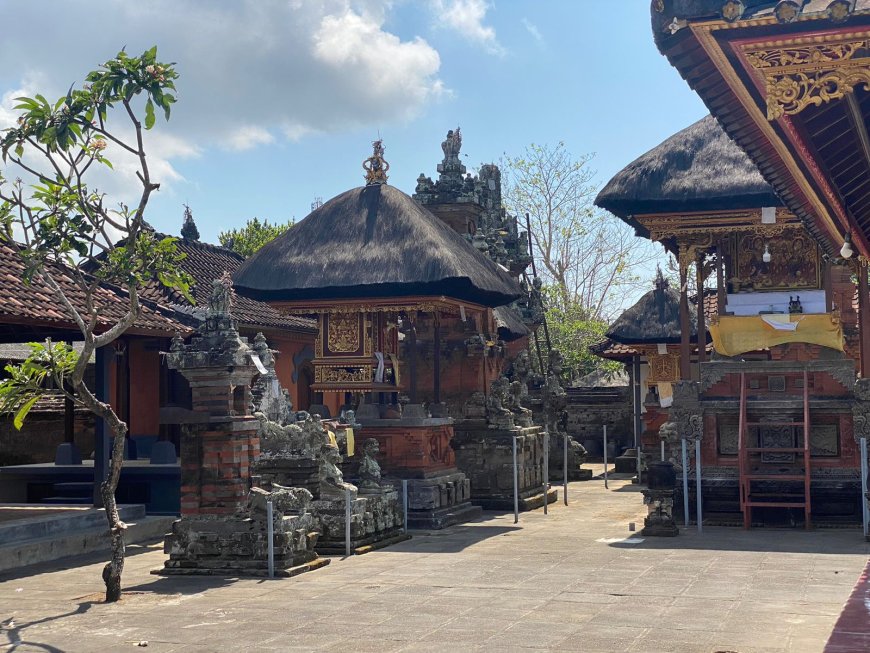 Amidst the glittering natural charm of Bali, with its sprawling white sandy beaches, lies a priceless cultural treasure - the temple. Bali is not only a heavenly destination for tourists seeking natural beauty, but also a place where Hindu beliefs and culture grow and flourish.
The temples scattered across the island are concrete symbols of Bali's deep spirituality. They serve as gateways to a higher world, where devotees gather to worship, meditate and celebrate religious ceremonies. Each temple has its own unique story and characteristics, carrying marvelous architecture and sacred statues depicting Hindu mythology, just like this Puseh Temple in Batubulan Village, Sukawati District, Gianyar Regency.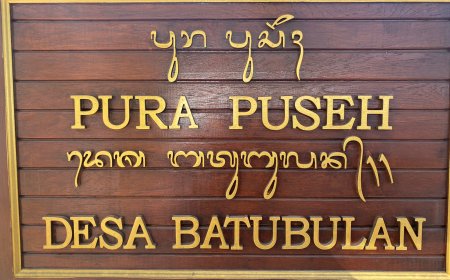 Signboard of Puseh Temple Batubulan Village (source: private collection)
Puseh Temple itself is one of the temples incorporated into Kahyangan Tiga in every village in Bali. The word Puseh itself comes from the word puser which means center. The word center here implies the center of the world's welfare that brings prosperity and happiness to mankind, so that ceremonies related to the abundance and blessings of life are held in Pura Puseh.
Pura Puseh is the dwelling place of Lord Vishnu as the preserving God of Hyang Widi's creation, who is depicted in statue art as Laksana with four hands, each holding a chakra, sangka and fruit or lotus bud. His vehicle is Garuda, while his magic is Sri or Laksmi (Goddess of Welfare). But unlike other Puseh temples, this Puseh temple in Batubulan has a Nandi statue which is closely related to Lord Shiva.
Madya Mandala of Puseh Temple Batubulan Village (source: private collection)
Statues have a central role in religious practice because they can represent gods or figures with similar properties to gods. The use of statues as a tool for communication and as a meditation tool in a religious context is governed by religious norms in the manufacturing process. The practice of worshiping ancestral spirits that has existed since prehistoric times is still maintained, and as society develops, this practice has changed. During this period, Balinese people erected buildings decorated with symbols symbolizing various things, which were used as a medium to ask for protection and safety from various threats.
The community believes that any protagonist or king who has passed away will always be present around the living community. Therefore, the community creates objects of worship, such as statues that are referred to as embodiment statues, so that they can remain connected to the main figure or king who has passed away. This explanation underlines that the role of statues is very significant in religious practice, especially in the context of Balinese Hinduism.
A statue depicting the characteristics of a deity can be used to identify the religious beliefs of its followers, such as the worship of Vishnu, Shiva, or Buddha. In accordance with the concept of the five components of religion described by Koentjaraningrat, this statue is included in the fourth component, which is referred to as religious ritual and ceremonial equipment. In its role as ritual or ceremonial equipment, this statue represents a king figure who has the form of a god who is respected and worshiped by the community that supports him.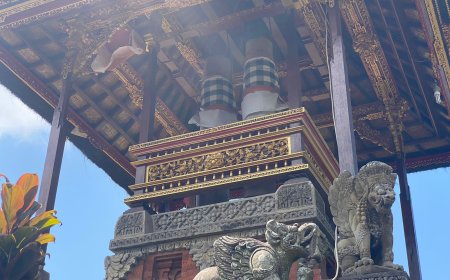 Bale Kulkul of Puseh Temple Batubulan Village (source: private collection)
The Nandi-embodied statue was found in Pura Puseh Batubulan and collected with other archaeological remains in Pelinggih Arca Kuno, a sacred building. There was one Ganesha statue, five embodiment statues, and four embodiment statue fragments. Observations show that the statue styles are the same from one to another with a rigid posture, unbalanced body proportions, frontal, a crown consisting of a lotus flower leaf arrangement, and a prabha clenched from above. In addition, there is a set-turn decoration on the right and left sides of the crown that seems to resemble a scorpion, which is referred to as a wing decoration.
The statue of Nandi consisting of the statue itself and the statue of Nandi has an overall height of 40 cm. The statue is 37 centimeters tall, while the Nandi statue is 26 centimeters tall and 38 centimeters long. There is also a 4 cm high lapik supporting the statue. The material for making this statue is gray solid stone. The statue depicts a figure sitting on Nandi and holding a noose rope, while the Nandi statue stands upright with its head facing upwards. Unfortunately, this statue has no head as it has been broken and lost. Hence, this statue is known as a Nandi-headed statue that is quite plump in appearance.
The Nandi statue that serves as the vehicle has the characteristic of standing upright with its head facing upwards as if being pulled by the statue it carries. Nandi has a curved tail that points downwards and has suffered damage and wear. There are five grongsiang ornaments around Nandi's neck, which reach down to the statue's lapik. In addition, there is a rope tied to Nandi's nose, both ends of which are held by the hands of the statue riding him. This Nandi-riding statue is sculpted in a very rigid manner and done in such thick detail that it can be categorized as a statue dating back to the Middle Bali period of the XIII-XIV centuries AD, as described by Stutterheim. This is also reinforced by other archaeological evidence similar to this statue.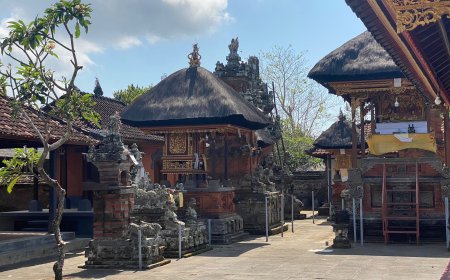 Utama Mandala of Puseh Temple Batubulan Village (source: private collection)
The making of the Nandi-ringed statue aims to depict the figure of a Shiva follower in ancient times. The shape of this Nandi-topped statue has very rigid characteristics, reflecting the Balinese Madya statue art that was used as a means of honoring the spirits of ancestors in the form of statues. In addition, these Nandi-topped statues also symbolize the spirits of ancestors who are considered as gods, and are used as objects of worship by the people who support them. They believe that this worship will bring prosperity in their lives in this world.
The Nandi-carrying statue in Pura Puseh Batubulan has a role as a tool for respect and as a means of communication with ancestral spirits. In the past, apart from being a representation of ancestral spirits, the Nandi-carrying statue also acted as a shield that protects from evil and danger. Nowadays, people believe that Nandi-topped statues are used as a medium to worship Lord Shiva as the creator, Lord Vishnu as the caretaker, and the sacred spirits of ancestors as one form of the Creator. Lord Shiva is worshiped to ask for safety, Lord Vishnu is worshiped to achieve prosperity, and the sacred spirits of ancestors are worshiped as a form of respect for ancestors who have been glorified.