Exploring Beji Guwang Hidden Canyon: Beautiful and Challenging
Only gaining popularity since 2015, the existence of this Hidden Canyon was once kept secret by the local community. Formed by natural river erosion over hundreds, if not thousands, of years, it has created a stunning gorge along the course of the river, located precisely in the village of Guwang, Sukawati District, Gianyar Regency. The Hidden Canyon Beji Guwang gained popularity after a photographer from Klungkung shared exotic and captivating photos of the Beji Guwang gorge on the internet.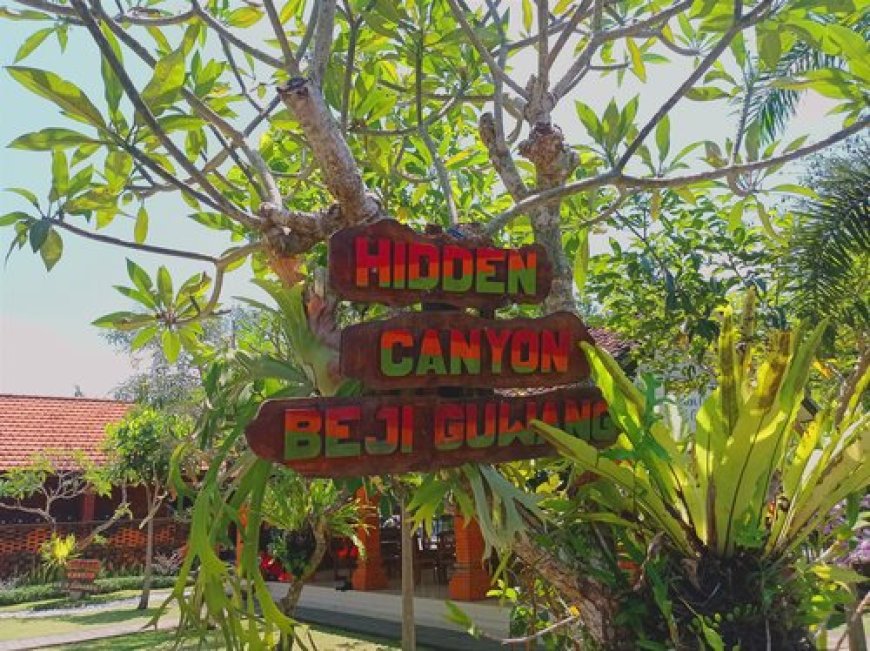 Hidden Canyon Beji Guwang (source : private collection)
Hidden Canyon Beji Guwang has existed for a long time, but its presence was initially kept secret by the locals due to the sacred nature of the place, often used as part of religious ceremonies by the local population. However, over time, the local residents began to develop Hidden Canyon as a tourist attraction to increase the village's income and the economic well-being of those living around Hidden Canyon Beji Guwang.
Hidden Canyon Beji Guwang is one of the stunning natural gorge tourist destinations in Bali. It is located in the village of Guwang, approximately 15 km from Ubud, and is a famous spot for adventurous and challenging outdoor exploration.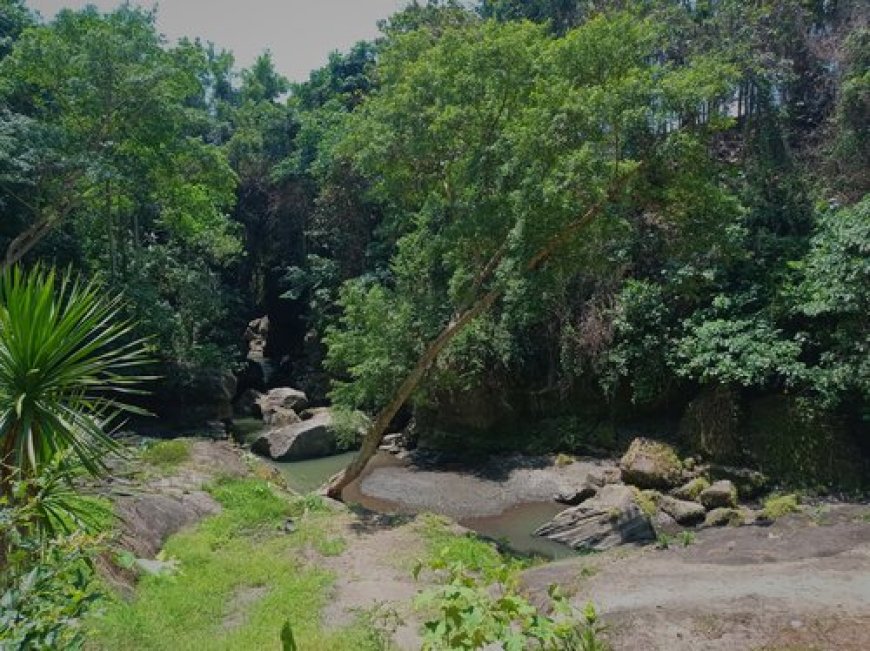 Hidden Canyon Beji Guwang (Source: Private Collection)
Hidden Canyon showcases the beauty of nature with a river flowing between steep cliffs on both sides. Tourists who visit Hidden Canyon Beji Guwang can enjoy trekking activities. With the assistance of local guides, tourists can descend along the river, which stretches approximately 750 meters and takes about two hours, all while enjoying the beautiful and captivating cliff scenery. During the journey, tourists will pass by local residents' farms and rice fields. At the end of the trek, they will pass by Guwang Mini Zoo, located in one of the local houses. Here, visitors can stop for a moment to take photos or even take selfies with various animals inside.
Here is a detailed explanation of some of the tourist attractions at Hidden Canyon that visitors can enjoy :
1. Rice Field Area, Local rice field owners fully support tourism activities on their land because with tourism at Hidden Canyon Beji Guwang, trekkers will automatically pass through the fields owned by local residents. The rice field area owned by local residents stretches widely around the entrance to the Hidden Canyon area.
2. Plantation Area, In the Hidden Canyon Beji Guwang area, there are plantations of cucumbers, watermelons, flowers, and more. These plantations belong to the local residents of Guwang Village. The produce from these plantations will be sold at traditional markets. These plantations can also be an attraction to pique the interest of tourists. Plantation tourism attractions provide an opportunity to learn about various types of plants, the farming process, and plant cultivation, all of which will be explained by local residents.
3. Fish Therapy Ponds, At the beginning of the journey before entering the river, tourists will be greeted with the sight of Pura Beji Guwang. This temple has eleven fountains used by local residents for traditional ceremonies and daily needs. Beneath these fountains, there are small ponds filled with small fish. This pond can also be an interesting natural tourist attraction because tourists can dip their feet into the fish pond, which serves for therapy and exfoliating dead skin cells from the feet, much like "fish therapy".
4. Guwang Mini Zoo, Guwang Mini Zoo is a house with a yard containing various rare animals, similar to a small zoo. After passing through the plantation area, tourists will go through the local residents' village in Guwang, and in one of the village houses, they will find Guwang Mini Zoo, which houses a variety of animals such as parrots, cockatoos, porcupines, civets, dogs, rabbits, snakes, bats, and iguanas. These animals can be photographed with tourists.
5. Pura Beji Guwang, Pura Beji Guwang is a temple located within the Hidden Canyon Beji Guwang area. This temple has eleven fountains that originate from natural springs. These fountains are used by local residents for prayers and daily needs such as drinking, washing, and cooking. The natural spring is considered sacred by the local community. Pura Beji Guwang can be an attraction to attract tourist visits because tourists can observe the activities of the local community, such as prayers, water collection, bathing, and more.
The Hidden Canyon Beji Guwang tourist attraction has very accessible access with well-paved road access that can be reached by various types of land transportation. Additionally, this tourist attraction is located close to other tourist attractions in Gianyar Regency, such as Sukawati Market and Guwang Art Market, making it easier for tourists to visit or explore nearby tourist locations along with Hidden Canyon Beji Guwang.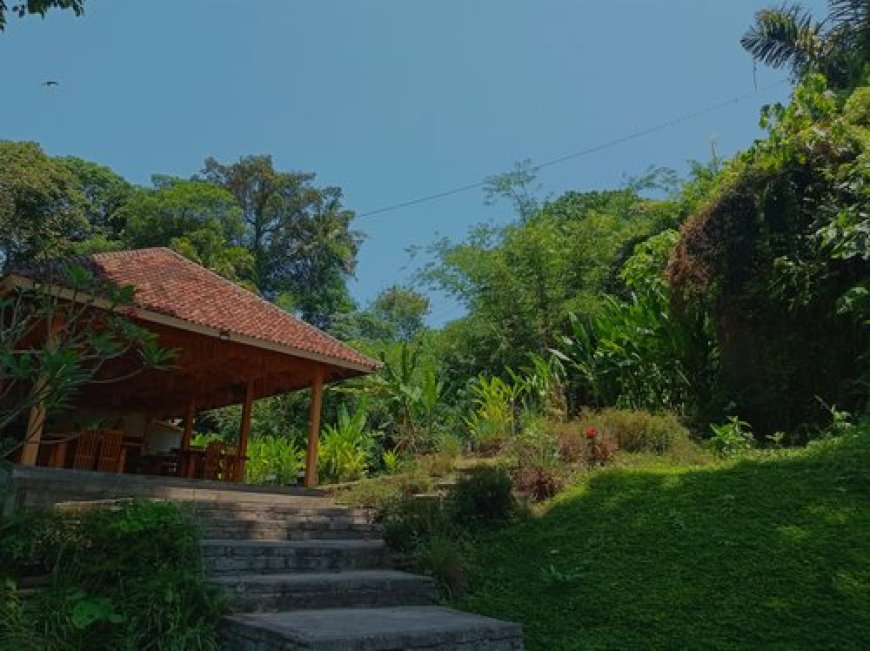 Hidden Canyon Beji Guwang (Source: Private Collection)
The facilities provided to support tourism activities at Hidden Canyon Beji Guwang are considered adequate, including ample parking space, public toilets for tourists, and small kiosks to meet the food and beverage needs of visitors while at the tourist location.
So, what do you think? For prospective tourists interested in the natural beauty of Hidden Canyon Beji Guwang and considering it as their next travel destination, Hidden Canyon Beji Guwang operates every day with long operating hours, from 08:00 to 17:00 WITA. The ticket price is Rp. 240,000/person, which includes a welcome drink, local guide, towel, locker, insurance, and a food voucher. With such a long operating hours, visitors can easily choose a suitable time to come. The best time to visit Hidden Canyon Beji Guwang is during the dry season. If you prefer to visit Hidden Canyon Beji Guwang when it's less crowded, consider going on weekdays. Enjoy an unforgettable vacation in Bali by exploring the best spots of Hidden Canyon Beji Guwang!