The Story of a Beautiful Woman Statue that eventually became Pangembak Dalem Temple
If we talk about the Mertasari area in Sanur, of course what comes to mind is that the Mertasari area is only famous for its tourist attraction, the beach. However, there is an interesting story about Pura Dalem Pangembak, one of the temples located on the west side of the beach which has a story that this temple was built with the origin of a beautiful female statue.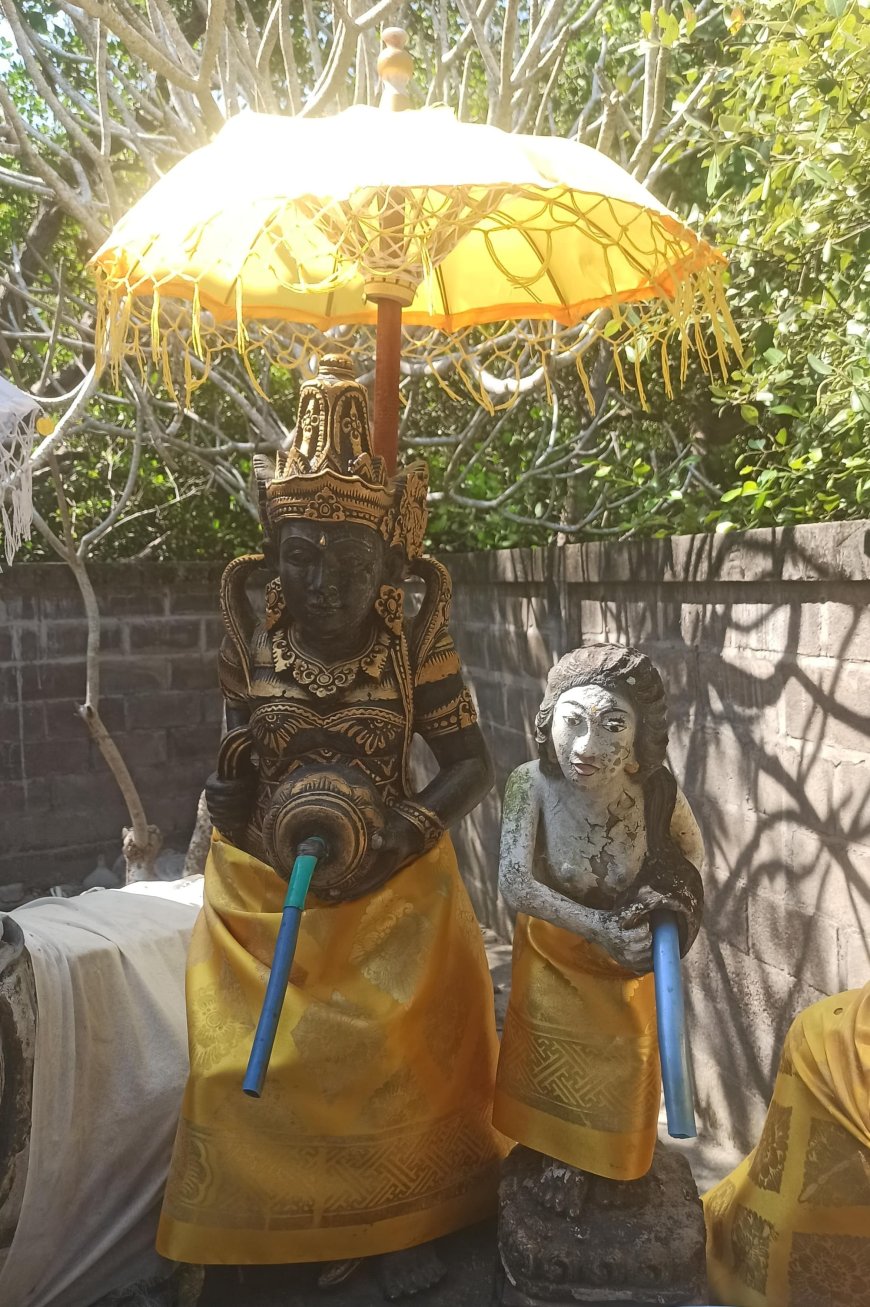 Beautiful Woman Statue as the Origin of Pangembak Dalem Temple (Photo Source: Editorial Collection)
Pura Dalem is a temple that in Hinduism has a function as a temple to worship Lord Shiva as part of the Tri Kahyangan or Kahyangan Tiga found in every village in Bali Province. In addition, Pura Dalem also has a close relationship with Setra and Pura Prajapati which is a place for the worship of cosmic nature in neutralizing positive and negative forces. This is based on the belief of the Hindu community in ancient times that Pura Dalem is a place for worship to the main Goddess of the Bhairawa Sect, namely Dewi Durga. Pura Dalem Pangembak is a temple located in the Pakraman Intaran Village, Mertasari, Sanur, Bali. Pura Dalem Pangembak is a sacred place for Balinese people, especially Hindus, to perform a holy bathing ritual known as Melukat. Pura Dalem Pengembak has been used as a sacred place for Melukat since the 1920s.
According to Jro Mangku Made Ranten, who is the only Pemangku in Pura Dalem Pangembak, this temple was originally owned by his grandfather named I Wayan Netep. In ancient times, I Wayan Netep found a coconut tree trunk when he was herding cows in the area around Pura Pangembak which was still a forest. At that time, I Wayan Netep accidentally chiseled the wood from the coconut tree and turned it into the shape of a statue with a beautiful woman. Then unexpectedly, the beautiful female statue made by I Wayan Netep suddenly smiled at I Wayan Netep. Instantly I Wayan Netep was shocked to see this and he eventually fell unconscious. While he was unconscious, he felt like he was being invited for a walk by the ruler of the supernatural realm found in the forest area. This supernatural ruler has the name I Gusti Ngurah Jom. During the trip, I Wayan Netep was asked to carry out a series of treatments to help people, such as helping people who have difficulty in having offspring, helping people who are sick, and helping money people need positions. From the wood carved by I Wayan Netep in the form of a beautiful woman suddenly released water. The water will then be used to treat people who are sick or who have various other types of problems.
After starting to wake up from fainting, I Wayan Netep was given Paica in the form of a white crow. According to his instructions, if there is a white crow that comes to I Wayan Netep's house, then it indicates that there are people who are in need of help coming to the location where the wood was found. When someone came and was eventually healed, I Wayan Netep finally believed in the advice he got. After that, I Wayan Netep finally made a pelinggih which was still in the form of a turus lumbung. People who came for treatment and help at that time were not just anyone. Only certain people who obtained a psychic or people who had spiritual abilities could come to the place. This is because there are still many people who do not know the information and existence of the place.
As time went on, more and more people began to arrive, I Wayan Netep then made an effort to build a simple pelinggih made of coral obtained from the sea which was finally piled into several piles. However, at that time I Wayan Netep did not make a proper ceremony so that it caused I Waya Netep to eventually fall ill. When he was sick, he was visited supernaturally by Sesuhunan Ida Ratu Ayu Mas Manik Meketel. At that time, Sesuhunan Ida Ratu Ayu Mas Manik Meketel gave pawisik when she had the desire to melinggih in that place (pelinggih). However, to be able to do so, the pelinggih must be prayed first and I Wayan Netep was asked to come to Peranda in Griya Delod Pasar Sanur.
After the incident, at dawn I Wayan Netep suddenly recovered from his illness. At that time, without thinking, he immediately asked for guidance and headed to Griya Delod Pasar Sanur. There he met Ratu Peranda and Ratu Peranda provided a solution to make the necessary ceremonial facilities to be able to elevate Sesuhunan Ida Ratu Ayu Mas Manik Meketel in the temple. After that, Ratu Peranda also gave a name for this temple, namely Pura Dalem Pangembak. The name of Pura Dalem Pangembak is based on the history that shows that a long time ago, right next to the temple there was a large river named Tukad Pangembak. In addition, a clue was also obtained that Ida Sesuhunan Ratu Gede Dalem Ped Nusa Penida would also worship at the temple to nyarengin Sesuhunan Ida Ratu Ayu Mas Manik Meketel. Because of this, finally there is also a pelinggih penyawangan for Ida Sesuhunan Ratu Gede Dalem Ped Nusa Penida.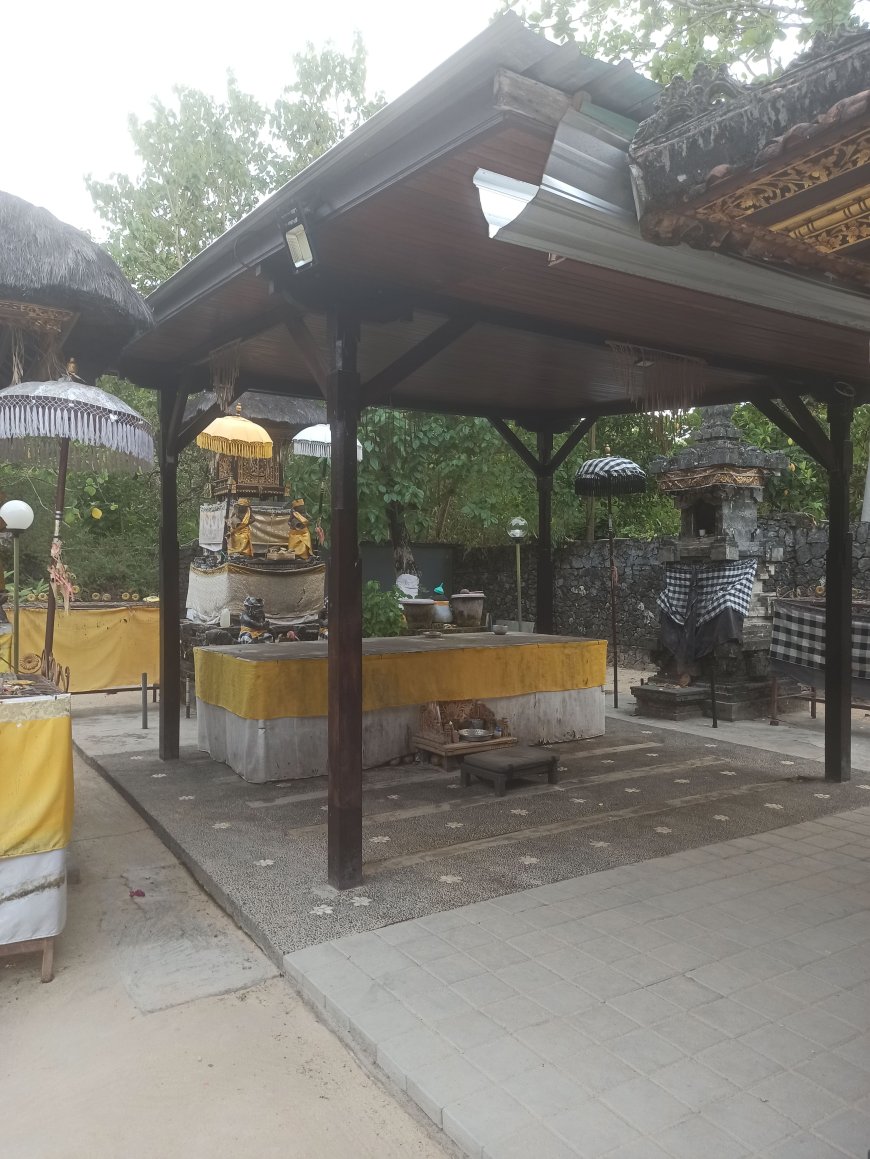 Pangembak Dalem Temple Area (Photo Source: Editorial Collection)
Melukat ritual performed at Pura Dalem Pangembak aims to be able to ask for niskala self-cleansing. This self-cleansing aims to eliminate niskala pain, abnormalities and the like, or ask to be given offspring for married couples who have difficulty having offspring. In addition, melukat at Pura Dalem Pangembak can also ask for help for smooth business or business. The Melukat process at Pura Dalem Pangembak begins with bathing in the campuhan located to the west of Pura Dalem Pangembak. This campuhan has a function as a treatment so that if there is someone who has a disease niskala will scream when bathing or soaking in the campuhan. Furthermore, after bathing or soaking in the campuhan will be followed by the melukat process using bungkak nyuh gading. This melukat has a function to be able to dissolve all types of niskala diseases or nganyutin mala contained in humans. After completing the melukat process at campuhan, it will then be continued with melukat performed at Jaba or in front of Pura Dalem Pangembak using bungkak nyuh gading and tirta obtained from Pura Dalem Pangembak. This has a function to do self-cleaning and ask for guidance to Ida Sesuhunan in Pura Dalem Pangembak.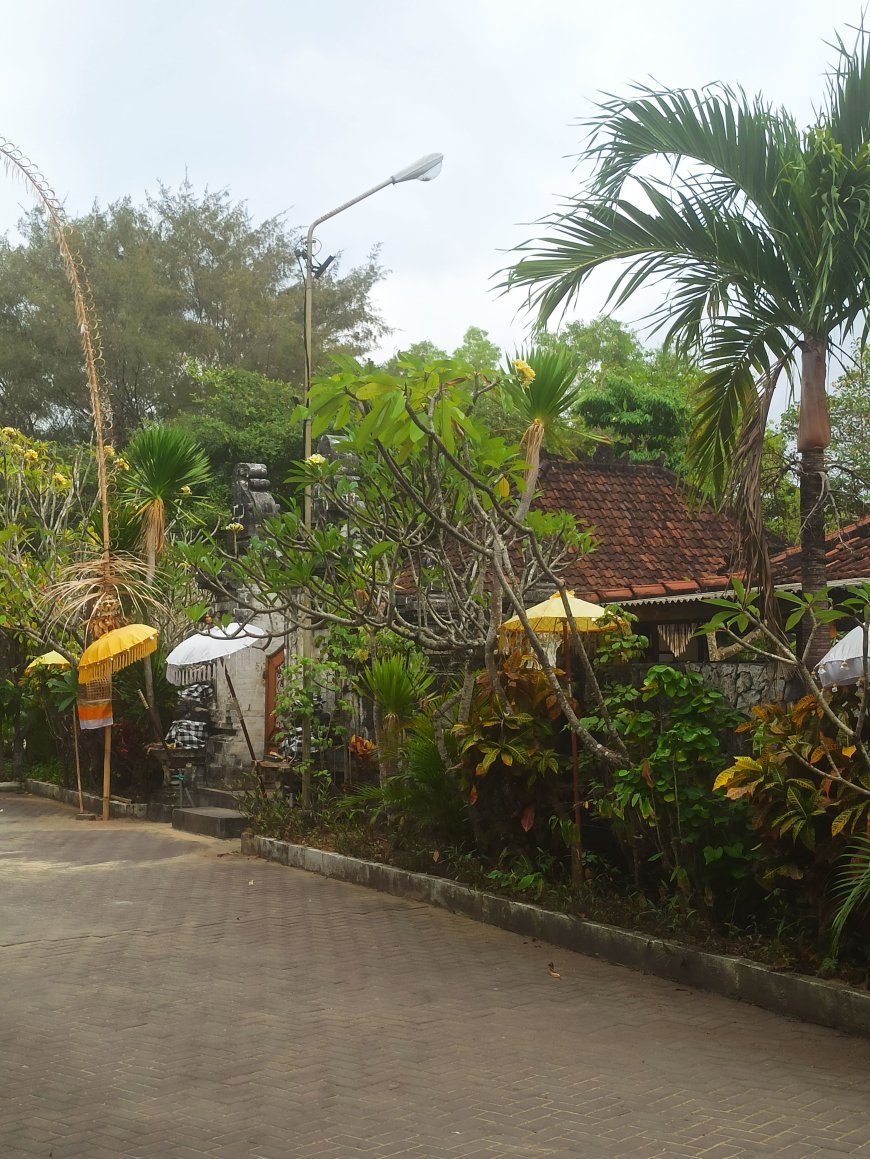 Outer area of the temple (Source Photo: Editorial Collection)
According to Jro Mangku Made Ranten, the facilities that are generally brought for the melukat process consist of 2 pieces of pejati and 2 pieces of bungkak nyuh gading. However, if the pemedek (people who want to do melukat) only offer canang, it will still be accepted to do melukat at Pura Dalem Pangembak. To be able to perform the melukat ritual at Pura Dalem Pangembak, it can be done at any time except during Pasah or when the full moon/tilem falls right on the day of Pasah, during Galungan, and when Ida Sesuhunan Nyejer on Piodalan which falls on the Purnama Kadasa day.