Unveiling the Hidden Charms in Belok Sidan Village
Starting with its natural beauty, steep cliffs, beautiful waterfalls, abundant natural resources, lush hills, and eye-catching marigold flower gardens, all of these natural wonders can be enjoyed by visiting just one village, a village nestled between Kintamani and Bedugul, namely Belok Sidan Village.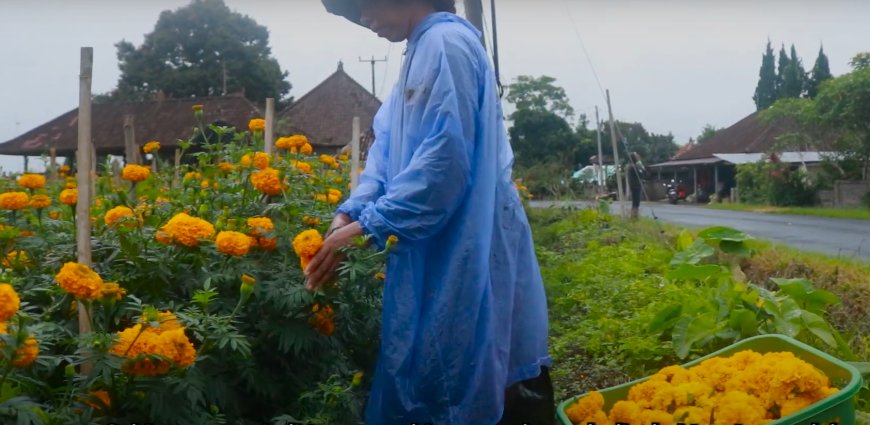 Marigold Flower Farmers (Photo Source: Pujangga Nagari Nusantara Channel)
Desa Belok Sidan is a village located in the Badung Regency, Bali Province. Every name has its own background, meaning, and history, and the name Desa Belok Sidan is no exception. In the past, on the island of Bali, the Buleleng Kingdom attacked the Pahyangan Kingdom. During the Buleleng Kingdom's attack, their troops passed through a village named Desa Lantang, which was a crossing route to the Pahyangan Kingdom at that time. The inhabitants of Desa Lantang, feeling unsafe during the attack, decided to relocate to a nearby area to secure themselves. After the victorious attack by the Buleleng Kingdom, the inhabitants of Desa Lantang, who had temporarily evacuated, decided to return to Desa Lantang. However, some of the residents chose to stay in the area, which was then named Desa Kisidan, where "Kisidan" in Indonesian means "relocation." Over time, the word "Kisidan" in the village's name evolved into Desa Sidan. Initially, Desa Belok and Desa Sidan were two separate villages, with Desa Belok consisting of Banjar Belok, Banjar Bon, Banjar Lawak, Banjar Jepanang, and Banjar Sekarmurti, while Desa Sidan consisted of Banjar Sidan, Banjar Selantang, and Banjar Penikit. However, in 1957, these two villages decided to merge into one under the name Desa Belok Sidan, representing the unity of two villages.
Over time, Desa Belok Sidan has developed into one of the tourist villages in Bali. There are various tourist destinations to be found in Desa Belok Sidan, ranging from natural beauty to marigold flower gardens and numerous agrotourism attractions. One of the natural beauty attractions in Desa Belok Sidan worth visiting is the Sudamala waterfall. Apart from promising beautiful scenery, the local community also believes that bathing in Sudamala waterfall can cleanse and heal from diseases caused by black magic. Besides Sudamala waterfall, there is another unique waterfall in Desa Belok Sidan, known as Penikit waterfall. This waterfall can be considered unique because it also has a hot spring, allowing visitors to experience both freshness and warmth in one place. Additionally, like Sudamala waterfall, the people of Desa Belok Sidan believe that bathing in Penikit waterfall can cure skin diseases. Besides waterfall tourism, the beauty of cliffs, steep ravines, and hills can also be enjoyed in Desa Belok Sidan.
One popular tourist attraction in Desa Belok Sidan is the marigold flower garden often known as Gemitir Garden. To enter Gemitir Garden, visitors only need to pay 5,000 Indonesian Rupiahs per person to enjoy the beauty of a field filled with marigold flowers. As far as the eye can see, visitors will be delighted by the vibrant orange color of these marigold flowers. Uniquely, marigold flowers can grow in various seasons, so visitors can enjoy them at Gemitir Garden anytime they come. With the beauty of the marigold flower field, Gemitir Garden is very popular among young people as it is considered one of the Instagrammable tourist destinations.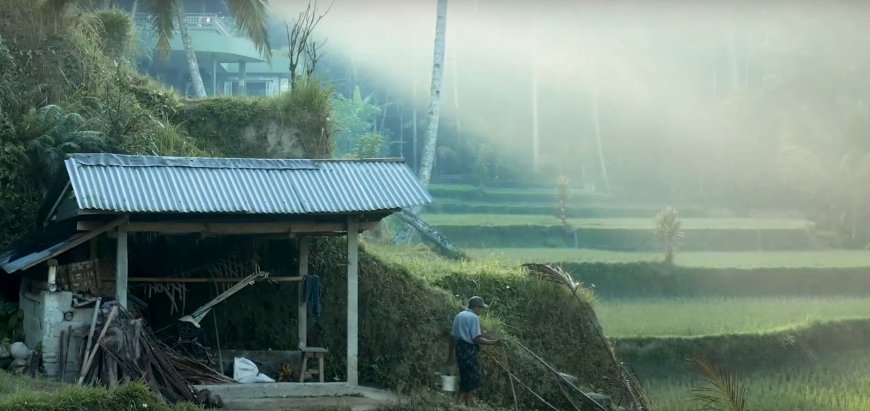 View of Belok Sidan Village Fields (Photo Source: Pujangga Nagari Nusantara Channel)
Desa Belok Sidan stands 1,500 meters above sea level and is a mountainous area with fertile soil, making it very suitable for farming and agriculture. Despite becoming a tourist village, farming remains the livelihood of the majority of Desa Belok Sidan's population. About 85% of the people in Desa Belok Sidan work as farmers or gardeners, and it cannot be denied that farming holds deep meaning for the residents of Desa Belok Sidan. The agricultural and horticultural products from Desa Belok Sidan are diverse and of high quality. One notable product is Asparagus Officinalis L, or asparagus. Asparagus grown in Desa Belok Sidan is of promising quality, resulting in good market value. This is why most farmers in Desa Belok Sidan are happy to cultivate asparagus. This makes asparagus the pride of Desa Belok Sidan. Besides vegetables, there are also fruits and agricultural products such as oranges, durians, and coffee that are of high quality and competitive in the market. The rapid development of agriculture and horticulture in Desa Belok Sidan is also a major attraction for visitors interested in agrotourism. Here, visitors can experience the daily lives of farmers and gardeners, learn about farming techniques used, and even participate in specific farming activities.
With its stunning natural beauty, rich and fascinating history, and abundant natural resources, Desa Belok Sidan is a destination not to be missed when you are on the Island of the Gods, Bali. Desa Belok Sidan is a place that reveals the hidden charm of Bali, offering an unforgettable experience for its visitors.