Pesiraman Dalem Pingit: Self-Purification in the Stana of Goddess Uma and Gangga
Melukat is a ritual in Hinduism in Bali. The activity of melukat is essentially self-cleaning, especially mentally. The aim of Melukat is to purify the soul and body so that they become holy, calm and peaceful. The natural beauty of Sebatu Village Waterfall is quite beautiful and attractive, so for those who like spiritual tourism and adventure in nature, you must definitely come to Sebatu Village Waterfall, this place is also famous as Pesiraman Temple Dalem Pingit. This place is located in Sebatu village, Tegallalang, Gianyar.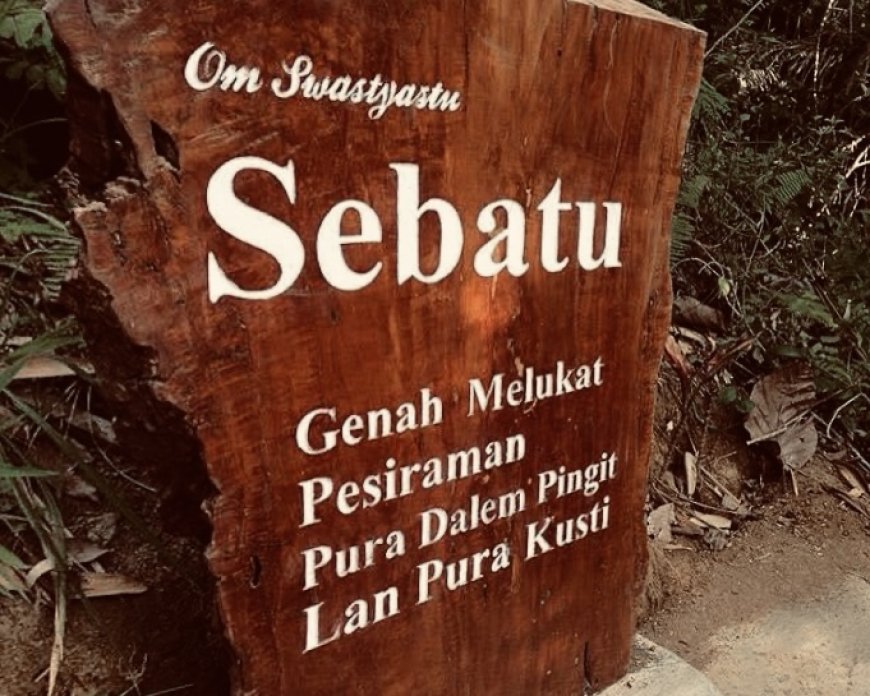 Signpost to enter the Pesiraman area of ​​Pura Dalem Pingit (Source: Private Collection)
Sebatu Waterfall is also worthy of being used as a tourist attraction in Bali, its location is at the bottom of a valley which offers views of tropical trees and cliffs with a number of springs around it, this place is also a special waterfall, especially among Hindus, because it functions as a place melukat to purify oneself and spiritually, because of this belief this place is always crowded with visitors, especially by local residents. This place is known as Genah Melukat and the location is called Pesiraman Dalem Pingit.
Balinese people do believe in supernatural things, with existing evidence the community considers this place to be a holy place whose purity must be maintained, so that the people and visitors of the place maintain its preservation and cleanliness, just like Sebatu Waterfall believed to bring good luck, can purify oneself spiritually, eliminate various diseases and this is proven by the stories of people who have visited here and come more than once to perfect the treatment process.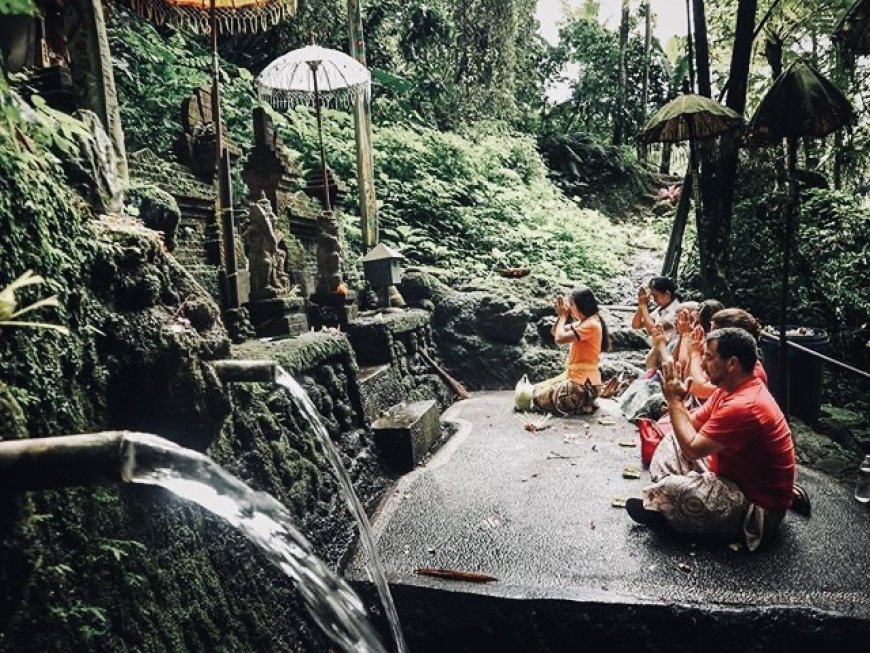 Tirta (holy water) fountain in Pesiraman (Source: Private Collection)
According to local people, Pesiraman Sebatu was first discovered on November 19 2007 by foreign guests who intended to enjoy the natural beauty hidden in Sebatu Village. Together with his guide, he arrived at a waterfall that was not that high with a water flow that was very clear and refreshing. Wanting to feel the coolness, he took a shower and splashed himself with the sound of the waterfall. However, how shocked he was when the water that was previously clear was found to be cloudy like water soaked in rice. He was scared and immediately left there.
Only later, when the news reached the ears of the community, the village elders agreed to hold parum (meeting) to ask for guidance from the people living in that place to find out the cause of this strange phenomenon. Furthermore, on November 24 2007, coinciding with the rahina day (holy day) of Tumpek Landep (Saturday Kliwon, Wuku Landep), a ceremony was held and it was discovered that those who lived in Pasaman were Dewi Uma and Dewi Gangga. Since then, they began to build palinggih-palinggih (resting places) in the area and Pasiraman Sebatu began to become known to the wider community.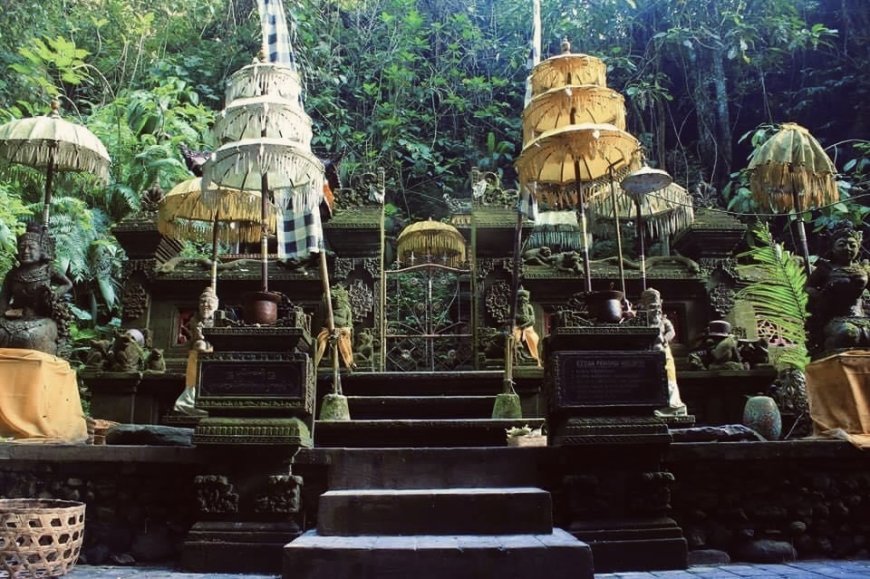 A place to offer pejati or offerings (Source: Private Collection)
There are several restrictions if you want to pelukatan in this place. Try not to invite small children whose teeth have not yet fallen out to melukat (bath) because it is said that they will cry continuously. It's okay if you want to invite small children, but don't involve them in melukat (bathing). Women who are dirty or cuntaka (menstruating) and people who are in mourning are prohibited from entering the temple area and doing wounds because they are considered tired or dirty and can make the gods who reside there sad/angry.
For those who are coming to Pesiraman Temple Dalem Pingit Sebatu Village for the first time, the facilities that must be brought are Pejati Banten as well as other pamuspaan facilities such as flowers, incense and kwangen which contains 11 coins. If we don't have time, we can buy from a number of traders at that location.
To reach the location of Pesiraman Ratu Dalem Pingit, Sebatu Village, is not difficult. Understandably, Sebatu Village is one of the tourist routes in the Ubud Gianyar area. From the Genah Melukat parking location you have to walk at least hundreds of steps.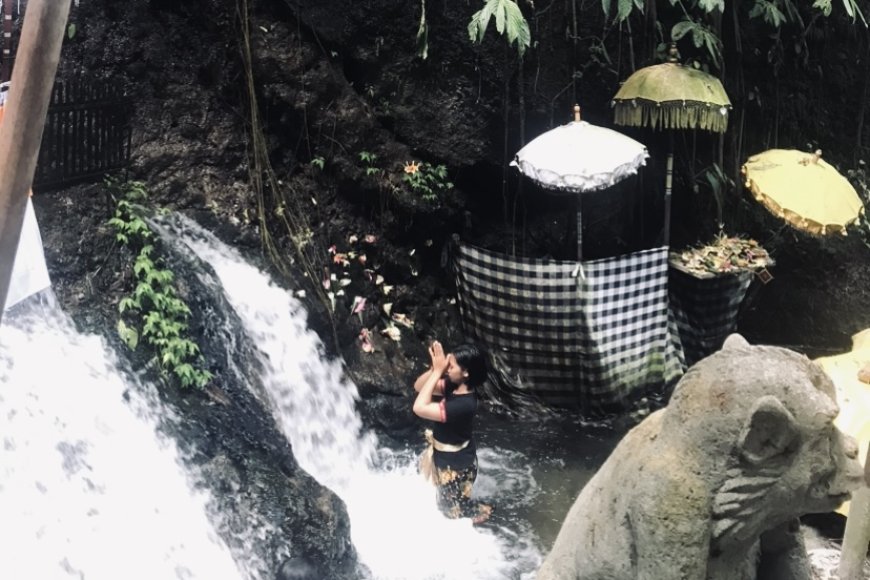 Pesiraman Waterfall is a place for healing or a place to purify oneself (Source: Private Collection)
This waterfall is an ideal spiritual tourist spot for a weekend with the family. Apart from being refreshing to clear your mind, it can also clear your spirituality, the water is refreshingly clear. Unique things often happen when visitors are injured and fall under the waterfall. Sometimes the water that spills after hitting a visitor's body will be white like rice water, and sometimes it remains clear. Changing the color of water is believed to be a negative thing for their bodies, either due to the actions of other people or ourselves.
When you visit the Sebatu waterfall, whether for the purpose of cleaning yourself or for tourist purposes, it is not surprising if there are visitors who appear to be in a trance, some make scary sounds, dance and various other oddities, for those of you who understand and are sensitive. towards the spiritual world can definitely detect it. the magical aura that radiates from this place. And many people experience changes in the color of the water after swimming in this waterfall.
According to some people, they feel calm and refreshed after climbing under the Sebatu waterfall. If you are a tourist, you can try to schedule a visit to this place which is located to the north of the Ceking Tegalalang rice terraces tourist attraction, you can feel its uniqueness and see its strangeness, even after you shower (melukat) the water is still there. sunny or cloudy.