A Look at the Beauty of Melasti Beach: One of the Tropical Paradise in Bali Island
Melasti Beach, located on the southern tip of the island of Bali, offers stunning views of coral cliffs, clear sea water and soft white sand. It is one of the best places to visit in Bali. Let's take a look at this article to get to know the beauty of Melasti Beach.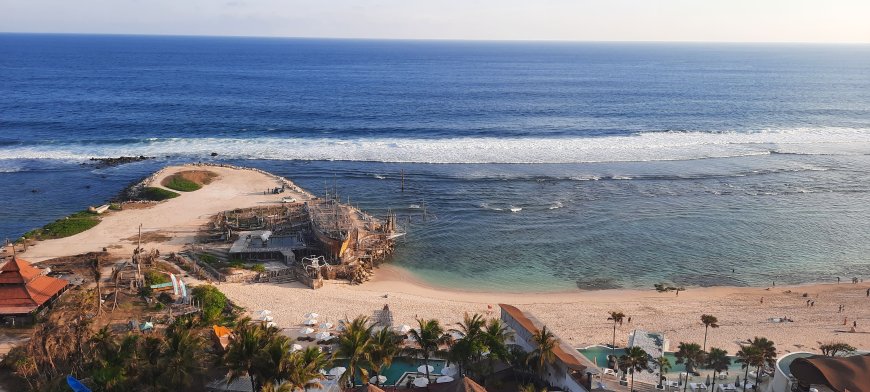 blue sea and white sand on melasti beach (photo source: editorial collection)
Bali Island, Indonesia, is one of the most famous tourist destinations in the world, famous for its stunning natural beauty. One location that should not be missed when visiting Bali is Melasti Beach. Located at the southern tip of the island, Melasti Beach offers a mesmerizing natural charm with its soft white sand, clear blue sea water, and stunning views of coral cliffs. Melasti Beach is located in the village of Ungasan, Badung, Bali. From Ngurah Rai international airport, the journey to this beach only takes about 30 kilometers. Access is easy, and there are many car or motorcycle rentals around the area.
Melasti Beach is one of Bali's hidden gems. Located at the southern tip of the island, this beach offers incredible natural charm. Melasti Beach is known for its soft white sand, clear blue seawater, and stunning views of coral cliffs. Melasti Beach is one of the few places in Bali that still retains its original natural beauty and is undisturbed by massive development. Upon arrival, you'll be greeted by a spectacular view of white sand that stretches out, giving the impression of an endless beach. The sand is very soft and comfortable underfoot, inviting you to take a stroll or simply relax by the beach.
Why is Melasti Beach a favorite destination for tourists? The main reason is its stunning natural beauty. With calm waves and a beautiful stretch of sand, this beach provides the perfect tranquility and serenity for anyone who visits it. Many also come here to enjoy the spectacular sunsets. You can visit Melasti Beach throughout the year. However, the best time is during the dry season, between April and September. It's sunny and the sea is calm, creating ideal conditions for swimming, sunbathing or enjoying other beach activities. Melasti Beach is a place that suits everyone. Whether it's couples looking for a romantic getaway, families looking to relax, or backpackers looking to explore the natural beauty of Bali, all can enjoy the charm of Melasti Beach. To reach Melasti Beach, you can rent a car or motorcycle from various areas in Bali. After arriving at the parking area located on top of the cliff, you must descend through a steep path to reach the beach. It's best to wear comfortable shoes and bring drinking water. Although the access is a little challenging, the journey to the beauty of Melasti Beach will soon provide satisfying rewards.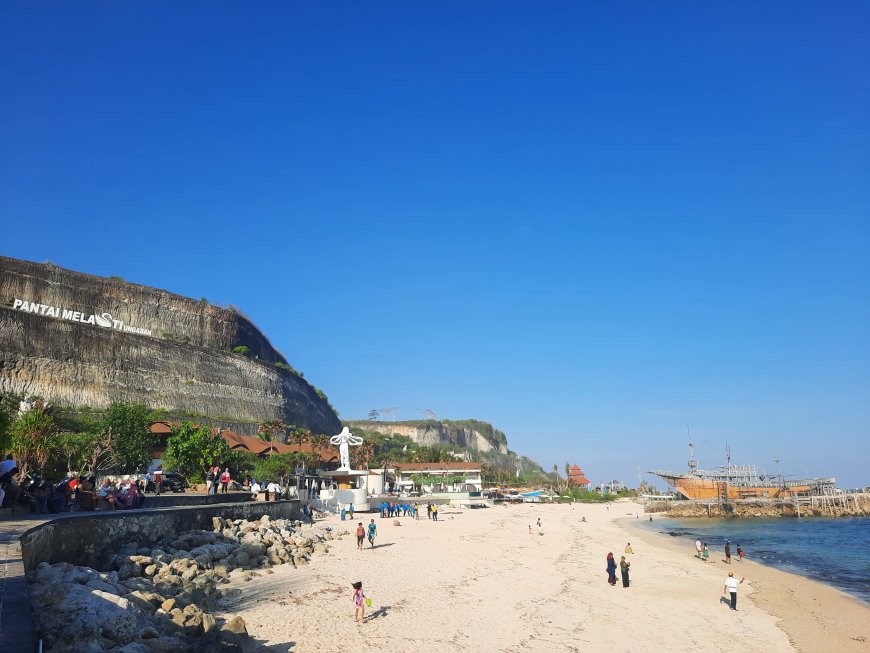 the charm of melasti beach (photo source: editorial collection)
Along the beach, you will find large and beautiful coral rocks. They create the perfect backdrop for pictures, especially at sunset. Towards dusk, these rocks appear to turn red and create an unforgettable romantic atmosphere. Melasti Beach is a diver's paradise, its underwater rich in marine life and beautiful coral reefs offer a great diving experience. You can rent snorkeling equipment or take a diving tour with a licensed instructor. There is nothing more romantic than enjoying the sunset at Melasti Beach. The view of the sky filled with magical colors and the beautiful shadows of the beach is a moment not to be missed. For photography enthusiasts, Melasti Beach is an endless paradise. The stunning natural scenery, unique coral reefs, and gentle waves are the perfect subjects for taking stunning photos.
One of the main features of Melasti Beach is its tranquility. Its somewhat secluded location makes it less crowded than some other beaches in Bali. It is the perfect place to meditate, contemplate, or simply enjoy the silence of nature. Melasti Beach in Bali is a tropical paradise that offers an unforgettable vacation experience. With its stunning natural beauty, fun activities, and the serenity it offers, Melasti Beach is a must-visit destination when you are in Bali. Whether you are looking for adventure, relaxation, or romantic moments, Melasti Beach has everything to fulfill your desires.
Don't forget to explore the surroundings of Melasti Beach. Some of the more adventurous travelers may want to climb the rock cliffs to get a higher view and a more breathtaking view from above. In addition, there is also a mangrove forest area around the beach that you can visit, adding to the natural feel of this destination. While you are exploring around Melasti Beach, you might also meet some friendly locals and get the chance to know more about Balinese culture and daily life. Melasti Beach is not only a place for a vacation, but also an experience that will bring you closer to the alluring natural and cultural beauty of this Island of the Gods.