Broken Beach, Balinese Paradise in Nusa Penida
Bali, an island that has long been a popular tourist destination for tourists from all over the world. Bali is known for its amazing natural beauty, especially its beaches. Broken Beach is a tourist destination that is worth visiting.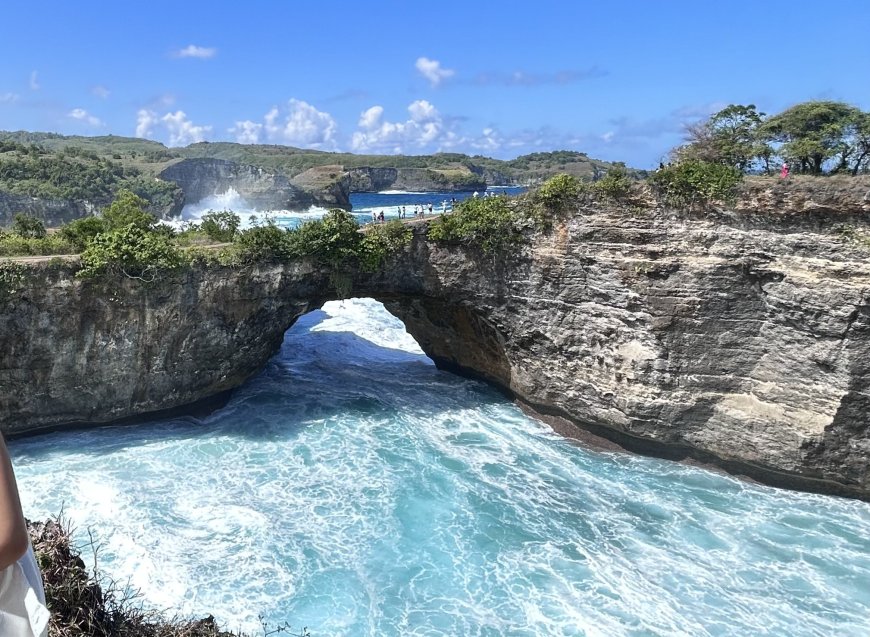 Broken Beach (Photo Source: Author's Collection)
There is no need to doubt the beauty of the beaches on the island of Bali. Beaches are one of God's enchanting natural gifts. The view of clear and blue sea water, clean white sand, the beauty of the sun when it rises and sets, everything is a miracle of God's creation. The beach also has sacred value for the Balinese people, used in religious ceremonies.
Broken Beach is located in Banjar Sumpang, Bunga Mekar Village, southwest coast of Nusa Penida, Klungkung Regency, Bali. To get there, you have to cross the sea from Sanur to Toya Pakeh Harbor. There are several public speed boat options starting from IDR 75,000 for one way. The crossing usually takes approximately 30 to 50 minutes. The earliest crossing departure schedule is 07.00 WITA. The journey to Broken Beach can be reached by vehicle such as a motorbike or car. Broken Beach is located 22 km from Toya Pakeh Harbor. This journey takes approximately one hour. The road to Broken Beach is winding and uneven, but the journey will be worth the views.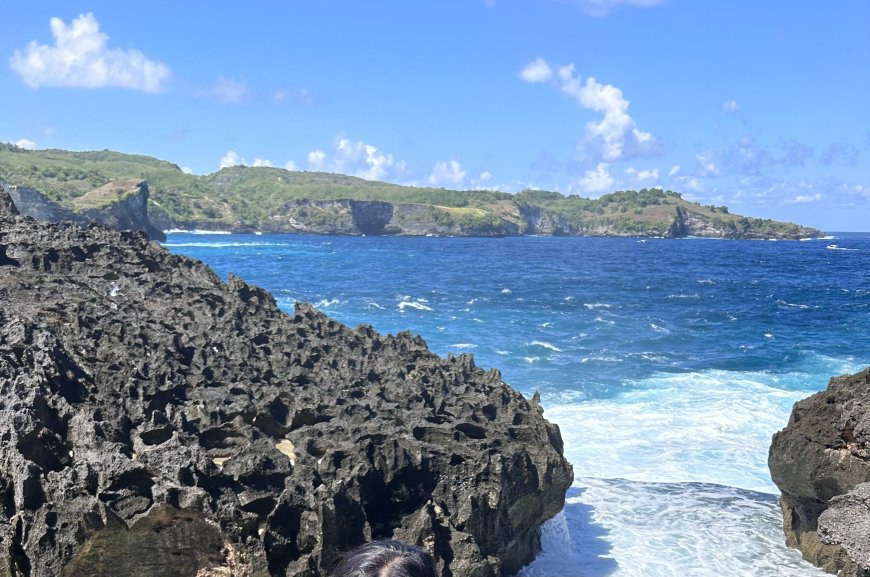 Broken Beach (Photo Source: Author's Collection)
Broken Beach or also known as "Pasih Uug" by local residents. Literally, from Balinese it means "broken beach". The reason why local residents call this beach Pasih Uug is because there is a tunnel formed due to sea water abrasion over hundreds of years. years. The view from this beach is truly amazing, different from the name given. Starting from the clear blue sea water, surrounded by coral rocks, and waves crashing against high coral cliffs in the distance. If you are lucky, you can see stingrays and turtles the sea passing by. By looking at the view of this beach you can feel peace.
Broken Beach is also an important place for the surrounding marine ecosystem. The surrounding healthy coral reefs are home to a wide variety of marine species. This is a good place for snorkeling and diving. Explore beautiful and amazing underwater life, including colorful coral reefs and exotic fish.
Another unique thing about this beach is that the edges are not sand but vast stretches of calming green grass. Especially in the morning when the grass is still wet with dew. Most of the hilly areas here are covered with thick grass and bushes. Taking photos in this area with a background of hollow cliffs will be very interesting. Watching the sunset at Broken Beach is one of the activities you can do while in Nusa Penida. The spectacular colors of the sky create the perfect backdrop for viewing the sunset.
When visiting this beach, one thing that must not be forgotten is immortalizing it through photos. There are several hidden photo spots. This place has a background of hollow coral which is much more beautiful. If you go with a guide, it's better to ask for this photo spot because usually guides rarely offer this photo spot.
Potential visitors need to be careful to always be careful because of the height of the cliff. There are often victims who fall because they are not careful and slip. Make sure to be careful when taking photos or taking photos on the edge of the cliff so you don't slip and fall.
Broken Beach in Nusa Penida is one of the few places in Bali that still keeps its beauty a secret. This is the perfect place for those looking for adventure, tranquility or an unforgettable photography experience. So, if you are planning a trip to Bali, make sure to include Broken Beach in your itinerary to experience this incredible natural wonder.
The best time to visit Broken beach is between 06.00 and 18.00 WITA. However, during the day this area is quite hot. Apart from that, during the day this area is usually filled with many tourists. The ideal time to visit this beach is the months between June and September. Because it hasn't rained too often and the air is not too humid. To enter Broken Beach you do not need to pay an entrance fee. However, you are required to pay a parking levy of IDR 5,000/vehicle.