Enjoy Spiritual Tourism on the Edge of the Valley, Penglukatan Taman Beji Samuan
The island of Bali is known to be very thick with spiritual beauty that is very enchanting.There are many spiritual tourist attractions that can be visited.One of them is Taman Beji Samuan, which is very suitable to visit if you want to experience spiritual tourism with enchanting natural beauty.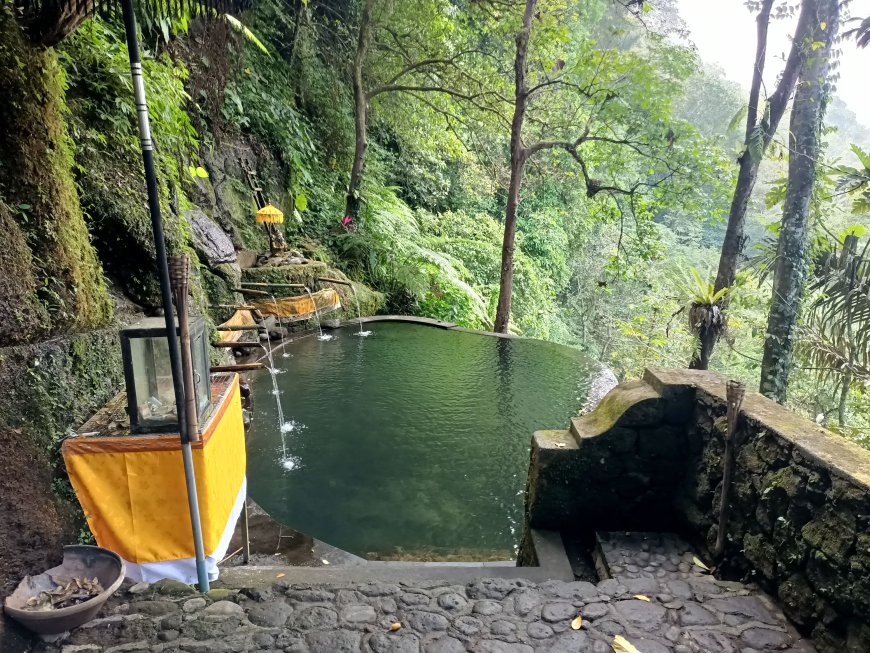 Pancoran Sapta Rsi, Taman Beji Samuan (Source: Editorial Collection)
Taman Beji Samuan  is one of the many spiritual tourist attractions on the island of Bali. This place is suitable to visit for those who want to experience a sensation of healing or spiritual cleansing of the mind and soul that is different from usual. Located in the north of the city of Denpasar, or more precisely in Br. Samuan Kawan, Carangsari Village, Petang District, Badung Regency, Bali, Taman Beji Samuan is a place that combines natural beauty with spiritual tranquility.
Because this place is in a valley area, visitors need to go down the stairs to get to the location. Along the journey, visitors will be pampered by the beautiful natural atmosphere and the presence of birds chirping creating an interesting experience on this tour.
According to the explanation of the local temple administrator, Jro Mangku Wayan Pagiana. At first, Taman Beji Samuan was just a simple shrine with one shrine. When the local residents were going to repair the shrine, when opening the road and clearing the bushes, the residents found a water source hidden behind the rocks. Then the local traditional village management took the initiative to renovate this location so that it could be enjoyed by the community. The road to the fountain was then repaired, and the water source found was divided into seven fountains, which are believed to have their own blessings.
Soon he made pools to surround the seven fountains. This fountain was also given the name "Sapta Rsi Fountain," which refers to the belief that once at this location there was a priest who once resided in the palace. Overall, this place became known as Taman Beji Samuan.
In 2019, Taman Beji Samuan was finally officially opened to the public. Visitors can enjoy the natural beauty by descending hundreds of stairs to this location. There, they will be greeted by lush trees and a valley flowed by the clear water of the Yeh Penet River. Below the valley there is also a natural waterfall which sometimes appears during the rainy season which adds to the beauty of Taman Beji Samuan.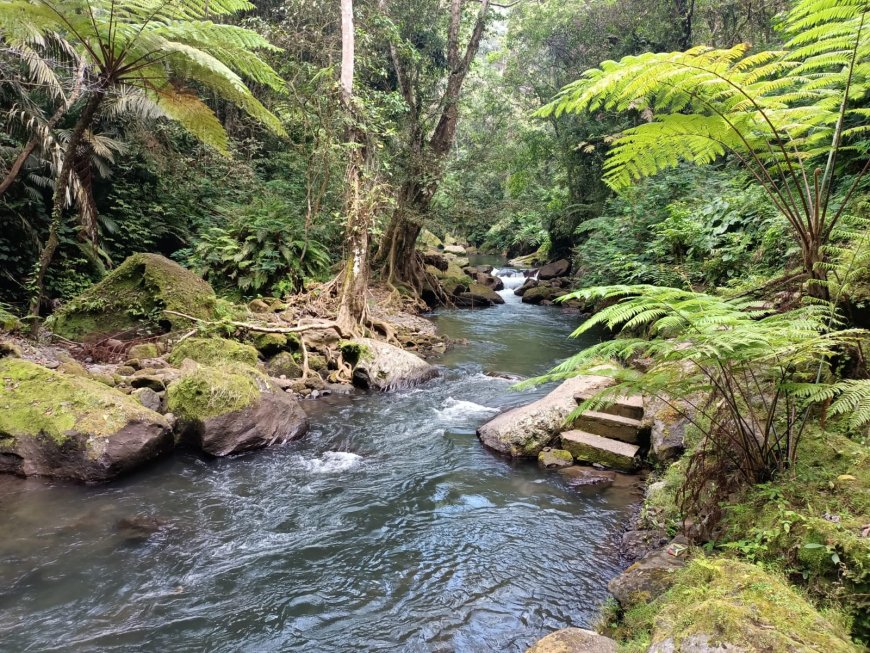 Campuhan Penglukatan Area, Yeh Penet River (Source: Editorial Collection)
Taman Beji Samuan consists of three attachment areas. First, there is Campuhan, which is a penglukatan performed on the riverbank area, followed by Beji Dalem which consists of penglukatan Suda Mala, penglukatan Dasa Mala, penglukatan Rambut Sedana, and finally Beji Sapta Rsi. Each area has its own attraction and spiritual meaning for visitors.
With its natural beauty and spiritual aura, Taman Beji Samua offers a memorable experience for everyone who visits it. To experience good and correct melukat at Taman Beji Samuan, visitors must first go to the Campuhan area to offer offerings in the form of canang, and then do the shamak in the river area. After that, visitors can return to offer offerings at the Ratu Niang and Ratu Gede vergih, then continue towards the Beji Dalem area. This procession then ends with panglukatan at seven water fountains in the Tirta Sapta Rsi area.
Apart from being a place for melukat, Taman Beji Samuan also functions as a place to get tirta/holy water when there are local village traditional ceremonies, such as piodalan at the temple. On holy days such as Banyu Pinaruh, purnama, or tilem, this place is always crowded with local people and visitors from outside, creating an atmosphere full of solemnity and togetherness in religious ceremonies.

For new visitors, it is very important to convey pejati. For those who come for the first time, there is no need to worry because in this place there are also priests and local residents who are ready to guide visitors who are coming for the first time. There are also traders of painting tools such as canang and pejati in the parking area, allowing visitors to obtain equipment easily before entering the painting location at Taman Beji Samuan.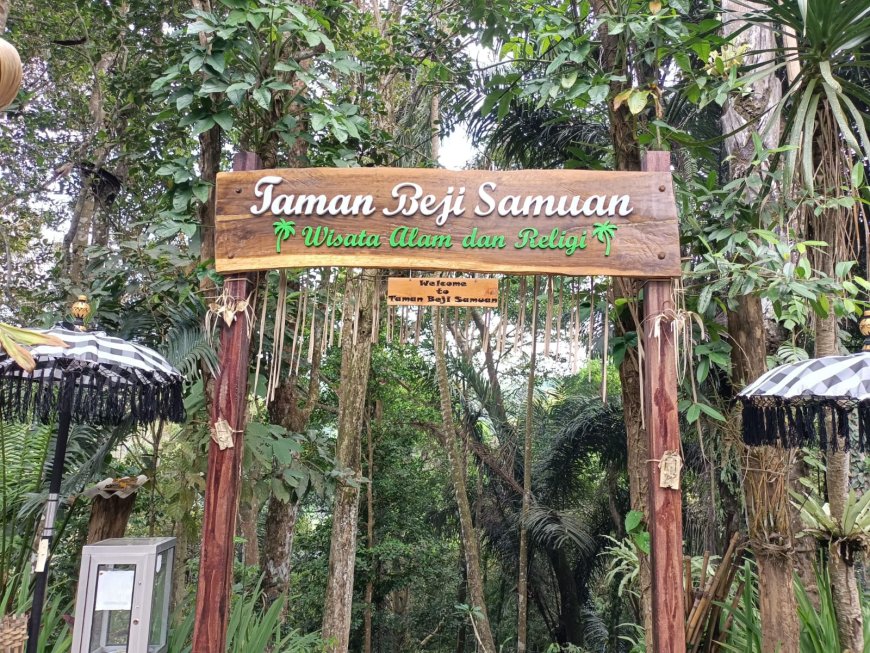 Taman Beji Samuan Entrance (Source: Editorial Collection)
Taman Beji Samuan open every day from half past 7 am to 6 pm WITA. The entrance fee only applies to vehicle parking, ranging between IDR 3,000 for two-wheeled vehicles and IDR. 5000 to IDR 10,000 for four-wheeled vehicles.
Just like holy places in general, there are taboos that must not be violated, namely women who are absent or are menstruating should not enter this park area. And as a sign of respect for the traditions and beliefs of the local community, travelers must also wear clothing and kamen while at the pool.
The stunning natural beauty with lush trees and a valley that is flowed directly by the clear water of the Yeh Penet River, makes a visit to Taman Beji Samuan an unforgettable experience. The atmosphere is sometimes shrouded in fog when the weather is cloudy, adding to the mystical and magical impression of this place. A harmony between spirituality and the universe is created here, making Taman Beji Samuan a suitable place for those seeking peace and enlightenment.