Exploring the Mystical Atmosphere at Penglukatan Taman Beji Griya Waterfall
Spiritual tourism is one of the goals of tourists who come to Bali to gain experience, understanding or spiritual growth. By means of "melukat" or spiritual ceremonies to cleanse the mind and soul from negative aspects, Bali becomes uniquely rich in traditions and culture. One of the places that is very famous for its mystical atmosphere and beautiful waterfall views is Penglukatan Taman Beji Griya Waterfall.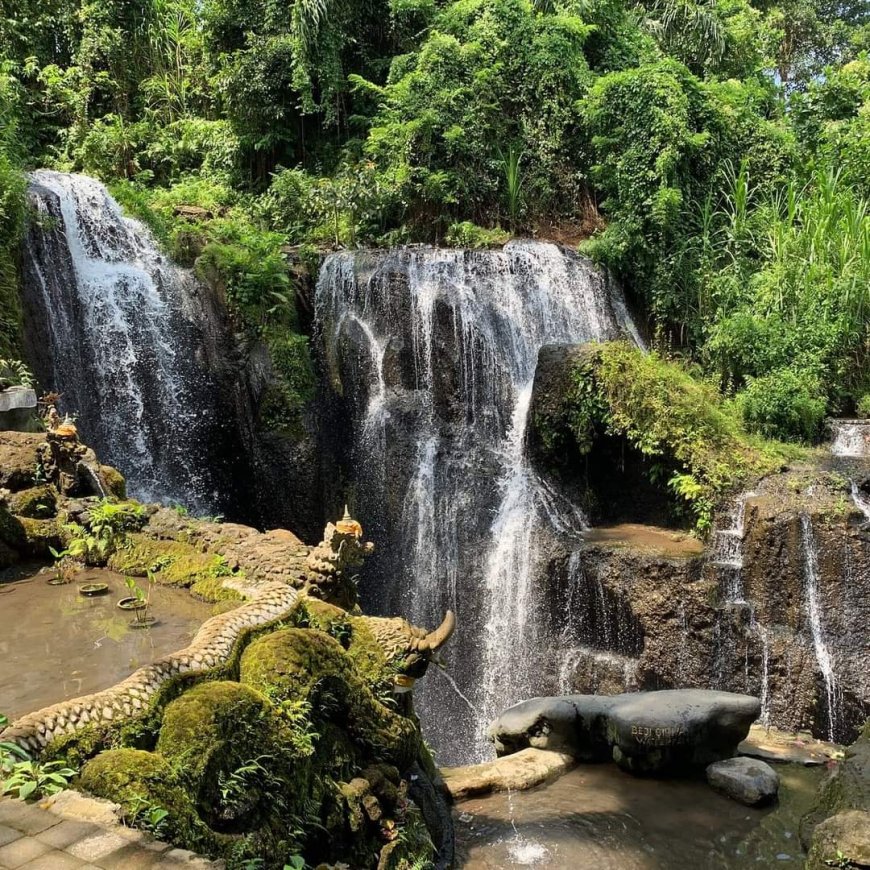 Taman Beji Griya Waterfall (Source:Editorial Collection)
Exploring the island of Bali will never cease to amaze when it comes to the natural beauty, art, and rich culture that permeate the "Bumi Taksu" (Land of Enchantment). As a central tourism destination in Indonesia and the world, Bali offers a unique experience to both domestic and international travelers with its enchanting beaches, captivating sunsets, lush terraced rice fields, and other breathtaking natural wonders. Besides its mesmerizing natural allure, Bali is also renowned for its spiritual tourism. One of these spiritual practices is self-purification, known as "melukat" which attracts travelers seeking inner peace and spiritual rejuvenation.
There are many purification places in Bali, but this one is different. Penglukatan Taman Beji Griya Waterfall, located in North Badung, precisely in the village of Punggul, Abiansemal District, is strategically situated in terms of location, as it is close to other tourist attractions such as Sangeh, Bedugul, and rafting recreation in Ubud. Taman Beji Griya Waterfall consists of several springs or water sources used for spiritual cleansing. These springs are what add a mystical touch for the visitors who come here. Tourists who visit are not limited to the Hindu community, but anyone is welcome to visit and perform purification rituals here, except for those in a state of menstruation (cuntaka).
In the process of melukat, there are several things that need to be prepared, such as clothing for melukat using kamen, changing clothes are also provided here, and it is recommended to bring two pejati and several canang.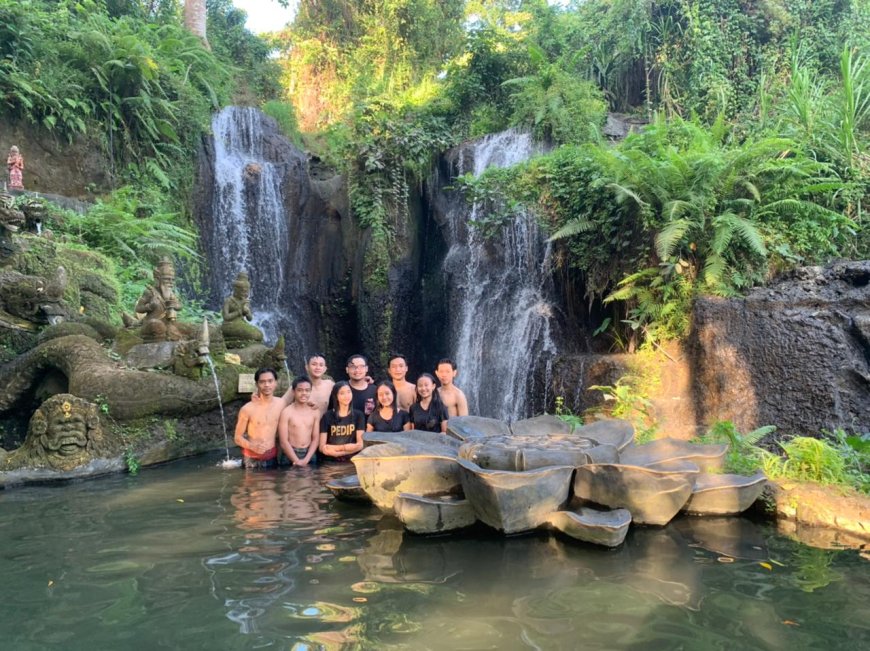 Pancoran Pond Beji Garden Punggul Residence (Source: Editorial Collection)
Based on the information from Ida Bagus Eka Giri Natha, who is the responsible person for Taman Beji Griya Waterfall, the stages in performing melukat are as follows.
Before melukat, the participants are directed to first perform a prayer at the Taman Beji Temple, offering sarana or banten pejati as a request for permission and guidance before undertaking the melukat ritual.

Next, the first melukat is performed inside a cave or Hidden Canyon where springs or water sources are found. This is where the mystical atmosphere is felt due to the limited sunlight entering. This melukat ritual is called Tamba Sunia. "Tamba" means medicine, and "Sunia" means the universe. Therefore, Tamba Sunia signifies seeking healing from the universe. There is also a local legend surrounding this cave, suggesting that it was once a place where ancestors meditated to seek healing on both physical and spiritual levels. Melukat is carried out by consecrated water being tapped on the crown of the head three times, on the nape of the neck three times, washing the face three times, and drinking the holy water seven times.

After melukat inside the cave, the next step is to perform melukat at Penglukatan Rambut Sedana, a place of worship for Ida Bhatari Rambut Sedana and Dewi Laksmi, symbolizing prosperity. Here, tourists can seek blessings for financial success, smooth business operations, and solutions to work-related issues.

The next melukat location is the most beautiful and iconic spot within Penglukatan Taman Beji Griya Waterfall. It features two waterfalls and intricate architectural carvings of dragons/serpents lining the path to the waterfalls, creating an even more mystical ambiance. The sound of the waterfalls adds to the serene and peaceful atmosphere. The first waterfall is named Dewi Gangga Waterfall, and it serves as a place to release emotions, burdens, and problems. Melukat here involves shouting loudly or crying to release and let go of all the burdens and emotions. The echoing shouts of the participants enhance the magical aura of this place. The second waterfall is used as a place to express happiness by laughing and recalling joyful moments in our lives. This is done to generate positive energy and absorb positive emotions into our beings.

Dewi Gangga Waterfall (Source: Editorial Collection)

After melukat at the waterfalls, the next step is to perform melukat at the springs located in the pools of Ida Betari Ratu Niang Sakti and Ratu Pedanda Lanang. There are two springs that flow from the mouth of Bedawang Nala, sustained by two priests. These two priests symbolize our ancestors or parental figures who guide us on the path of righteousness.

Next, a prayer is offered again at the shrine of Ratu Niang Sakti, followed by melukat using bungkak gadang (green coconut) and bungkak gading (yellow coconut). The conclusion of the melukat process involves applying pamor or chalk between the eyebrows and receiving a tridatu bracelet.
The elaborate and multi-stage process at Penglukatan Taman Beji Griya Waterfall makes it a popular destination for spiritual tourists. This melukat ritual draws a significant number of visitors during the full moon (Hari Purnama), new moon (Hari Tilem), Kajeng Kliwon, and Banyu Pinaruh days. These are considered auspicious times for the purification process through melukat and contribute to the bustling atmosphere at the site.
With all the uniqueness and beauty that Penglukatan Taman Beji Griya Waterfall offers, it's no wonder that this place has become a magnet for travelers seeking profound spiritual experiences. Amidst the enchanting natural beauty of Bali, Penglukatan Taman Beji Griya Waterfall provides an opportunity for reflection, clearing the mind, and seeking inner peace in its captivating mystical atmosphere.
A visit to Taman Beji Griya Waterfall is not just a physical journey, but it's a spiritual journey that touches the heart and mind. With meaningful and profound melukat rituals, travelers can forge a deeper connection with themselves and the universe. Therefore, if you're looking for a unique and profound spiritual experience amidst the beauty of Bali's nature, don't hesitate to visit Penglukatan Taman Beji Griya Waterfall. Here, you can experience Bali in all its wonders and mysteries, making your journey an unforgettable one.