Get to know Bayung Gede Village, Ancestor of Penglipuran Village!
Hidden behind its crowds and popularity, this village, with its rich culture and enchanting natural charm, has an authentic Balinese side that is rarely touched by tourists. From ancient temples to daily life that is still influenced by tradition, namely, Bayung Gede Village.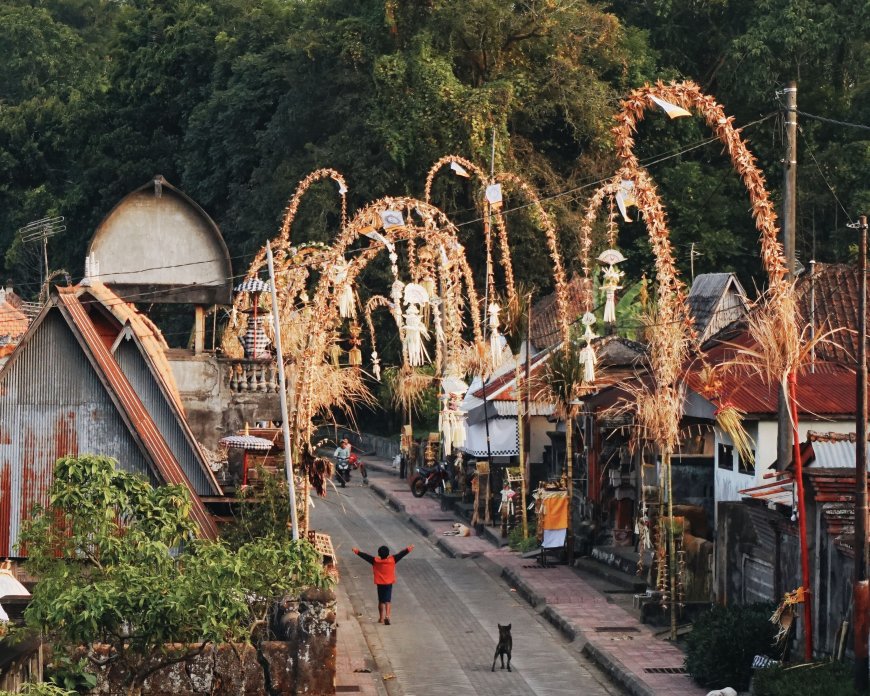 Photo Source : Redaksi Collection
Bayung Gede Village is located in Kintamani District, Bangli Regency, Bali. Bayung Gede Village is a hidden gem in Indonesia that offers an extraordinary recreational experience. Situated on the edge of a lush forest and adjacent to a calm flowing river, this village has extraordinary natural attractions and a rich culture.
This village is one of the old villages that maintains its traditional values. The area is 10.24 km2, located in the mountainous plateau around 900 meters above sea level and consists of official villages, Pakraman villages, official banjars and Pakraman banjars. This village has 2 banjars, namely Banjar Peludu and Banjar Bayung Gede. The regional boundaries are Batur Village (North), Bonyoh and Sekaan (South), Sekardadi Village (East), and Belancan Village (West).
Bayung Gede Village is classified as an ancient village in Bali. Before it was called Bayung Gede Village, it used to be a small settlement in Bali called Padukuhan which was located in the middle of the forest with a very small population. This padukuhan is led and managed by a traditional government structure called "Ulu Apad" or tribal chief with the main duties and functions of organizing activities and carrying out traditional ceremonies and ceremonies. Among the temples built as a commemoration of the "padukuhan" event is the dukuh temple which still exists today.
According to the narrative of the Traditional Village elders or penglingsir. Penglipuran is a fragment of Bayung Gede Village in Kintamani, or can be explained as a predecessor or ancestor. Pengelipuran Village originates from Bayung Gede Village, Kintamani. The word Penglipuran comes from the words "Pengeling and Pura" which means Pengeling = Eling = Remember/remember and Pura means place, fort or ancestral land. So Pengelipuran means remembering the ancestral land/place of origin of Bayung Gede Village (Prayogi, 2011).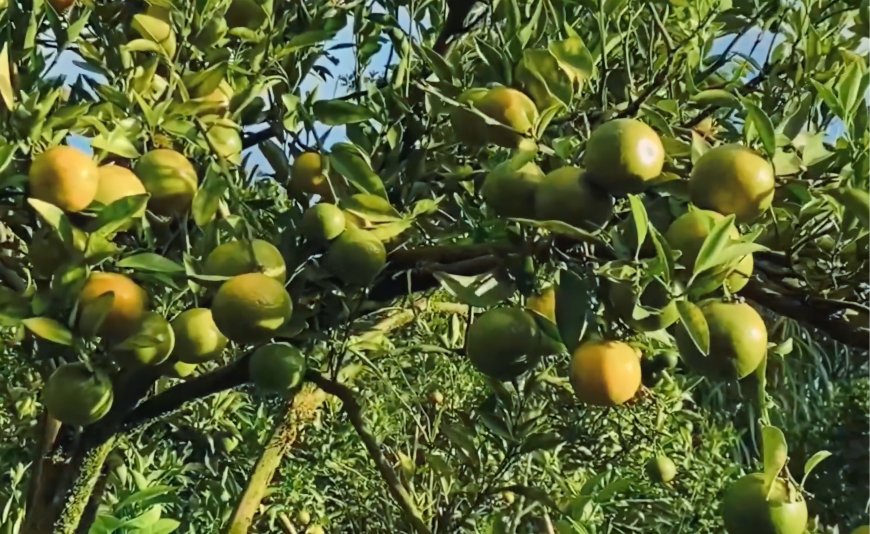 Bayung Village Orange Garden (Photo Source: Editorial Collection)
Bayung Gede Village has a natural attraction, namely expanses of rice fields planted with orange trees. On the way to this village, stretches of rice fields with orange trees adorn the left and right sides of the highway. Bayung Gede Village itself has cool air, like the Kintamani area in general. Various types of tropical plants can live well in this area.
Most residents of Bayung Gede village live as farmers. The most popular garden produce in this area is oranges. Bayung Gede Village is one of the production centers for Kintamani oranges, which is well known to local, regional and international communities. The area of orange plantations reaches 478 hectares with an average annual production of 970 tons/hectare.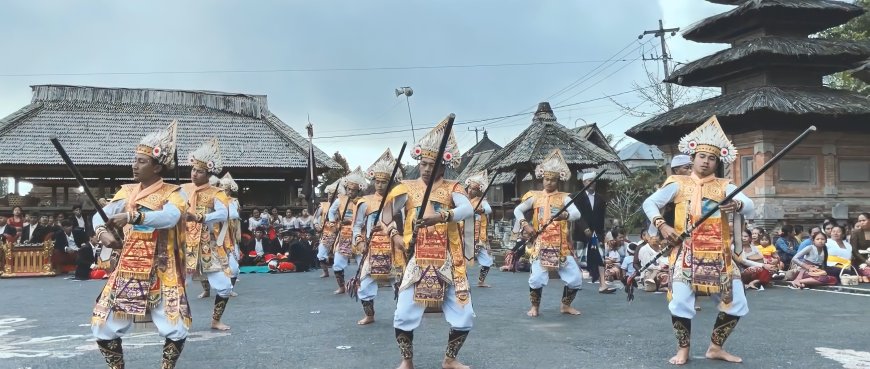 Baris Gede Dance (Photo Source: Editorial Collection)
This village maintains typical Balinese traditions and culture, being the center of religious activities and traditional ceremonies. Traditional Balinese ceremonies are often held in this village, so visitors can witness Balinese religious life and culture in depth.
Bayung Gede Village has several sacred dances which are often performed at religious ceremonies, one of which is the Baris Gede Dance. The Baris Gede dance is a sacred dance that is thought to have existed since the 8th century. This dance can be performed during ceremonies at temples and is a complementary part of the ceremony. According to Prof. Dr. Wayan Dibia, the Baris Gede dance is danced in groups in certain numbers according to the meaning in each region. The number of a group can range from eight to forty dancers, usually tied to certain symbols. The weapons used in the Baris Gede dance are also varied, some use spears, chakras, or tamiang (shields). The Baris Gede dance depicts Widiadara or bodyguards who accompany the gods and welcome the gods. On the other hand, the Baris Gede dance can also be interpreted as a warrior dance.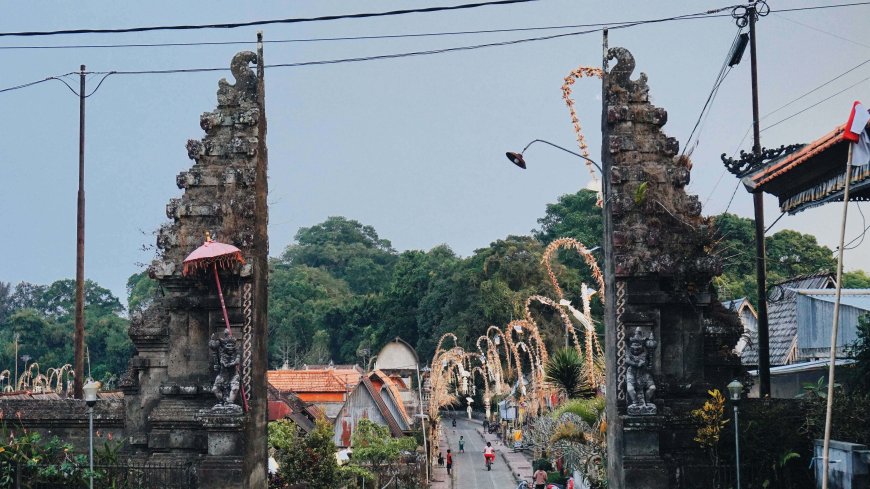 Bayung Gede Village (Photo Source : Editorial Collection)
One of the most striking things about Bayung Gede Village is its natural beauty. Surrounded by towering green mountains, this village is the perfect place for nature lovers, you can go trekking around the village to enjoy the amazing natural views.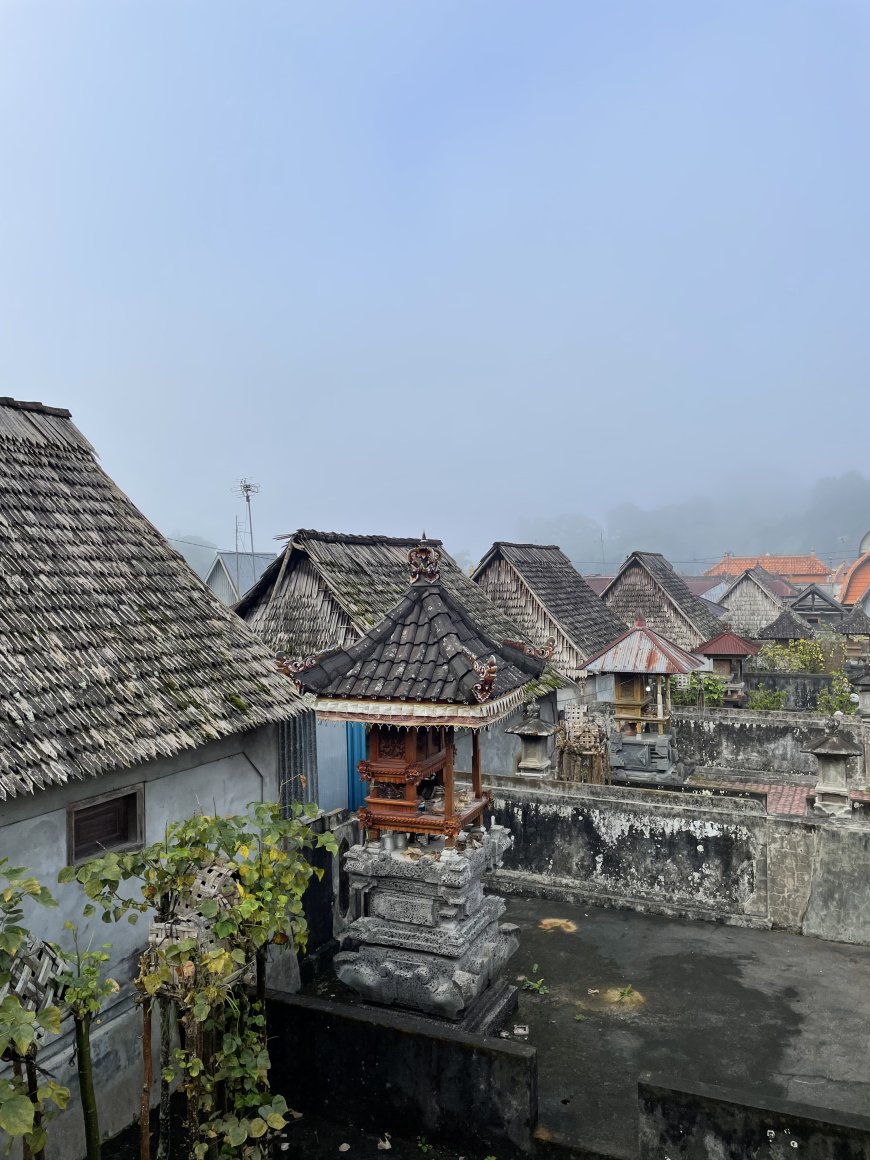 Pura (Photo Source : Editorial Collection)
Ancestral heritage includes traditional Bali Aga culture which is still preserved by the community. There is something unique about the Bali Aga Tradition, namely the Suren War Tradition, which is unique and often carried out by village youths, when going through the Ngusaba Lampuan quarantine process. This war became a ritual held as a form of respect for the god Indra as the God of War. Villagers have the habit of making a special calendar using a Balinese calendar made of wood to determine good days for ceremonial activities. When a baby is born, the placenta which is usually planted or buried is treated differently in the village of Bayung Gede Kintamani, the placenta is placed in a shell. coconut, as a special grave.
Through exploring ancestral heritage, this village wants to introduce these aspects and build local community awareness of their cultural identity. Bayung Gede Tourism Village, by utilizing ancestral heritage, this village has an authentic cultural experience. Bayung Gede Village is the perfect place for recreation that combines natural beauty, rich culture and environmental sustainability.