I Gusti Agung Maruti's Rebellion: the Tampaksiring and Pejeng dispute, involving the King of Gianyar
Tampaksiring is a district rich in tourist destinations, temples and other beautiful places. In addition to having many tourist attractions, in Tampaksiring sub-district there is also a village that becomes a barrier between Tampaksiring sub-district and Pejeng sub-district, called Sanding village.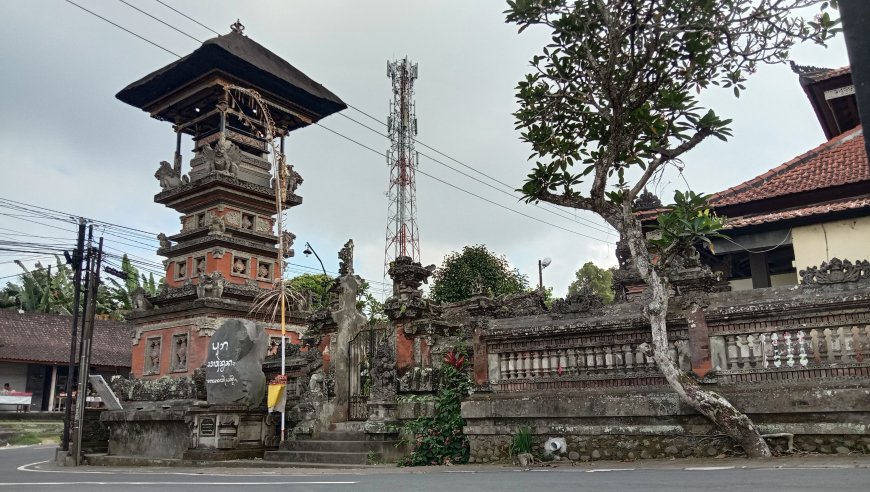 Catur Bhuana Temple (Photo Source: Editorial Collection)
Sanding Village is a village located in the middle of Tampaksiring and Pejeng sub-districts, as well as being the border between the two sub-districts. The village has existed since the megalithic era with the discovery of a sarcophagus in Banjar Padangsigi, ancient Balinese writing on the yoni stored in Pura Puseh Desa Sanding which reads the year 1312 caka, and also based on the existence of statues stored in Pura Masceti which are thought to date from the middle Balinese period.
During the reign of Dalem Ketut Ngulesir in Gelgel, a figure named Bujangga Anglayang fled to Sanding. In Sanding, Bujangga Anglayang married and had a son named Bang Sanding who would succeed his father as dukuh of Sanding. Bang Sanding had four sons, namely Sang Sanding, Dukuh Mayasan, Dukuh Mawang, and Dukuh Dadapan. Sanding Village was attacked by the Gelgel Kingdom led by Arya Kepakisan, Pasek Gelgel, Arya Kebon Tubuh, Arya Penatih. To avoid the attack, the entire population of Sanding Village was evacuated to various areas. The village became deserted, with only members of the King of Gelgel's army keeping watch.
In 1638 there was an attempted seizure of power by I Gusti Agung Maruti (patih) by intercepting the procession of Dalem Dimade (King of Gelgel) who was going to Besakih Temple to pray. The King's troops were unable to fight back because I Gusti Agung Maruti's troops were very numerous. King Gelgel was captured and hidden in Galiran Village. Upon hearing that King Gelgel was being held by I Gusti Agung Maruti, the Tabanan Kingdom led by Ki Tabanan agreed to free King Gelgel.