Melanting Temple: Sacred Place for Worship of the Goddess of Economy
Bali, an island known as the "Island of the Gods," is a place where Hindu culture and religion flourished. One of the aspects that makes Bali so special is the existence of many temples spread throughout the island. One of the temples that has a very rich history and was blessed by an important figure in Balinese history is Pura Melanting. In this article, we will explore Melanting Temple and a highly respected figure in Balinese culture, namely Dang Hyang Nirartha.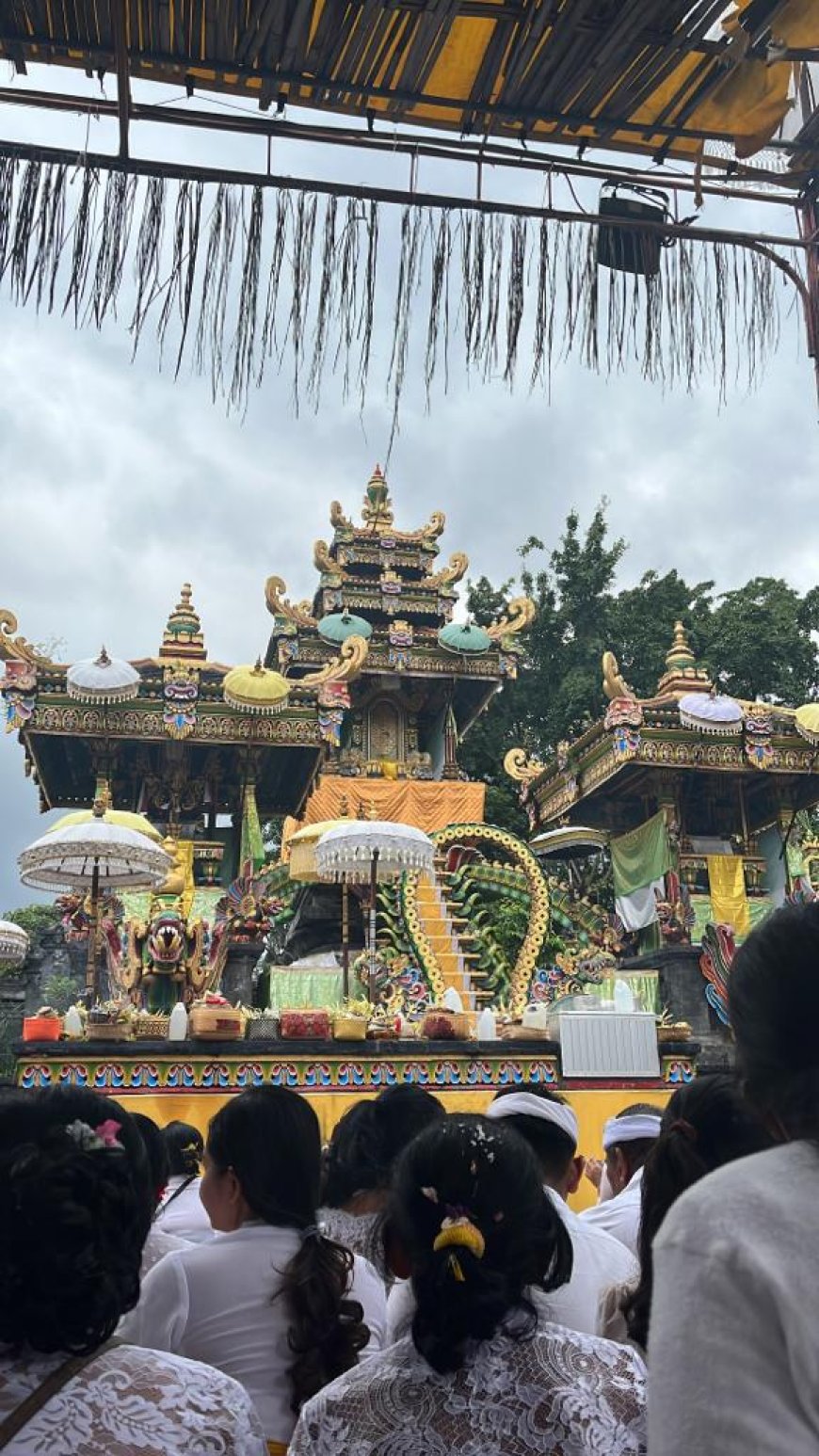 Main Yard of Melanting Temple (Photo Source : Editorial Collection)
Melanting Temple is located in Banyupoh Village, Grokgak District, Buleleng Regency, covering the northern region of Bali. About 50 km west of Singaraja City. The existence of Melanting Temple is not only a place of worship for Hindus, especially traders, but also tourists, because this temple in Bali is very beautiful and poetic. The atmosphere was quiet because we were in the middle of the forest at the foot of Pemuteran Hill. It has a quite unique and mysterious story, related to the journey of a powerful priest from Java named Dang Hyang Nirartha.
To enter the Melanting Temple area you have to go through a rather narrow road, there are residential areas and a small forest, but cars or tourist buses can enter. When we arrived there, the atmosphere was very relaxed and peaceful, the parking area was spacious and Melanting Temple stood majestically and beautifully at a height. Then go up the stairs, through the door and you will be greeted by two large dragon statues that decorate the main door. Several temple building complexes become places to pray before continuing to the main temple area. The Melanting Temple building was redesigned by renowned architect Ida Bagus Tugur.
Because the location of Melanting Temple is in the highlands, when you come to the temple area, you can admire the natural beauty of the surroundings, see the green hills that surround this area and from afar you can see the blue Java Sea. Also the atmosphere is calm and far from the crowds, suitable for those who want to meditate to calm the soul and mind. Pujawali or odalan at Melanting Temple coincides with the Full Moon of Sasih Kapat according to the Isaka calendar. This magnificent temple with a beautiful natural environment is very suitable to be one of the main tourist attractions in North Bali.
Melanting Temple is one of the Kahyangan Jagat temples in Bali, occupies an important position in the name of the temples in Bali, is a religious community and believes in the existence of the Almighty God, namely Ida Sang Hyang Widi Wasa, but His manifestations have many names according to function and nature.
Like Melanting Temple, this temple is a functioning temple because it is a place of worship for Ida Bhatari Melanting or Goddess Melanting, the seeker of prosperity, fertility, security and success in trading businesses. Melanting Temple is closely related to running a trading business, so Melanting Temples were established in every market. The worship of Goddess Melanting at Melanting Temple can be compared to Bhatara Rambut Sedana or Dewa Kwera who is the god of money.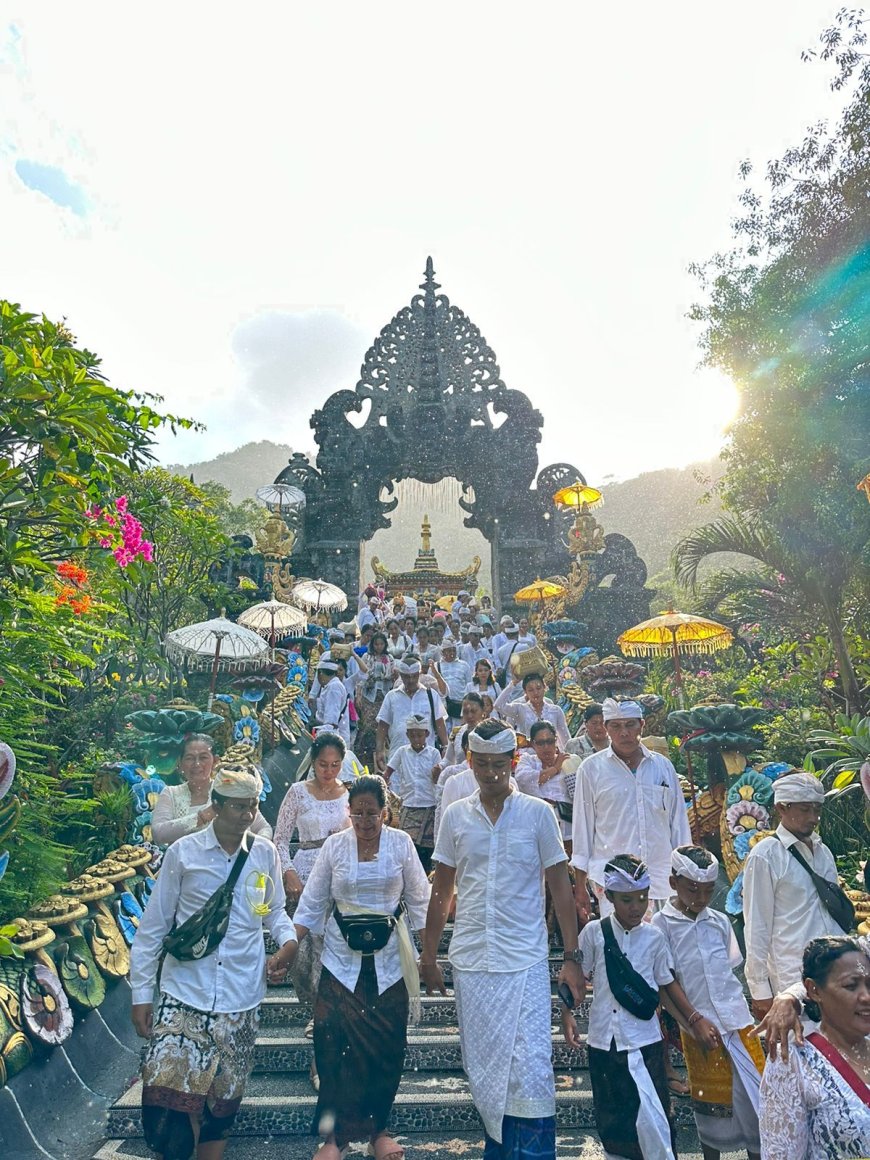 Melanting Temple Gate (Photo Source : Editorial Collection)
Melanting Temple in Buleleng Regency is located quite close to Pulaki Temple, including Pabean Temple, Ida Mutering Jagat in Pemuteran and Kerta Kawat, the history of the founding of these temples is closely related to each other. The existence of Pura Melanting and other Pesanakan temples is associated with the journey of the holy priest Dang Hyang Nirartha from Java to Bali to spread and instill the noble values of Hinduism in Balinese society.
Dang Hyang Nirartha's arrival in Bali was caused by the fall of the Majapahit kingdom and the emergence of Islamic influence on the island of Java. The trip involved his family such as his wife and children. Dang Hyang Nirartha is also known by the titles Dang Hyang Dwijendra and Pedanda Sakti Wawu Rauh. His journey from Java to Bali must have been very far and long so that his wife Danghyang Biyang Patni Keniten, who was very pregnant at the time, felt exhausted. His leg joints were swollen and painful, and he was unable to lift his legs to continue his journey to the Far East. Therefore, he felt confused whether to accompany his wife until she gave birth or continue on her spiritual journey.
Finally Dang Hyang Nirartha decided to continue his journey and left his wife in the village with one of his daughters, Dyah Ayu Swabawa, and several of his followers. Meanwhile, the other sons and daughters who could still walk were invited to continue their journey, then when Dang Hyang Nirartha arrived, his followers were sent to invite his wife and children to reunite with his extended family.
Danghyang Biyang Patni Keniten along with his followers and one of his daughters rested until they were completely healthy, then cleared land for a place to live and planted rice. With a wealth of life knowledge, religious knowledge and supernatural powers from Peranda's wife. With her wisdom in teaching life sciences to the local community, over time she became increasingly famous, had thousands of followers and became the mother of the entire community here. She finally gave birth to a boy named Bagus Bajra who had a charming face. Danghyang Biyang Patni Keniten's children grew older, as did Dyah Ayu Swabawa who grew into an intelligent girl, full of charm, wisdom and authority like her father, and even looked more mature than her age.
Dyah Ayu Swabawa has expertise in commerce, is very skilled at attracting buyers or choosing goods that buyers want, so that buyers are loyal to come back again. The area where he lives is a famous trading place so it has become a trade center because people like to shop there.
After waiting for so long, Danghyang Biyang Patni Keniten and his family's hopes that Dang Hyang Nirartha's messenger would come looking for him never came, even Dyah Ayu Swabawa almost every day climbed a tree to observe from above while swinging on the tree waiting for the arrival of her father's messenger.
The local people really love Dyah Ayu, because of her habit of climbing and swinging on trees, the people gave her the respectful name Dyah Ayu Melanting from the name Dyah Ayu, the history of the name of the temple, while her mother was wise and learned and liked to give advice, called Mpu Alaki, or wise person (mpu) and those who are married (alaki) reside at Pulaki Temple. Time passed, Dang Hyang Nirartha's messenger never came to pick him up, there was no news.
Because of his obsession, the gods finally gave his blessing but on one condition. Peranda Istri or Mpu Alaki will escape the cycle of time, escape old age and death but will not be seen by others. Because of love and loyalty, the long wait is rewarded with an unseen eternity. When he learned of the disappearance of Danghyang Biyang Patni Keniten or his wife, Dang Hyang Nirartha thought that his wife, children and followers had died. And he only realized this when Dang Hyang Nirartha died at the southern tip of Bali, at Uluwatu Temple. Then followed by Danghyang Patni Keniten where the wife's moksa peranda was given the name Pura Pulaki according to her title Mpu Alaki, while Princess Dya Subawa Melanting was stationed at Melanting Temple and her son Bagus Bajra was stationed at Kerta Kawat Temple as the prince of Mentang Yuda as a source of justice in decision making, while his followers as a mysterious person who escapes the cycle of time.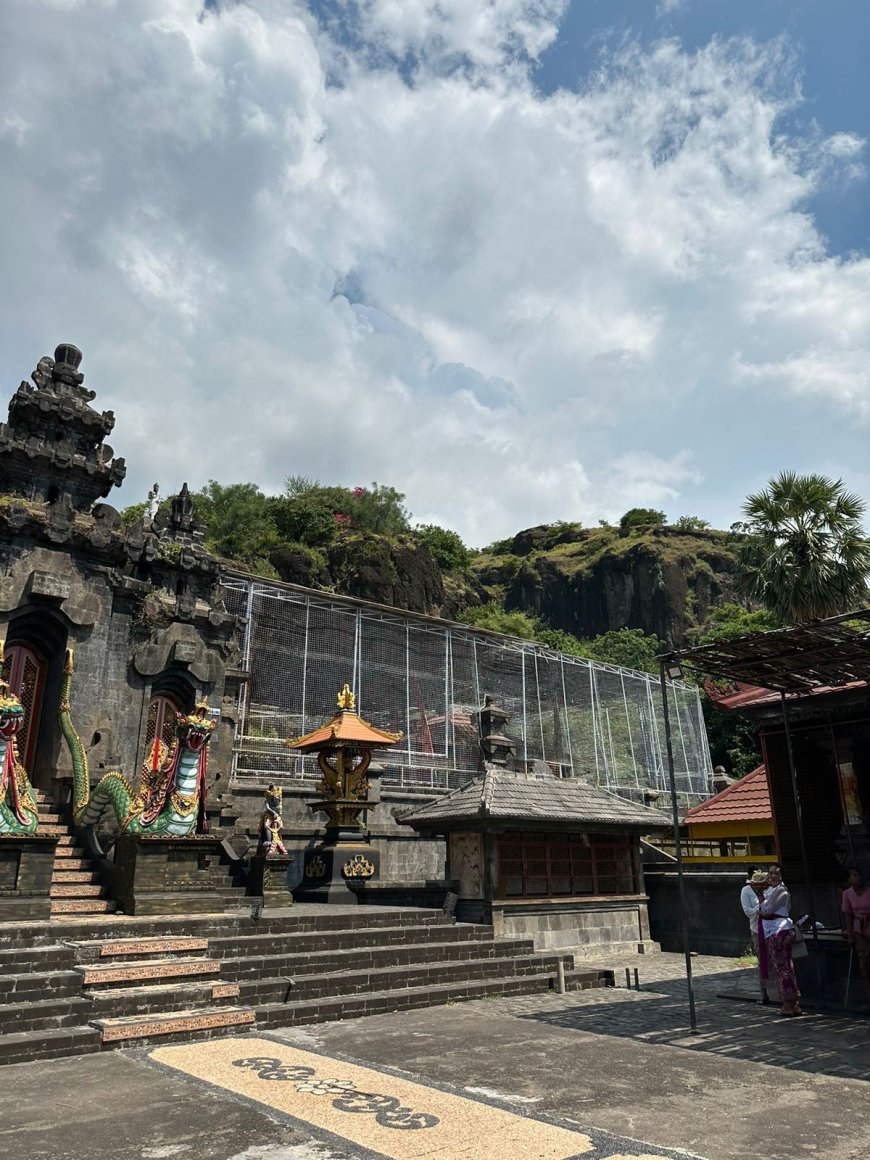 Melanting Temple (Photo Source : Editorial Collection)
Melanting Temple is one of the most important and historic temples in Bali. Its history is closely related to Dang Hyang Nirartha, making it a holy place that is highly respected and visited by tourists. Through this temple, we can see how religion, culture and history are interrelated in the lives of Balinese people, making it a very special temple in the context of Hindu culture. Melanting Temple is a perfect example of Bali's spiritual and historical heritage that deserves to be preserved and respected by current and future generations.