Tukad Melangit platform Bangli, Bali: An Awesome Tourist Exploration
The Island of the Gods Bali is indeed very famous for its beach charm. Both by local and foreign tourists. However, not only with the charm of its beaches, there are still many places in Bali that certainly have a beautiful panorama and are very interesting to visit. The place is Anjungan Tukad Melangit.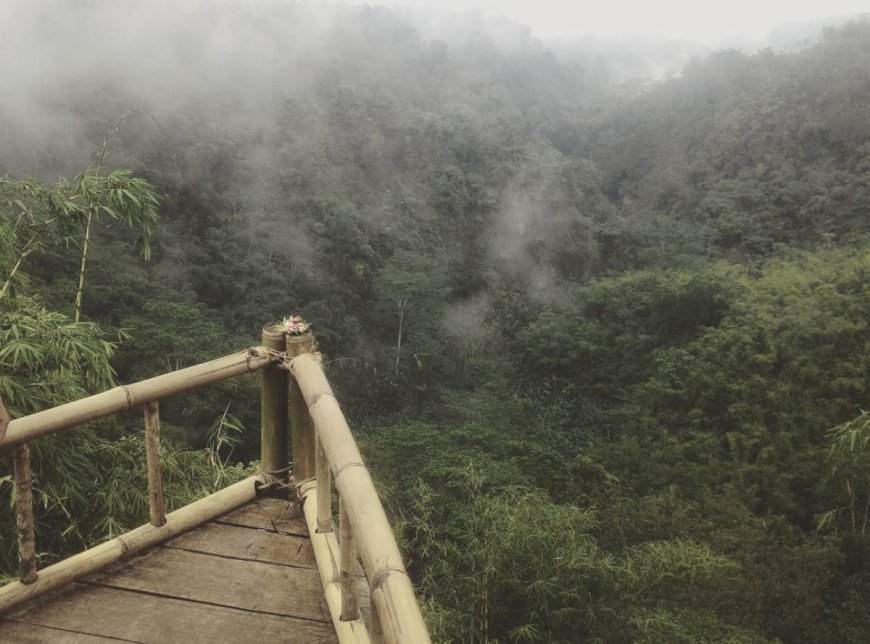 Anjungan Tukad Melangit (Source: Personal Collection)
Bali's natural beauty is undeniably one of the main attractions in the world of tourism, both in Indonesia and around the world. Therefore, it is no wonder that the island of Bali has always been a top nominee as a preferred tourist destination. However, for those who have visited the island known as "Dewata" many times, the curiosity to discover new experiences or enjoy different things always arises.
Bali continues to innovate and present a variety of new tourist attractions to meet the needs of tourists who are looking for something fresh and unforgettable. One of the latest tourist attractions worth visiting is Anjungan Tukad Melangit in the Bangli area. Although it may not be as popular as other tourist destinations in Bali, this tourist attraction holds a truly enchanting natural beauty, which is worth exploring by tourists who are looking for a new and unforgettable experience.
Tukad Melangit Anjungan Tourism Object (Source: Personal Collection)
Anjungan Tukad Melangit is located in Antugan Hamlet, Jehem Village, Tembuku District, Bangli Regency, Bali. The existence of this tourist attraction has given a fresh feel and added value to the tourism map in Bangli. Bangli Regency has unique characteristics, namely as the only region in Bali that does not have a beach, so this region is located in the highlands with cool air. Some areas in Bangli, such as the tourist destination of Kintamani, offer a travel experience with cool and comfortable temperatures.
There are a number of popular tourist attractions in the Bangli region, including Kintamani, Penglipuran, Trunyan, Mount Batur, and Kehen Temple. All of these destinations are must-visit tourist destinations in Bangli. With a wide selection of interesting attractions, Bangli offers different experiences to visitors who are looking for natural beauty and authentic Balinese culture.
Anjungan Tukad Melangit was originally an ordinary place for local residents to gather. And at that time, someone took a picture of the place and uploaded it to social media. Since then, Anjungan Tukad Melangit began to be recognized by many and began to have many visitors. Anjungan Tukad Melangit tourist attraction is located on land owned by Made Arta, a resident of Antugan. The location is right on the edge of the Tukad Melangit ravine. This platform is a favorite place for visitors to take pictures in an extreme way.
The Tukad Melangit platform in Bangli is very interestingly designed. It is built using wooden slats and bamboo sticks that are installed as safety walls. The sharp edges form a silhouette similar to the tip of a boat. This architectural uniqueness adds to the attractiveness of this tourist attraction, Tukad Melangit Anjungan itself is located about 300 meters above the cliff. As one of the extreme attractions, visitors can feel the challenging sensation when standing on a fairly steep cliff. This tourist attraction that is still maintained its beauty only charges Rp. 10,000 for adults and Rp. 5,000 for children. As for the operating hours, Anjungan Tukad Melangit can be enjoyed from 08.00 WITA to 17.00 WITA.
The beauty of the green valley of Tukad Melangit, as well as the hills that rise up around it, presents an amazingly breathtaking view when visiting it. The area is filled with green trees that provide freshness and tranquility. When tourists set foot on the Tukad Melangit platform, they will feel its charm firsthand. All the beauty offered by this place has attracted the interest of many people to delve deeper and enjoy firsthand its amazing natural panorama. Especially with the Tukad Melangit Anjungan located above the Melangit river, this place has become one of the latest tourist attractions that Bangli has to offer. This platform has become a highly sought-after tourism icon in Bali, even inspiring the emergence of various new tourist attractions with similar concepts located on the edge of the cliff, all aiming to offer spectacular natural beauty of the surroundings. Thus, visitors can enjoy the charm of nature more closely and deeply.