Tirta Empul Temple: Seeking Meaning in Spiritual Cleansing Ritual in Bali
Tirta Empul Temple, a magnificent and renowned Hindu temple in Bali, has long been a cultural and spiritual icon of the island of the gods. Located in the village of Tampak Siring, this temple invites visitors to contemplate the beauty of nature and the profound meaning of its spiritual cleansing rituals.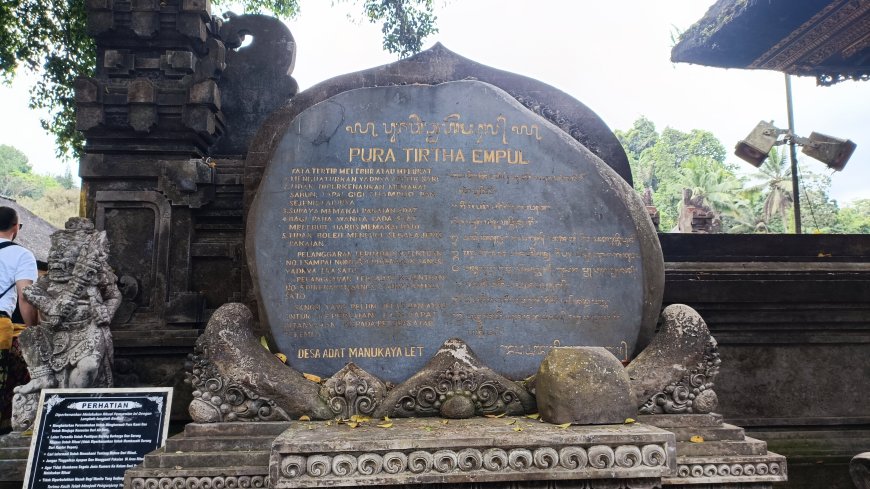 Tirta Empul Tample (Photo Source : Editorial Collection)
Bali, with its breathtaking beauty and rich culture, is also known as a sacred place for spiritual seekers. One of the most famous sacred sites in Bali is Tirta Empul Temple. Tirta Empul Temple is a Hindu religious site located in the village of Tampaksiring, Bali, Indonesia. In the Balinese language, "Tirta Empul" means "rising water."
The History of Tirta Empul
The Balinese Usana Bali scripture tells the story of how Tirta Empul was created by Bhatara Indra during his battle against Mayadenawa, a powerful but evil-minded king. When Mpu Kul Putih, a wise sage, witnessed the suffering of the people due to Mayadenawa's wicked deeds, he meditated at Pura Besakih to seek guidance from God. It is said that Bhatara Indra came to help with a powerful army and full weaponry. A fierce battle ensued, with Mayadenawa's forces putting up a strong resistance. Nevertheless, Bhatara Indra's forces eventually won the battle, causing Mayadenawa's forces to flee.
Mayadenawa then created a poisonous spring near Bhatara Indra's position. The next day, many of Bhatara Indra's soldiers fell ill after drinking the poisoned water. Upon seeing this, Bhatara Indra immediately thrust his spear into the ground, causing holy water (Tirta Empul) to gush forth. This water was used to bless the gods, and soon they fully recovered, and all the soldiers were healed. This story gave meaning to the purification ritual performed at Pura Tirta Empul, reminding us of the spiritual healing power of holy water.
Tirta Empul Temple was established in the 10th century AD. Since its inception, Tirta Empul Temple has been a religious and spiritual center for the people of Bali. It is used for various cleansing rituals and religious ceremonies. The holy water flowing from natural springs within the temple complex is believed to have the ability to cleanse the soul and body of sins and negative karma.
The architecture of Tirta Empul Temple
The Architecture Temple (Photo Source : Editorial Collection)
Tirta Empul Temple boasts beautiful architecture with intricate temples and charming landscapes. It is a popular tourist destination for those looking to explore the island's cultural richness and spirituality. The temple showcases the distinctive beauty of Balinese architectural artistry, with intricately carved stone temples and stunning decorative carvings. However, the temple's beauty is not limited to its physical structure; the surrounding landscape adds to its natural allure. Situated amidst lush green rice fields, with tall coconut trees towering around, the temple creates a peaceful and contemplative atmosphere.
The temple stands out not only for its stunning architecture and scenery but also for the unique spiritual cleansing rituals performed by pilgrims and tourists, known as "melukat" rituals. These rituals are deep spiritual purification processes followed by pilgrims, Hindus, and visitors from around the world. The melukat ritual at Tirta Empul Temple is considered an essential step in the spiritual journey. It is an effort to cleanse oneself of sins and negative energies that can disturb inner balance.
During melukat, visitors enter a pool with 30 spouts of natural spring water believed to possess sacred powers. They follow a prescribed series of steps, including prayers and offerings, before immersing themselves in the water. The ritual begins with splashing holy water on the face as a sign of purifying oneself from negative thoughts and feelings. It is a moment when they feel aligned with the universe and seek inner peace.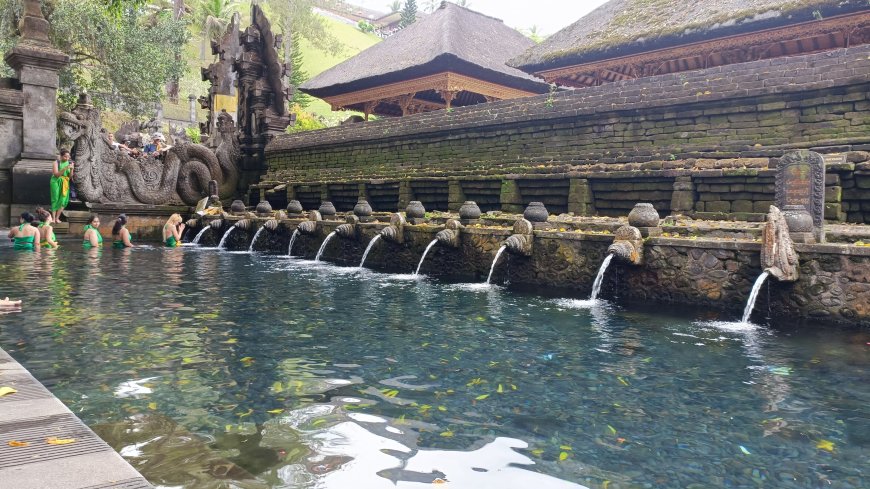 The fountain of Tirta Empul Temple (Photo Source: Editorial Collection)
Tirta Empul Temple is a captivating place in Bali, blending the beauty of nature and cultural richness with the profound meaning of its spiritual cleansing rituals. It represents Bali's uniqueness, where history, myths, and spirituality converge in a captivating harmony. Through the melukat ritual, pilgrims and visitors seek inner purification and deeper peace. Tirta Empul Temple serves as a reminder of the spiritual healing power of holy water and serves as a window for those seeking meaning in their spiritual journey in this beautiful Bali.
For many, visiting Tirta Empul Temple is not just a tourist journey but a profound spiritual experience. The place not only offers the opportunity to witness the beautiful melukat ritual but also to experience tranquility and harmony in the serene temple environment. The purification rituals in this temple allow them to contemplate, seek meaning in life, and raise awareness of the importance of spiritual purity in everyday life. Thus, Pura Tirta Empul remains one of the most significant and meaningful sacred places in Bali, offering an unforgettable experience for all who come seeking peace and purification.