Tracing the historical traces of Goa Gong Temple in Bali
Goa Gong Temple, located in Bali, is a temple with an intriguing history, closely linked to the journey of Maha Rsi Dang Hyang Nirartha. This temple also serves as a spiritual destination for Hindus in Bali.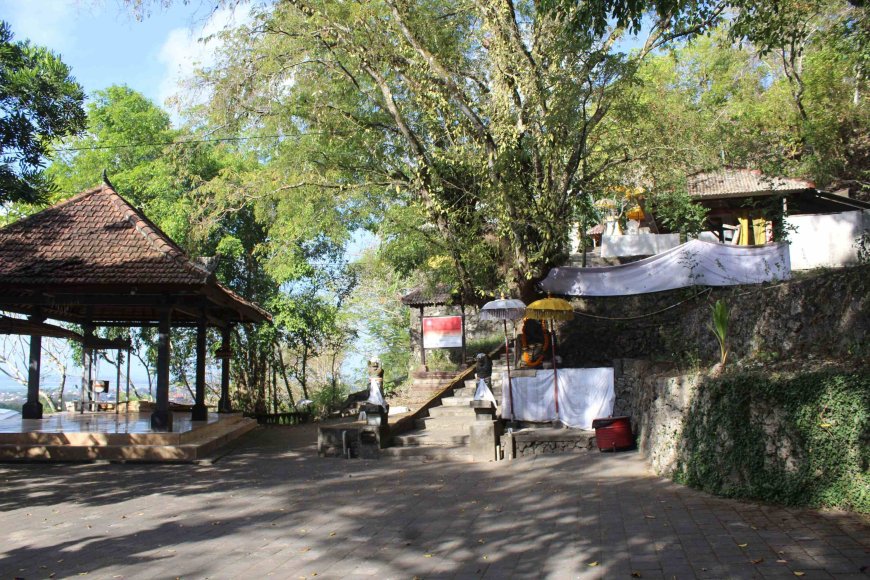 Goa Gong Temple (Photo Source: Editor's Collection)
Bali Island is known as the Island of a Thousand Temples, with captivating temple architecture, unique structures, and profound philosophical meanings. One temple that beautifully combines all these elements is Goa Gong Temple, which boasts a rich history and enchanting natural beauty.
The history of Goa Gong Temple is linked to the journey of a revered figure known as Maha Rsi Dang Hyang Nirartha. He was a respected individual, bearing the title Pedanda Sakti Wau Rawuh. The story begins with Dang Hyang Nirartha's sacred journey as he left Kerobokan Village and headed south along the coast. From a distance, he spotted a prominent cape jutting out into the sea in the Badung hill region, and that was his destination. He hurried along the beach, and the sea was receding. Upon arriving there, he noticed that the cape was entirely made of massive coral rocks.
While practicing yoga meditation at Uluwatu, he suddenly heard the resonating sound of a Gong from a distance, prompting him to seek its source. On his way, he encountered two yellow and red-colored dragons that blocked his path. These dragons turned out to be spiritual entities that once inhabited the area as invisible snakes. After centuries of meditation, they had finally taken the form of dragons.
Dang Hyang Nirartha decided to purify these dragons and assist them in achieving Sunia Loka (spiritual liberation). Upon his agreement, he purified the two dragons, and a garden was established at that location, known as Goa Peteng. After completing his mission, Dang Hyang Nirartha continued his spiritual journey.
During his journey, Dang Hyang Nirartha discovered a cave. In the cave, he heard the tantalizing sound of a Gong as he approached. However, the sound suddenly vanished when he entered the cave. Dang Hyang Nirartha chose to sit on a rock inside the cave to engage in his meditation. During his meditation, colorful water suddenly emerged from the cave.
Throughout his meditation, thousands of wong samar (spirits) came seeking purification from Dang Hyang Nirartha. With humility, he carried out this sacred task, helping the wong samar attain enlightenment in accordance with their individual karma. Additionally, Dang Hyang Nirartha requested these wong samar to assist in building the Parahyangan Temple in Uluwatu, now known as Uluwatu Temple.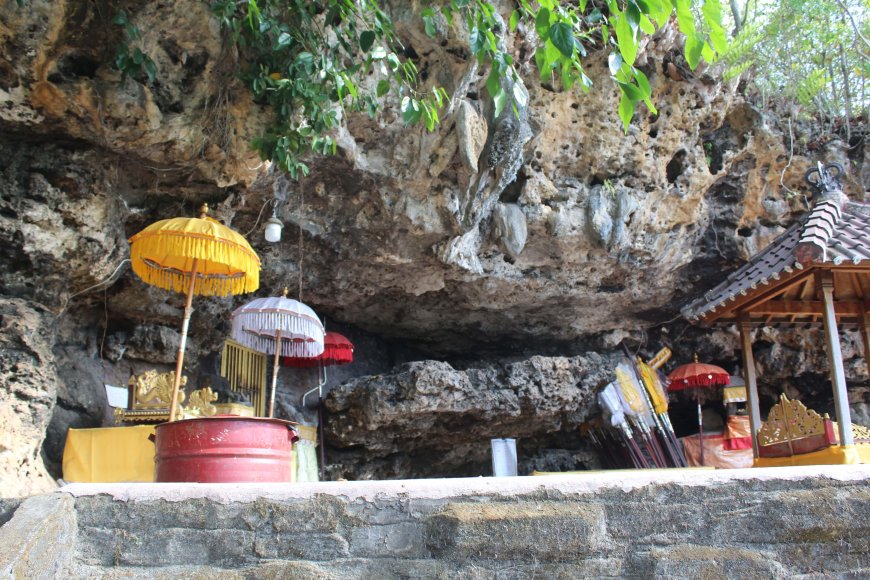 Goa Gong Temple (Photo Source: Editor's Collection)
Goa Gong Temple has a strong connection with the Mengwi Kingdom. Legend has it that Ida Gusti Agung Maruti, while in exile from Gelgel, took refuge here. During his time in hiding, he received a gift in the form of a steamed star-shaped keris, now revered in Puri Keramas, Gianyar.
Due to this connection, Goa Gong Temple was initially managed by the Mengwi king but was later transferred to the Badung king. With its rich historical background, the temple is honored as a sacred place to worship Dang Hyang Nirartha and also houses several shrines, including one for worshipping Ida Betara in Goa Gong.
Interestingly, within the temple complex, there are shrines dedicated to Ratu Mas Manik Subandar and Dewi Kwan Inn, making Goa Gong Temple also frequented by Buddhists during significant Buddhist religious events.
Goa Gong Temple is located in Jimbaran Village, South Kuta District. The name "Goa Gong" refers to the cave that is an integral part of the temple. The Gong referred to here is not a musical instrument but rather stalactites hanging from the cave's walls that produce a Gong-like sound when water drips on them.
This cave is a relic from prehistoric times, dating back to the Mesolithic era, approximately 2500 years before Christ. On the cave's walls, there are dripping stalactites, creating a sacred water or Tirta phenomenon highly revered by the locals. It is believed that this water has healing properties, and many come to the cave to seek healing.
Piodalan or religious ceremonies at Goa Gong Temple are held every 6 months, coinciding with the Soma Ribek or Soma Pon day in the Balinese calendar. During piodalan, the sound of the Gong is often heard mysteriously in the temple, adding to its magical atmosphere.
Goa Gong Temple has rules that visitors must follow. For example, the temple is closed every Wednesday, and on that day, entry into the cave area is prohibited. Additionally, visitors are not allowed to wear footwear, and pregnant or nursing women are not permitted to enter the cave. All of these rules are intended to maintain the temple's sanctity.
Goa Gong Temple is a beautiful example of Bali's rich historical heritage, natural beauty, and profound spirituality. It is a must-visit place to experience the enchanting culture and religion of Bali.