The Majesty of the Dasar Buana Gelgel Temple, a Symbol of the Eternal Unification of the Balinese Universe
Dasar Buana Gelgel Temple, a historical legacy of Klungkung once the center of the Balinese kingdom, epitomizes grandeur with various symbols carrying profound meanings. This temple serves as a vessel for elements of religion and culture, creating a captivating blend.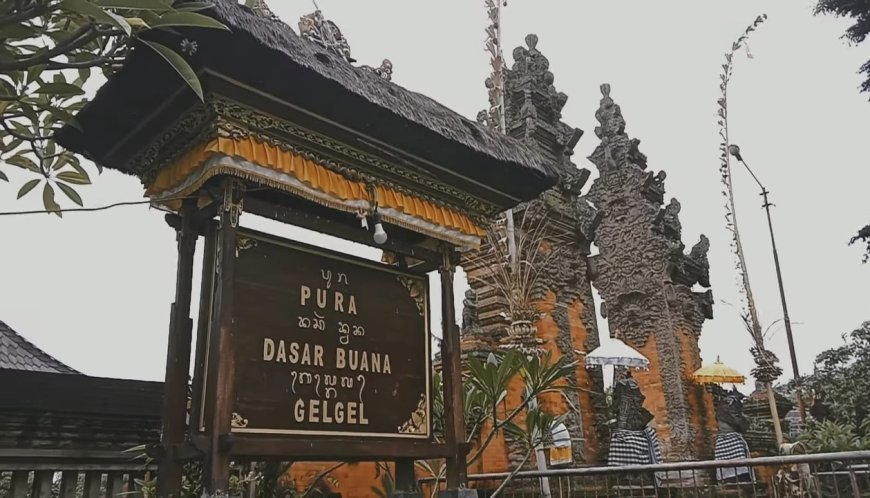 Dasar Buana Gelgel Temple (Photo Source: Editorial Collection)
Throughout the island of Bali, Hindu temples, known as pura, play a vital role in daily life and religious ceremonies. One of the temples holding a special place in Balinese tradition is Dasar Buana Gelgel Temple, located in Klungkung, Bali. Dasar Buana Gelgel Temple is one of the Dang Khayangan Jagat Temple found in Bali, and its construction dates back to 1189 Caka or around 1267 CE, attributed to Mpu Dwijaksara from the Wilatikta Kingdom (Majapahit Kingdom). The temple was also established as a sign of reverence for the holy teachers who played a pivotal role in spreading the teachings of Hinduism in Bali.
Legend has it that the name Dasar Buana was bestowed by Dhalem Ketut Ngulesir, also known as Sri Semara Kepakisan. He ruled Gelgel around 1302 Saka or approximately 1380 CE. During his reign, its status was elevated to a royal temple. With this upgraded status, Dasar Buana Gelgel Temple during that period became a symbol of the fundamental world or the foundation of unity for the Balinese community. In Balinese, "Dasar" means foundation, and "Buana Gelgel" refers to the Gelgel dynasty that once ruled Bali. The name of this temple reflects the importance of the relationship between Hindu religious tradition and Bali's history.
Dasar Buana Gelgel Temple Art (Photo Source: Editorial Collection)
Dasar Buana Gelgel Temple is a testament to the glory of the Gelgel Kingdom, restored and embellished over centuries. The temple's evolution involved various rulers, such as Dalem Ketut Ngulesir (1293-1527), who initiated its revival by emulating the Majapahit temple designs. Subsequently, improvements were continued by King Dalem Waturenggong (1520-1558), who expanded and beautified the temple. The royal priest, Dang Hyang Nirartha, also contributed by adding the Padma Tiga shrine, making the temple more complex in structure and appearance. During the reign of Dalem Waturenggong, efforts to unify the four societal groups in worship at Dasar Buana Gelgel Temple were strengthened. This unity became the foundational spirit guiding religious practices in the Dalem Waturenggong Kingdom at that time.
Dasar Buana Gelgel Temple stands as a prime example of classical Balinese temple architecture. Its design showcases remarkable aesthetic prowess with its multi-tiered roofs, intricately adorned small shrines, and stunning ancient gateways. Furthermore, the temple is surrounded by lush gardens and sacred trees, creating a serene and sacred atmosphere.
One of the most prominent symbols in Dasar Buana Gelgel Temple is the "Candi Bentar," an ancient gateway consisting of two towering structures often found at the temple's entrance. Candi Bentar symbolizes the separation between the worldly realm (Buana Alit) and the spiritual realm (Buana Agung), reminding us of the importance of maintaining balance and harmony between the material and spiritual worlds. Dasar Buana Gelgel Temple comprises the Tri Mandala, consisting of Nista Mandala, Madya Mandala, and Utama Mandala. Nista Mandala features two towering banyan trees providing shade and a cool ambiance. Madya Mandala houses the Bale Agung and Bale Pasanekan shrines. Meanwhile, the main courtyard, Utama Mandala, is used as the central area for prayers during various ceremonies such as odalan or pujawali, held every six months or during Purnama Kapat.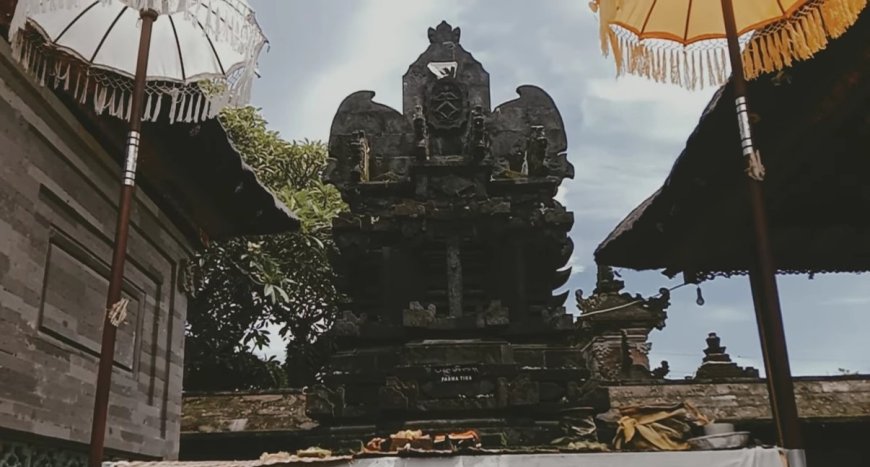 Dasar Buana Gelgel Temple Padmasana (Photo Source: Editorial Collection)
Inside the temple, altars adorned with tumpeng (rice pyramids) and other offerings are an integral part of Hindu religious ceremonies in Bali. Three multi-tiered meru towers complement the main courtyard of Dasar Buana Gelgel Temple. The tallest is the Meru Tumpang Solas (eleven roof tiers), a shrine dedicated to the Satrya Dalem descendants. The three-tiered Meru Tumpang Telu shrine is dedicated to Mpu Gnijaya, the ancestor of the Pasek. Another three-tiered Meru Tumpang Telu shrine is dedicated to the Pande group. The fourth shrine, Padma Tiga, is dedicated to the Brahmin descendants. These four shrines are collectively known as the Catur Warga. The ceremonies at Dasar Buana Gelgel Temple are characterized by traditional music and dance accompanying the processions, creating a vibrant and colorful atmosphere.
Today, Dasar Buana Gelgel Temple is situated in Desa Pakraman Gelgel, encompassing 28 banjar (community groups) and three administrative villages: Desa Gelgel, Desa Kamasan, and Desa Tojan. Dasar Buana Gelgel Temple serves not only as a place of worship but also as a hub for social and cultural activities. It plays a significant role in preserving Bali's distinct identity. During major celebrations and traditional ceremonies, the Balinese community gathers at this temple to worship together and strengthen their social bonds. This uniqueness has become the primary attraction for tourists visiting Dasar Buana Gelgel Temple. The most ideal time to plan a visit is during pujawali celebrations, held every Senin Kliwon Kuningan in the Balinese calendar or five days after Galungan. During these times, the atmosphere becomes lively and bustling with festive activities.
Dasar Buana Gelgel Temple is a perfect example of how Bali has maintained harmony between its religion and culture. It is a place that teaches us to celebrate diversity and understand the importance of maintaining balance in life. As a sacred place and a symbol of harmony, Dasar Buana Gelgel Temple will continue to play a vital role in Balinese life. It is one of the invaluable legacies enriching the cultural wealth of this island and reminding us of the beauty and grandeur of Bali's enduring traditions.