Desa Bindu: A Tour With Countless Beauties in Bali You Must Visit
Desa Bindu is a unique tourist destination that seamlessly combines the wonders of nature, authentic culture, and the charm of a well-preserved rural environment. This is why the village boasts such high tourism potential.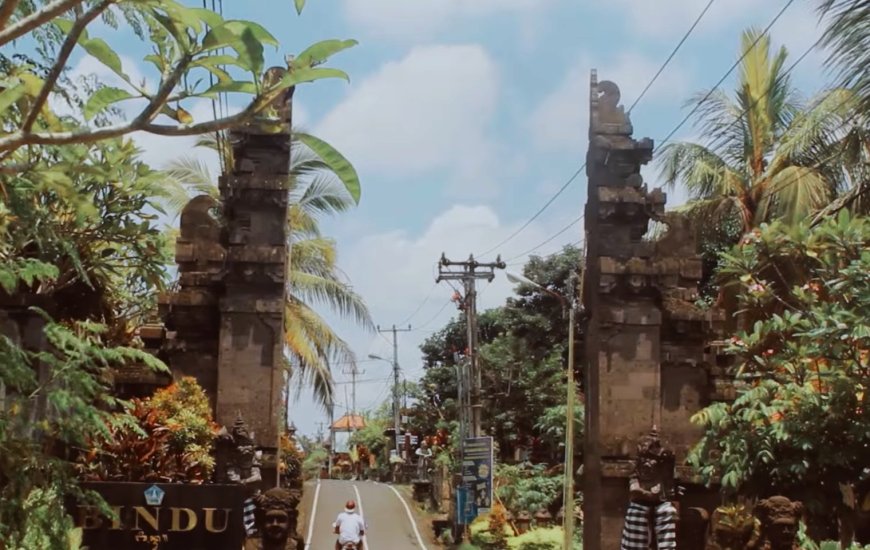 Desa Bindu (Source: Editorial Collection)
Bali, the famed paradise known for its natural beauty, holds a hidden gem that you must explore: Desa Bindu. Located in the Abiansemal district of the Badung regency, Bali province, this village is just a 56-minute drive from Ngurah Rai International Airport.
You can explore Desa Bindu year-round, but the best time to visit is during the dry season, which runs from April to October. The clear and dry weather during these months enhances the experience of touring Desa Bindu, making it ideal for travelers seeking the perfect getaway.
With its pristine natural backdrop, rich culture, expansive rice fields, and fresh air far from the hustle and bustle of the city, Desa Bindu offers a perfect escape for rest and rejuvenation.
When staying in Desa Bindu, you can indulge in the luxury of internationally-standardized villas that offer exceptional accommodations. In the morning, you can witness local farmers working in the rice fields and cultivating rice, providing an opportunity for direct interaction.
As night falls in Desa Bindu, an astonishing experience awaits. The night sky in this village is one of the brightest and most beautiful in Bali, making stargazing under the clear skies a highly recommended experience. You can contemplate by the villa's poolside, enjoying the serenity of the rural night, creating lasting memories during your Bali journey.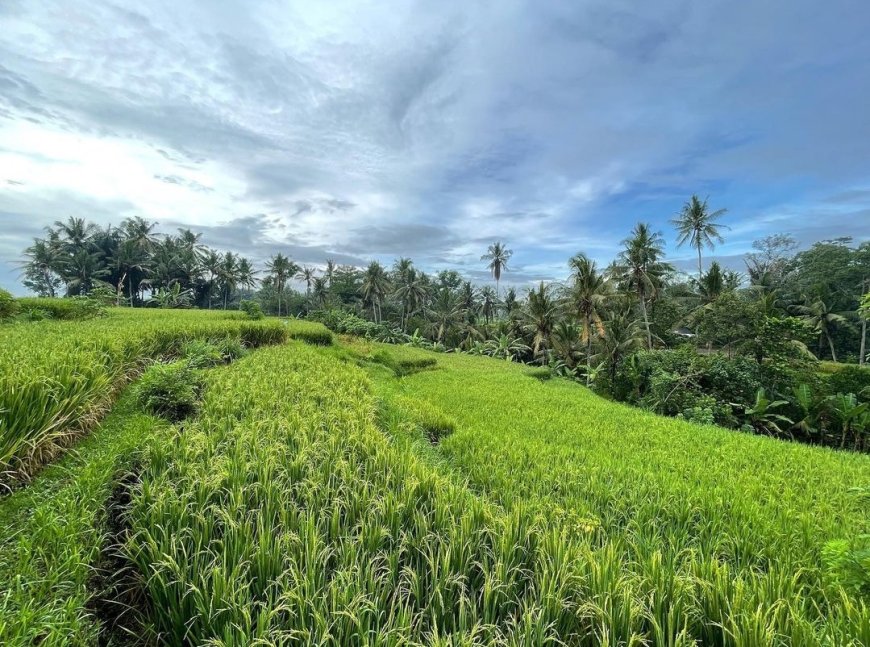 Rice Fields Desa Bindu (Source: Editorial Collection)
Desa Bindu offers a variety of tourist activities, including yoga, trekking, rice planting, dance performances, cooking classes, and much more. If you are traveling with family, rice planting may be a suitable option, while solo travelers may opt for trekking or healing programs to fulfill their desires.
One of the remarkable aspects that sets Desa Bindu apart is its hospitality towards tourists. The local community is more than willing to share stories, traditions, and local knowledge with you. You can participate in cultural events, visit traditional markets, or even learn to create "canang" (Balinese offerings) from the village residents. Through these interactions, you gain profound insights into Balinese life and culture, and you'll feel the warmth of the friendly Desa Bindu community.
For those seeking spiritual serenity, Desa Bindu is the perfect place. With its tranquil atmosphere and positive energy flowing through its breathtaking natural surroundings, many visitors find peace through meditation or yoga amidst the rice fields or under the captivating sunset. With all its uniqueness and tranquility, Desa Bindu serves as a window to Bali's true nature and culture.
The community of Desa Bindu highly values environmental conservation. They have a program for organic waste management that aims to produce compost fertilizer. This compost is used by local farmers to reduce the use of harmful chemical fertilizers, maintaining the cleanliness of their land.
Furthermore, you can witness the management of "subak", a traditional irrigation system used to water the rice fields. This system is an integral part of Bali's cultural heritage and an inseparable aspect of Desa Bindu.
Desa Bindu also prioritizes environmental and cultural preservation. Their management of the subak system exemplifies their commitment to preserving the local ecosystem. By visiting Desa Bindu, you contribute to the conservation efforts of the invaluable environment and culture of Bali. So, in addition to satisfying your tourist cravings, your visit to Desa Bindu will leave a positive impact on the local community and environment.
Initially, Desa Bindu focused on the healing, yoga, and trekking sectors before being recognized by the Badung regency government as an official tourist destination. This distinction sets Desa Bindu apart from other villages in Bali, with a strong emphasis on healing programs as a means for travelers to unwind and find tranquility.
So, if you're seeking an unforgettable Bali experience, don't miss the opportunity to visit Desa Bindu. With its natural beauty, authentic Balinese culture, and the serenity of a rural village, Desa Bindu promises to be an unforgettable stop on your Bali travel journey.