Bali's Hidden Gem: Perancak Village - A Haven of Natural Beauty, History, and Local Wisdom
Bali, an exotic paradise in Indonesia, offers more than just vibrant nightlife and luxurious beach resorts. Far away from the hustle and bustle of tourist hubs, there lies a hidden gem that offers serenity, natural beauty, and captivating local wisdom. Welcome to Perancak Village, located at the western tip of Bali, which holds a unique charm for travelers.
Jukung (Source : Editorial Collection)
Perancak Village may be far from the tourist hotspots, but it's easily accessible. From Denpasar, it's just approximately a 98 kilometer journey via the Denpasar-Gilimanuk highway, followed by a southward drive from the Jembrana district center for about 19 kilometers through the Negara-Tegal Cangkring-Perancak road, and you'll arrive at Perancak Village.
Having an inspiring history, Perancak Village was originally known as "Tanjung Ketapang" and has a rich heritage associated with the fall of the Majapahit Kingdom. At that time, Tanjung Ketapang was led by I Gusti Ngurah, a leader known for his arrogance. However, everything changed when a Javanese priest known as Danghyang Dwijendra or Danghyang Nirartha arrived in the village.
Danghyang Nirartha, a renowned Hindu scholar, lived in the village to impart Hindu teachings. The villagers greatly revered him, but the unfriendly attitude of I Gusti Ngurah made him apprehensive about Danghyang Nirartha's influence. One day, as Danghyang Nirartha was preparing for prayers at the temple where I Gusti Ngurah resided, he refused to worship him.
A miracle occurred: the stone seat of I Gusti Ngurah shattered, causing him to fall. This event made I Gusti Ngurah realize the powers of Danghyang Nirartha, who was later known as "Pedanda Sakti Wau Rauh" or the Priest with the Power to Break Stone. In honor of him, the villagers built Pura Encak, and this is where the name Perancak Village originated.
Perancak Village boasts a beach along the shores of the Indian Ocean, offering expansive ocean views and spectacular sunsets. This beach is an ideal place to relax and immerse yourself in the beauty of nature.
Perancak Beach features soft white sand and crystal-clear waters. You can feel the warmth of the sand beneath your feet while listening to the soothing sound of the waves. Popular activities at the beach include sunbathing, beach volleyball, or simply sitting back and enjoying the refreshing sea breeze.
Perancak Village is also known for preserving local wisdom. Most of its residents lead traditional lives as fishermen. They set sail from night until early morning in beautifully adorned boats equipped with distinctive decorations and fishing nets. Don't miss the opportunity to visit the local fish market in the morning to experience its unique atmosphere.
Perancak Village also maintains a strong Hindu cultural and religious heritage. Pura Encak, established as a tribute to Danghyang Nirartha, serves as the center for religious activities and ceremonies. Visitors can witness colorful and vibrant religious ceremonies, which are an integral part of the village's identity and culture.
In addition to the fishermen's way of life and Hindu religious traditions, the local wisdom of Perancak Village is also reflected in their arts and handicrafts. Many village residents are skilled in creating various craft products, such as wood carvings, bamboo weaving, and traditional weaving. Tourists can visit the local market or craft galleries to see and purchase these unique Perancak Village artworks as souvenirs.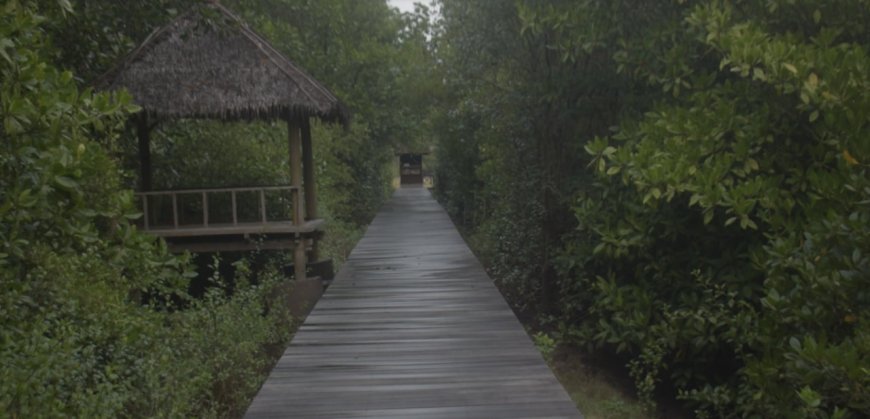 Mangrove Forest (Source : Editorial Collection)
In addition to its stunning beach, Perancak Village takes pride in its vast mangrove forest, which is one of its main attractions. This mangrove forest plays a vital role in maintaining ecological balance and environmental health.
Ecotourism in the Perancak mangrove forest consists of two main areas: the jogging track and a boat journey through the mangrove forest. To enter the 165.45 meter long jogging track, you only need to pay an affordable entrance fee. As you walk along this track, you'll experience the tranquility and beauty of the lush mangrove forest a perfect experience for nature lovers and photographers.
For those wishing to explore the mangrove forest more extensively, a boat journey is a fascinating option. This journey offers breathtaking views along a 1.5 kilometer route through the green tunnels formed by towering mangrove trees. As you navigate the mangrove forest by boat for approximately 15 minutes, you'll feel like you're entering a different world filled with unique wildlife.
During the boat journey, you can spot various species of birds and other animals that inhabit the mangrove forest. It's a perfect opportunity for birdwatching or simply enjoying the unforgettable natural beauty. With the guidance of local experts, you can gain a deeper understanding of the ecology and the importance of preserving this delicate mangrove ecosystem.
Perancak Village is where the beauty of nature and rich history converge with the enduring wisdom of the locals. So, if you're seeking a deep and meaningful travel experience in Bali, don't miss the chance to visit Perancak Village.