Wayang Wong, Bali's Cultural Treasure Recognized by UNESCO
Wayang Wong is a form of shadow puppetry performed by humans, combining dance, music, drama, and visual art into a beautiful and integrated whole.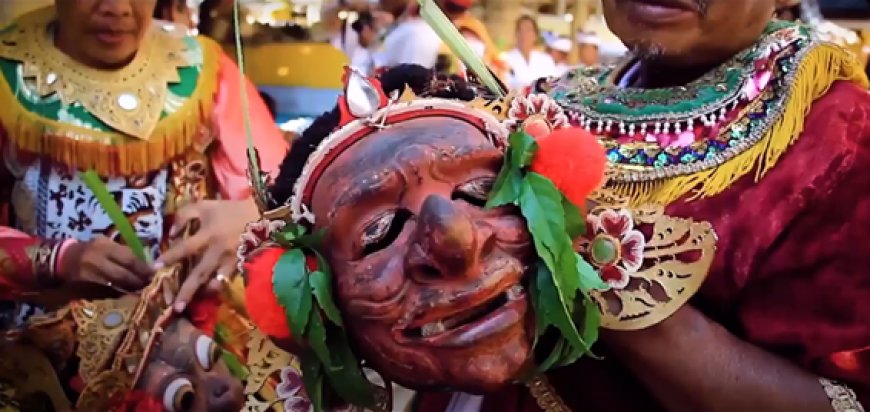 Wayang Wong Mask (Photo Source: Editorial Collection)
Wayang Wong is a form of shadow puppetry performed by humans, combining dance, music, drama, and visual art into a beautiful and integrated whole. It often draws upon the stories of the Ramayana and Mahabharata as a basis for the narratives it presents, with the purpose of entertaining, preserving culture, and celebrating religion.
Wayang Wong possesses several unique characteristics that set it apart from other forms of performing arts. Firstly, it features characters from Hindu mythology, such as those from the Ramayana and Mahabharata. The costumes and masks used in Wayang Wong are crucial elements of the performance. The actors engage in expressive dances involving body, hand, and eye movements that help convey the characters' emotions and personalities within the story. The performance is accompanied by traditional music and singing, creating an atmosphere and mood. Dialogues and storytelling play a significant role in helping the audience understand the plot.
You can witness Wayang Wong performances in various villages in Bali, including the village of Mas in the Ubud district of Gianyar Regency. The majority of Mas's population works as woodcarvers, which is why it is known as a tourist village celebrated for its artistic sculptures. Wayang Wong and the village of Mas have a deep connection, as Wayang Wong has been a part of Mas's culture since the 18th century and is often showcased during religious ceremonies.
Wayang Wong isn't just a form of entertainment; it's also a cultural heritage of Bali that has existed for centuries. This art form vividly reflects the values, traditions, and beliefs of the Balinese community. Therefore, UNESCO has recognized Wayang Wong as an intangible cultural heritage that must be preserved.
It is believed that Wayang Wong emerged during the Majapahit Empire's rule in Indonesia, from the 13th to the 16th century. The Majapahit Empire had a significant influence on Indonesian culture, including Balinese culture. Wayang Wong emerged as an art form that merged Hindu mythology with Balinese culture.
As time has progressed, Wayang Wong has evolved in both form and presentation. These adaptations have been made to keep the performance relevant to changes in Balinese culture and society. Beyond being a source of entertainment, Wayang Wong has become a medium for conveying moral, mythological, and spiritual messages.
Changes in Wayang Wong performances have included modernizing the stories to reflect contemporary issues, as well as making adjustments to costumes and masks to enhance their appeal to audiences. Additionally, Wayang Wong is not limited to religious ceremonies; it is also performed in modern theater productions that incorporate advanced equipment while preserving traditional aesthetics.
Wayang Wong is a priceless treasure for the Balinese people, and it is our duty to preserve this cultural heritage. The community plays a vital role in its preservation by participating in traditional art schools and engaging in artistic events.