Discovering Natural Wonders in Bali: Bunut Bolong, the Unique Tree with a Mysterious Hole
Bunut Bolong, which is located in Manggissari Village, Pekutatan District, Jembrana Regency, is a unique ancient tree in Bali with a large hole at its base that serves as a roadway. It is considered sacred by the local population and has a mysterious history, being discovered during the Dutch colonial era. Despite myths and prohibitions, many tourists visit this tree to admire the surrounding natural beauty. Efforts to tidy up or cut down the tree are always accompanied by mysterious deaths, which has kept it preserved.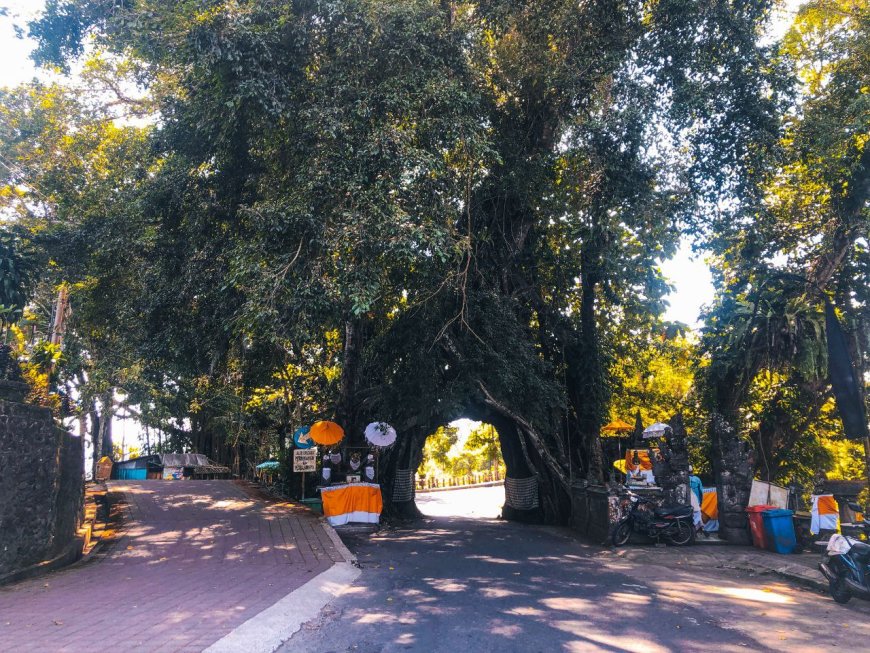 Bunut Bolong (Photo Source: Editorial Collection)
Bunut Bolong can be considered one of the oldest trees in Bali. It is also regarded as a sacred natural entity by the local community, with an estimated age of over a century.
The distinctive feature of Bunut Bolong lies at the base of the tree, where its roots form a massive hole that serves as a roadway for vehicles, from motorcycles to trucks. The tree has a diameter of approximately 15 meters and stands about 20 meters tall. This hole serves as a public thoroughfare for the people of Manggissari Village, Pekutatan District, Jembrana Regency, Bali.
Local residents believe that Bunut Bolong possesses mystical powers and serves as a dwelling place for ancestral spirits. The name "Bunut" is a Balinese word that resembles the characteristics of a Banyan tree, and "Bolong" means "Hole," hence the name Bunut Bolong, which translates to "Banyan Tree with a Hole."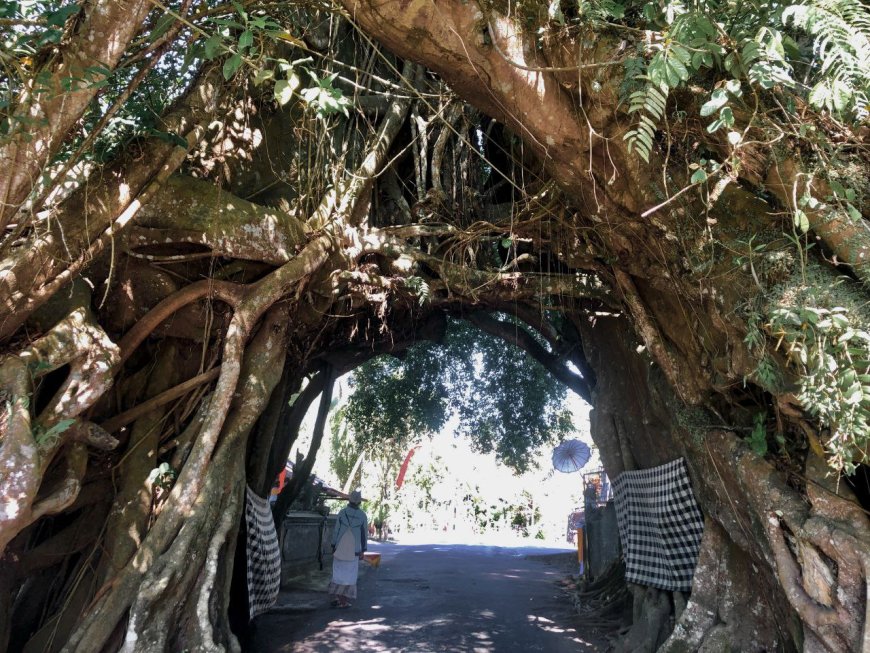 The Hole in Bunut Bolong (Photo Source: Editorial Collection)
The Bunut tree resembles a Banyan tree, but its unique feature is its ability to grow roots that transform into strange and fascinating new trunks. The hole within Bunut Bolong appears as if it were a tunnel that splits the road beneath it.
According to local residents, the exact time when this Bunut tree grew or was planted remains unknown. However, Nyoman Suardana, a local elder, shares that the tree was discovered during the Dutch colonial era. At that time, Dutch colonialists arrived in the area and employed local indigenous people for forced labor, known as "kerja rodi," to construct a road to Buleleng, enabling the passage of colonial vehicles.
Initially, Bunut Bolong had a small hole that served as a footpath. During the Dutch colonial period, the tree was further hollowed out to widen the road for colonial vehicles. Tragically, many laborers lost their lives during this process. The bodies of the deceased laborers were collected beneath a neighboring Banyan tree, which is now located next to a local warung (small shop).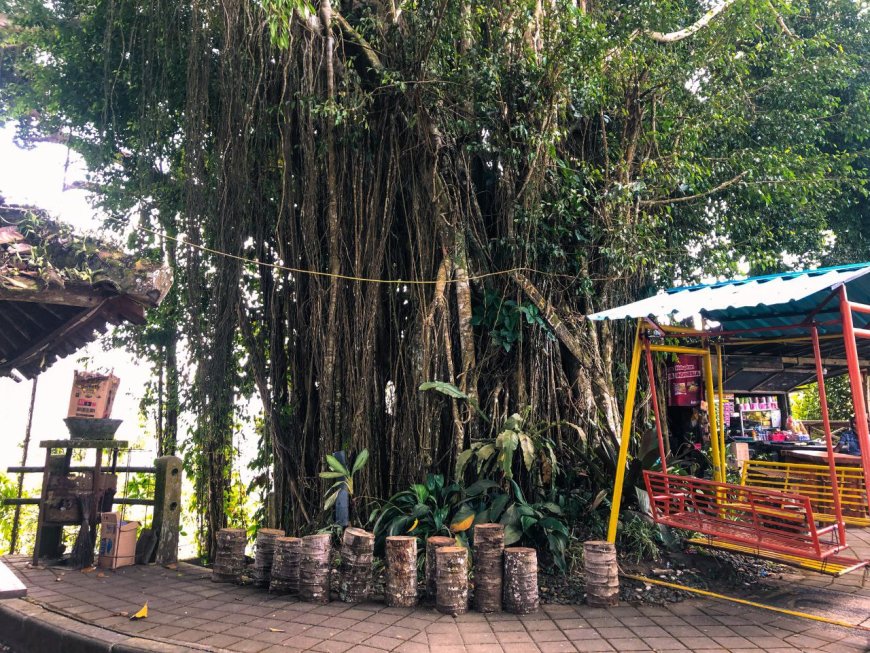 The Banyan Tree Where Workers' Bodies Were Gathered (Photo Source: Editorial Collection)
Due to the significant number of casualties, Bunut Bolong was eventually sanctified by the local community. An angsagan (prayer site) was constructed beneath the tree, which was later relocated and replaced with a padmasana (sacred shrine) to the south of Bunut Bolong, known as Pura Pujangga Sakti. The tree is also adorned with black-and-white checkered cloth, as locals believe it is inhabited by a guardian spirit. The padmasana was built to ensure that the guardian spirit of Bunut Bolong remains undisturbed and to guide unfamiliar tourists in their behavior around the tree.
Several myths have developed among the local population, suggesting blessings or misfortune for those who pass through the tree. There are specific prohibitions that visitors must adhere to, including newlyweds who must avoid passing beneath Bunut Bolong, as it is believed to bring bad luck to their marriage, either before or after the wedding ceremony. The same prohibition applies to honeymooning couples, as it is feared to harm their harmony. Another myth suggests that if one member of a married couple desires a divorce and intentionally passes through the tree, one of them may meet a tragic end. Similarly, funeral processions are not allowed to pass through this road.
Believe it or not, local residents have experienced mystical occurrences when these prohibitions are violated, considering them as curses. However, as time has passed and with the increasing number of honeymooning couples and visitors passing through, these beliefs have gradually faded.
Nevertheless, local residents remain cautious and choose alternative routes to ensure their safety, avoiding Bunut Bolong.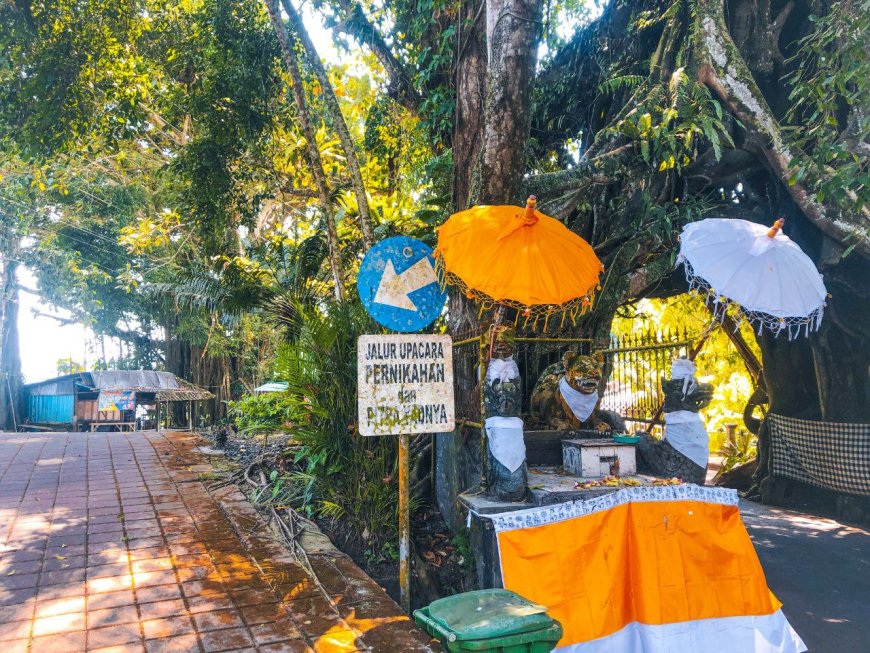 Alternative Road Access in Bunut Bolong (Photo Source: Editorial Collection)
Apart from the myths circulating, according to local residents, there have been many efforts to tidy up and plan to cut down the Bunut Bolong tree. This effort was made to make Bunut Bolong look neater and not endanger people passing underneath. It's just that every time this effort is made, there are always workers who die mysteriously. So these efforts were stopped and until now Bunut Bolong has been left as it should be.
Bunut Bolong doesn't stand alone as a sacred place and tourist attraction, but right around it, there is a vast forest stretching from the south to the north that is equally mesmerizing. As a tourist destination, Bunut Bolong remains a very natural attraction. To reach the Bunut Bolong location, the distance from Denpasar city is approximately a 2-hour drive, while the distance from the Pekutatan village market is about 11 kilometers.