Kamasan Village: Hub of Creative Artistry in Painting and Traditional Craftsmanship
In Bali, the Island of the Gods in Indonesia, it is known worldwide as a tourist paradise with its stunning beaches, rich culture, and unparalleled natural beauty. However, among the glittering popular tourist destinations, there is a small village that holds an equally astonishing cultural treasure – the Village of Kamasan. Located in the Klungkung Subdistrict, Klungkung Regency, this is where Kamasan painting, wayang performances, and kepeng currency offer a window into captivating cultural wealth.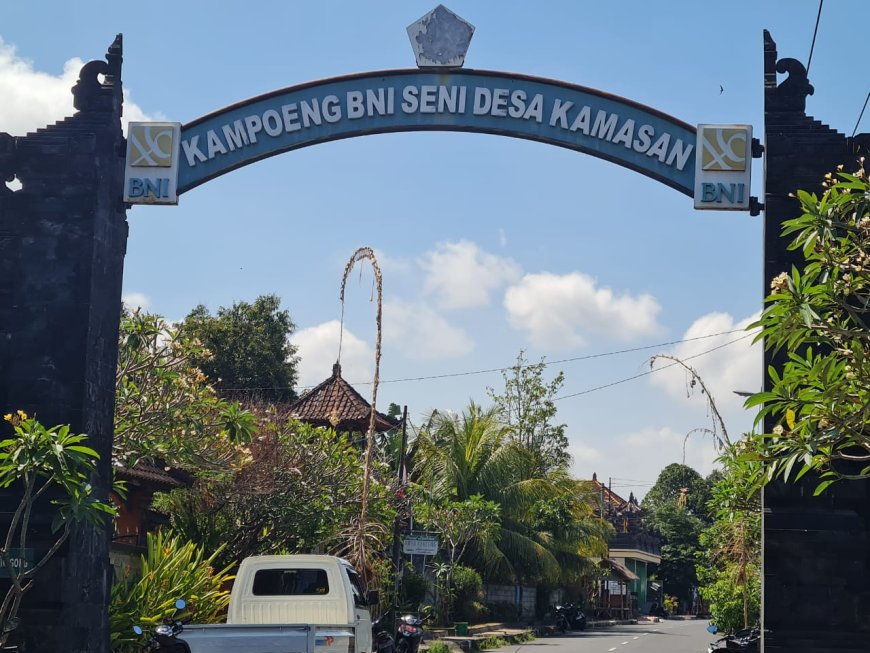 Kamasan Village (Source: Editorial Collection)
When it comes to Balinese art and culture, Kamasan painting is one of the treasures worth examining. This art form has existed for centuries and has deep roots in Balinese culture. Kamasan paintings are typically used to adorn lontar, ancient manuscripts made from palm leaves, which contain epic stories such as the Ramayana and Mahabharata. Additionally, they are also used to decorate canvases and fabrics used in religious and cultural ceremonies.
Kamasan painting has its own distinctive features that set it apart from other forms of painting. The motifs used are reflections of Hindu mythology, which is the primary religion in Bali. These paintings are known for their intricate details, vibrant colors, and a style that depicts strong narratives. Every detail in the paintings carries profound meanings, and Kamasan artists uphold this tradition with great dedication.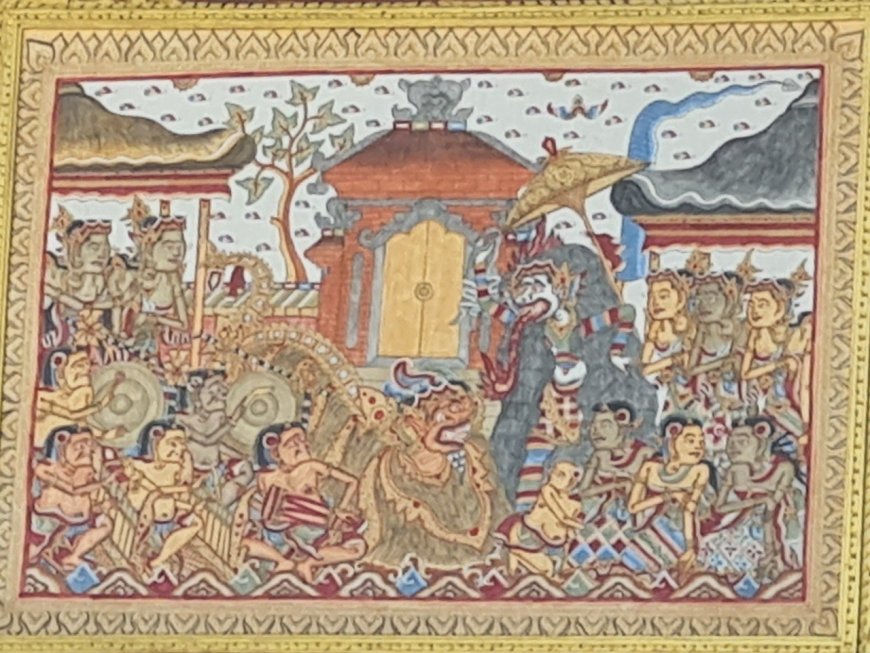 Wayang Painting (Photo Source: Editorial Collection)
The village of Kamasan is also renowned for its spectacular wayang kulit performances. Wayang kulit is one of Bali's traditional performing arts that combines puppetry and Hindu epic stories. These performances are conducted under candlelight with musicians (pengrawit) and puppeteers (dalang) leading the narrative. Elaborately carved leather puppets are used to bring to life the stories of heroes and gods in captivating performances.
In the village of Kamasan, local craftsmen create leather puppets with incredibly fine details. They employ techniques passed down from generation to generation, ensuring that each puppet possesses a unique character. Wayang kulit performances are an unforgettable cultural experience. Tourists can immerse themselves in the wonders of Balinese epic stories and gain insights into the beliefs and philosophy of Balinese Hinduism.
In the midst of the glittering world of wayang art, cultural heritage, and the mesmerizing natural beauty of Kamasan Village, there is a distinctive element that captures attention kepeng currency. Kepeng is a unique form of local currency that plays a significant role in the life and history of this village. Kepeng has a distinct shape, with a hole in the middle, allowing them to be strung together like a chain. It is not just a medium of exchange but also holds symbolic value in Balinese culture.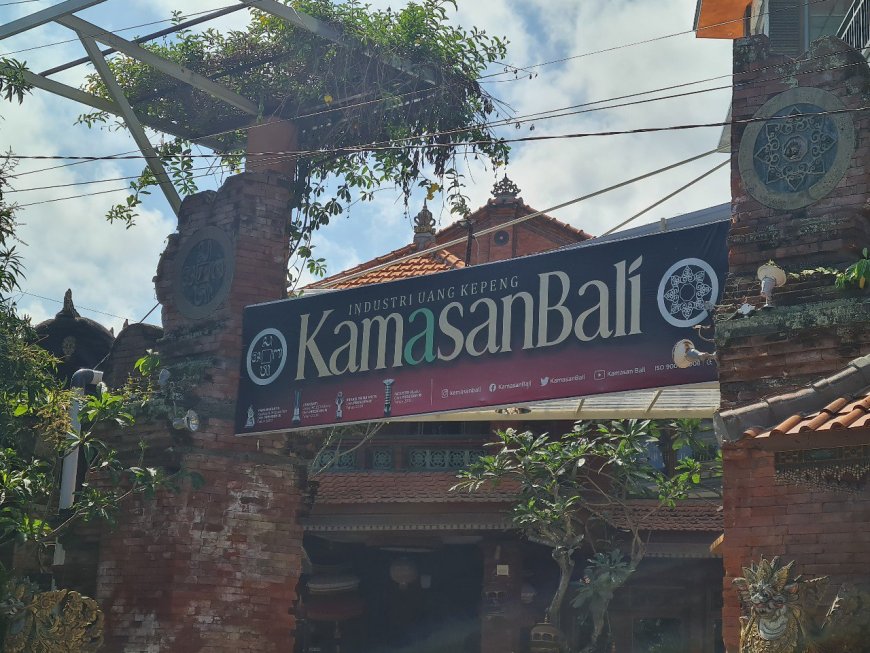 Kepeng Money Industry (Photo Source: Editorial Collection)
Kepeng currency is often used in religious and traditional ceremonies, such as worship at temples or during wedding ceremonies. Balinese communities believe that kepeng brings luck and possesses spiritual power that provides protection. Kepeng is also frequently employed as adornments in traditional Balinese art, adding an authentic touch to works of art like woodcarvings or Kamasan paintings.
The village of Kamasan, which holds a wealth of cultural treasures, is supported by the government by being designated as a Kamasan Tourist Village. Additionally, the village's potential is bolstered in terms of facilities and human resources. For example, community activities centered around Kamasan-style painting are organized, and accommodation options or guesthouses owned by the villagers are arranged and managed in accordance with lodging standards, including the provision of air-conditioned rooms.
Furthermore, the Ministry of State-Owned Enterprises (BUMN) has also established a Creative House in the village of Kamasan with the goal of allowing the local community to showcase various types of micro, small, and medium-sized enterprises (UMKM) products they own. This Creative House not only serves as an exhibition space for UMKM products but is also used to provide guidance and training to the local community on UMKM activities that align with the village's potential. As a result, the local community can acquire the skills and opportunities to market their UMKM products to a limitless global market, thereby stimulating economic growth through the UMKM sector, in parallel with the increasing utilization of ICT (Information and Communication Technology) or the use of technology for communication, creation, management, and distribution of information.
Not only is the cultural wealth of Kamasan village astonishing, but it is also known for the warmth of its residents. The village community takes pride in their cultural heritage and genuinely welcomes visitors who want to understand authentic Balinese culture. They are delighted to share stories, explain the meanings and values behind their art, and often invite visitors to participate in religious and cultural events.
Kamasan village also offers enchanting natural landscapes. In its surroundings, you'll find lush terraced rice fields, plantations, and the tranquil countryside scenery of Bali. These views add to the charm and beauty of the village, providing opportunities for leisurely walks and enjoying the surrounding nature.
This village is the place where you can experience the real Bali, away from the hustle and bustle of the main tourist destinations. The laid-back daily life of the village residents and their commitment to preserving old traditions add to the charm and authenticity of Kamasan Village as a unique cultural destination.