Mas Ubud Village: The Enchanting Center of Balinese Wood Carving Art
Mas Village in Bali is a renowned center for wood carving and sculpture art. Situated in the Ubud district, this village serves as an alternative stop for tourists visiting Ubud, Tegalalang, Elephant Cave, and Kintamani. Mas Village is famous for its high-quality woodcraft and wooden sculptures, all intricately hand-carved rather than machine-made, with prices varying widely. The head of Mas Village discusses the village's history and the diverse arts and culture found there, as well as the challenges faced by artists in light of changes in the tourism industry. Despite the presence of many famous art galleries and sculptures, the preservation of art and culture in this village relies on the spirit and determination of the artists to safeguard their artistic heritage. Mas Village welcomes anyone interested in exploring the art and culture of Bali.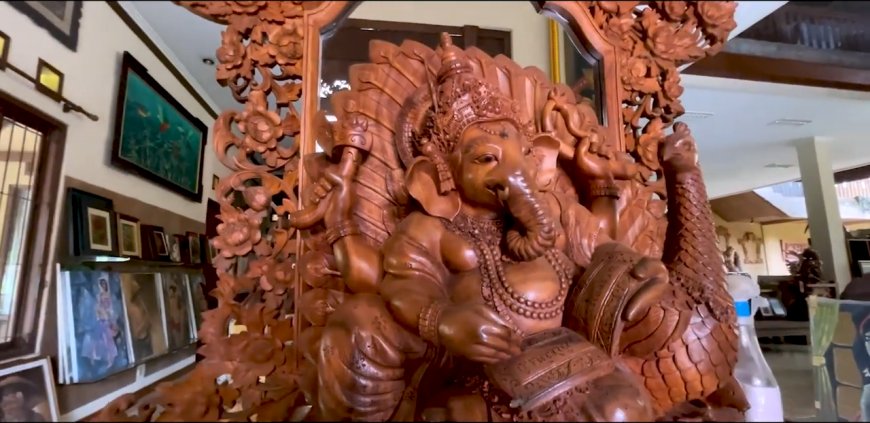 Ganesha Sculpture (Image Source: Pujangga Nagari Nusantara Channel)
Mas Ubud Village, one of Bali's hidden gems, holds an irresistible allure for art enthusiasts and tourists visiting Bali. Located in the Ubud district, this village is strategically situated along the route to several famous tourist attractions in Bali, such as Tegalalang, Gua Gajah, and Kintamani. However, the main attraction of Mas Ubud Village lies not only in its breathtaking scenery but also in its unparalleled wood carving art.
Mas Ubud Village is renowned as the center of wood carving art, showcasing an exceptionally high level of craftsmanship. It's a paradise for tourists seeking unique and high-quality wooden handicrafts or sculptures. Mas Ubud Village often serves as an alternative choice for those visiting attractions around Ubud or Kintamani.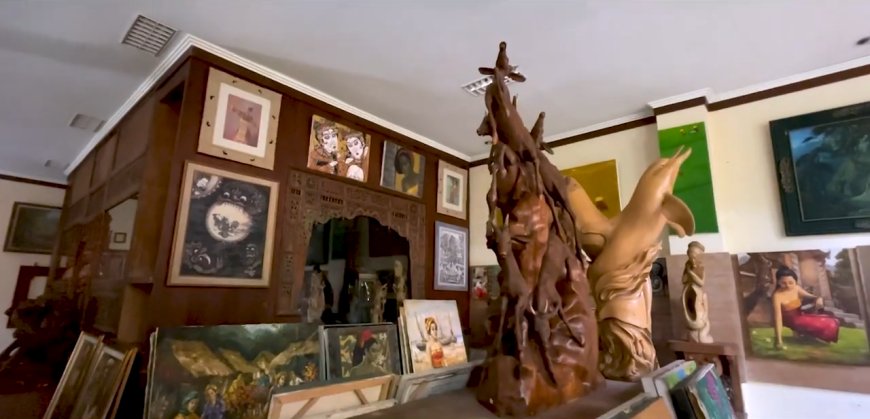 Sculptures and Paintings of Mas Ubud Village (Image Source: Pujangga Nagari Nusantara Channel)
The sculptures and art carvings produced in Mas Ubud Village often become special souvenirs of Bali. Their prices vary, ranging from tens of thousands to hundreds of millions of rupiahs, depending on their intricacy. One thing that sets the wood carving art in Mas Ubud Village apart from others is that all the sculptures here are hand-carved, not by machines.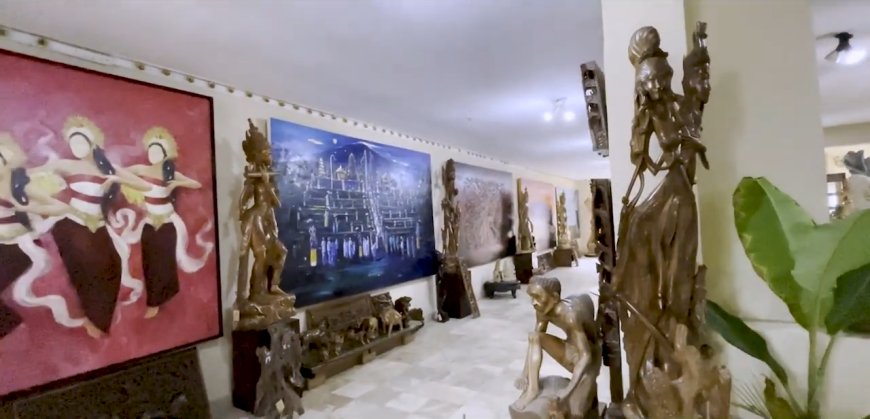 Other Sculptures and Paintings of Mas Ubud Village (Image Source: Pujangga Nagari Nusantara Channel)
When visiting Mas Ubud Village, you have the opportunity to witness the art carving process firsthand. It's a valuable experience as you can see how local craftsmen passionately create their artwork with meticulous handcrafting.
The Head of Mas Ubud Village, Mr. I Wayan Gede Darma Yudha, spoke about the unique allure of his village. According to him, Mas Ubud Village's appeal encompasses art, culture, and nature. Art in this village extends beyond wood sculptures, including sacred dance performances and various other art shows. Nearly 50% of the village's residents are involved in these arts, with various art studios frequently performing in the Ubud area.
Besides wood carving art, Mas Ubud Village is also famous for its paintings. Pengosekan, in the neighboring area, is where many local artists create beautiful paintings. These artworks often depict the surrounding nature, birds, and other aspects of Balinese life.
One thing that makes Mas Ubud Village so special is the diversity of art found in each Banjar (local community). Each Banjar has different artistic characteristics, ranging from sculpture art to carving art. Some specialize in creating statues of gods and goddesses, while others focus on carving sculptures of birds or other creatures.
Mas Ubud Village also boasts stunning natural beauty, with rice fields, cliffs, and now beautiful villas standing around it. This provides a unique experience for tourists who can enjoy not only art but also the beauty of nature and Balinese cuisine.
Mas Ubud Village also has a rich history. Although the exact founding date of the village is uncertain, according to Hindu history, it has existed since the 8th century. The village gets its name from the sage Agastya, a significant figure in Hindu mythology, believed to have planted a tree named "Tami," which still exists today.
However, despite Mas Ubud Village's incredible wealth of art and culture, its biggest challenge is the preservation of traditional art. Some artists have shifted to other jobs like restaurants and hotels to meet their economic needs. Therefore, efforts to preserve art and culture in this village are crucial. Despite government support and various initiatives, preserving art remains a challenge.
In conclusion, the village head states that Mas Ubud Village is always open to anyone who wants to visit. The village community proudly shares their artistic heritage with visitors, hoping to keep these traditional arts alive and thriving.