The Peace of Pucak Mangu: Catur Loka Pala Temple, Place for Worship of Sangkara God
Among the many Kahyangan Jagat temples on the island of Bali, some have exceptionally unique locations. One of them is Pura Pucak Mangu, situated in a highland area that is challenging to reach, far from the bustling crowds. It boasts a truly distinctive and captivating setting, particularly appealing to spiritual enthusiasts and nature lovers.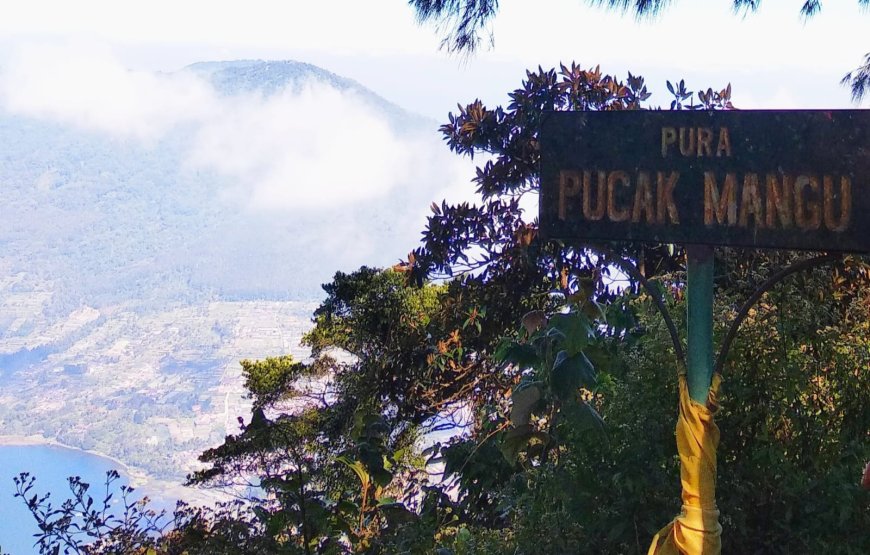 Iconic signboard of
Pura Pucak Mangu rests on the slopes of Bali's fourth highest mountain, Mount Catur, soaring at an altitude of 2,096 meters above sea level. This sacred site is among the many Kahyangan Jagat temple found on the Island of the Gods, nestled in the Banjar Tinggan region, Pelaga Village, Petang Subdistrict, Badung Regency, Bali. It's lofty perch on Mount Catur also known as Pucak Mangu, offers breathtaking and captivating views of the natural landscape.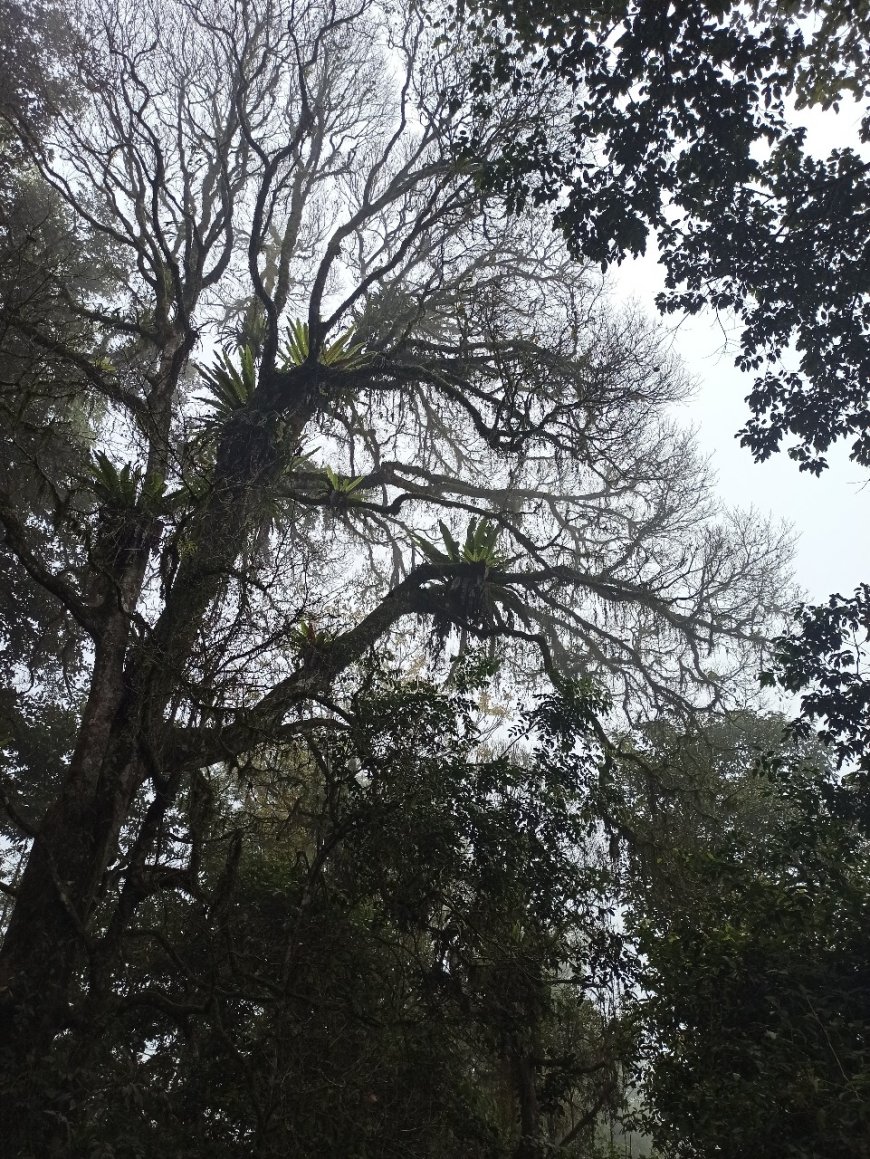 The lush greenery surrounding Pura Pucak Mangu (Source Photo: Author's Collection)
Around Pura Pucak Mangu, dense and ancient trees abound, with most branches covered in vibrant green moss that also adorns various parts of the temple structure. This natural spectacle is one of the primary attractions unique to Pura Pucak Mangu. Mount Catur, also known as Puncak Beratan due to its proximity to Lake Beratan Bedugul in Tabanan, is located to the northeast, earning it other names like Puncak Pangelangan, Pucak Mangu, and Pucak Tiingan.
Pura Pucak Mangu holds a long history closely intertwined with the existence of temples believed to have been established during the Megalithic era or ancient Bali. Historical evidence points to the presence of large stone lingam in the main courtyard of the temple complex during the Megalithic period.
The presence of Pura Pucak Mangu is also linked to one of the founders of the Mengwi Kingdom, I Gusti Agung Putu, who had a habit of engaging in tapa yoga to still his mind after past battlefield defeats. During his journey to the mountain's peak, he encountered difficulties in the dense forest and serendipitously stumbled upon the ruins of a shrine complete with a lingam. It was here that he practiced tapa yoga, eventually discovering his true self. He then endeavored to rise from defeat to victory, ultimately establishing the Mengwi Kingdom. During I Gusti Agung Putu's rule, Pura Pucak Mangu underwent restoration and several shrines were constructed.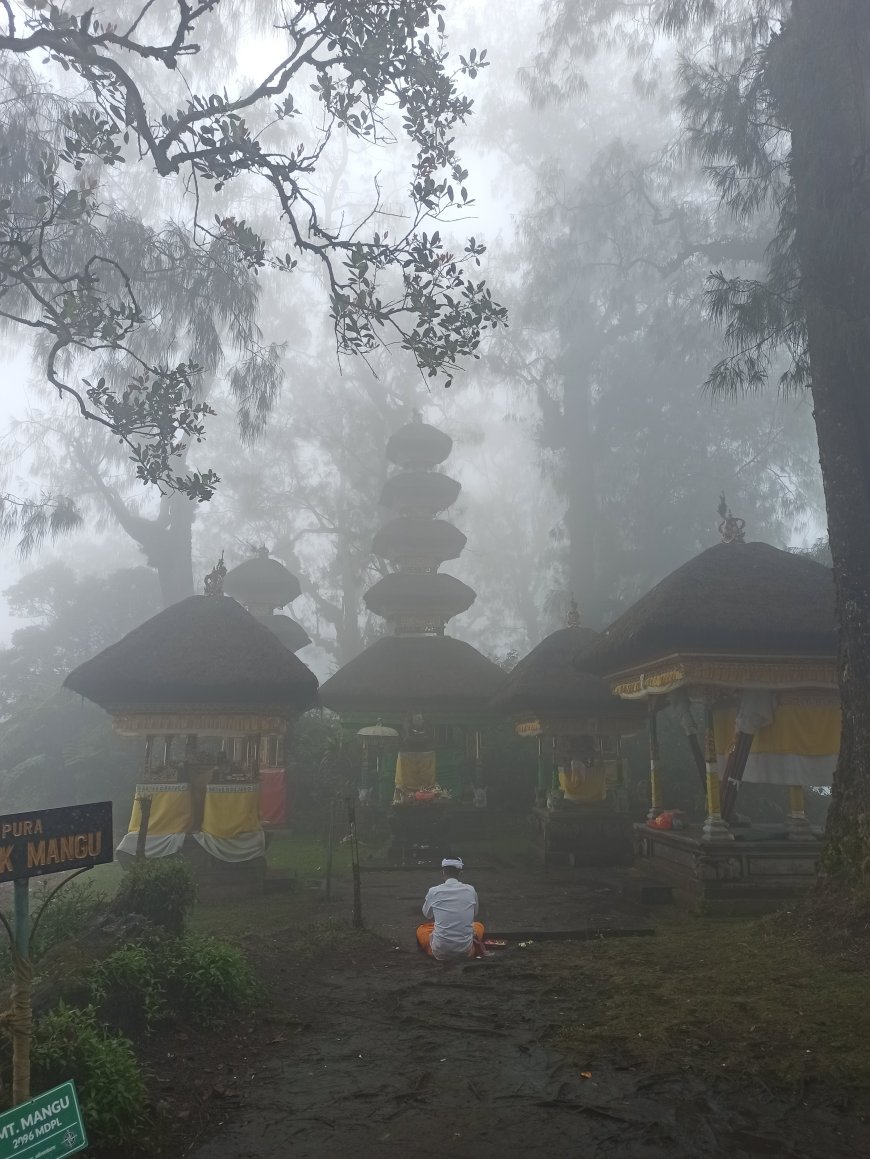 Hindu worship area in Pura Pucak Mangu (Source Photo: Author's Collection)
In its historical journey, Pura Pucak Mangu suffered severe damage due to an earthquake in 1927. Local authorities subsequently carried out restoration work in the period between 1934. To this day, Pura Pucak Mangu is frequently utilized by the Hindu community in Bali, especially by the local populace, for conducting religious ceremonies on a regular basis, annually during the auspicious Purnama Sasih Kapat and Purnama Sasih Kapitu. The yadnya ceremony held in Pura Pucak Mangu, known as "Ngebekin," is a specially crafted celebration dedicated to Dewa Sangkara, a deity representing the ruler of vegetation.
Pura Pucak Mangu gained recognition as a Kahyangan Jagat temple across Bali in the 18th century. The Lingga Yoni, the main shrine in Pura Pucak Mangu, serves as a medium for offering banten or offerings to Ida Sang Hyang Widhi Wasa as the sole deity of the temple. Besides being known as Pura Kahyangan Jagat, Pura Pucak Mangu also holds the title of Catur Loka Pala, signifying the four temples positioned at the cardinal directions, serving as protectors of and sentinels over the island of Bali. Pura Pucak Mangu occupies the northern position, with Pura Lempuyang to the east, Pura Andakasa to the south, and Pura Batukaru to the west. Additionally, Pura Pucak Mangu also functions as Padma Bhuwana, symbolizing Buana Agung or the universe, serving as a place of worship for Ida Sang Hyang Widhi in its manifestation as Dewa Sangkara.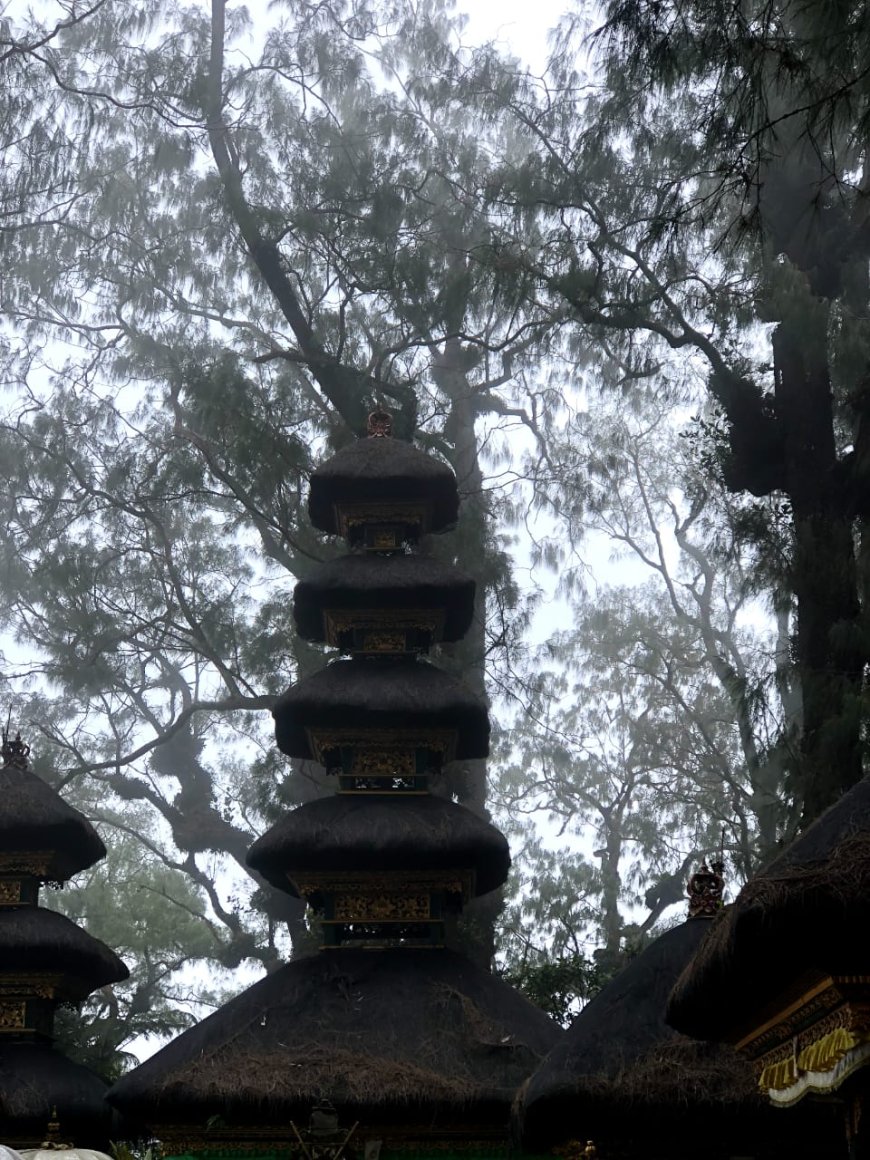 Meru Tumpang Lima structures at Pura Pucak Mangu (Source Photo: Author's Collection)
Within the temple courtyard of Pura Pucak Mangu, several shrines are found, such as the Meru Tumpang Lima, which functions as the palace or linggih of Batara Pucak Mangu, particularly the Meru Tumpang Tiga, which is the shrine of Batara Teratai Bang. Around 1830 AD, or in the Saka year 1752, Pura Penataran Tinggan was established due to the challenging access to Pura Pucak Mangu at that time. 
In addition to its role as a spiritual destination, Pura Pucak Mangu is also a popular spot for trekking and recreational activities. With a relatively easy terrain, especially when compared to Mount Batur and Mount Agung, Mount Catur is highly sought after by beginner hikers. Beyond its safe and accessible trails, Mount Catur offers a unique and stunning natural panorama. There are four stopping points on Mount Catur. While posts 1 and 2 are relatively friendly, upon reaching posts 3 and 4, hikers will encounter more challenging terrain with steep inclines, and may even come across paths prone to landslides.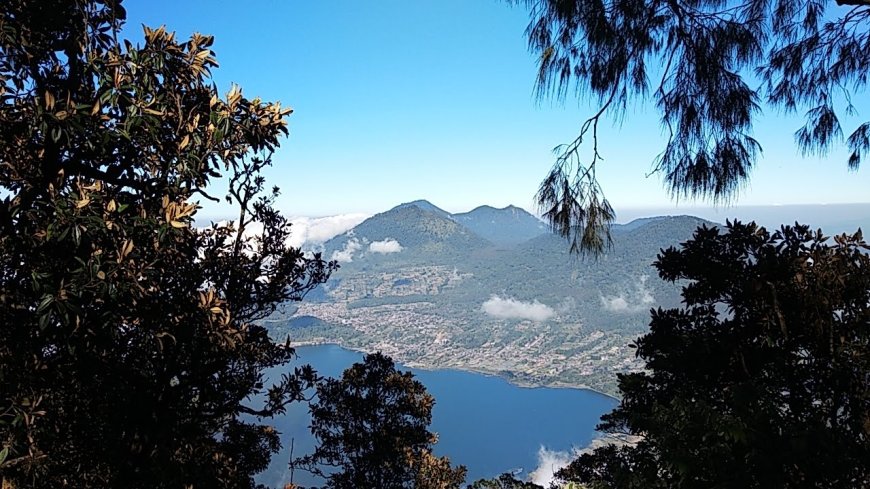 The view of the lake and hills seen from the road leading to Pura Pucak Mangu (Source Photo: Editorial Collection)
Upon passing post 4, the view from the peak of Mount Catur unfolds in all its splendor. From this vantage point, one can observe the Pelaga village from above, the Beratan Bedugul lake to the east, and catch a glimpse of the natural landscapes of Mount Batur and Mount Abang in Kintamani Bangli.