Taman Pule Temple, a Trail of Dang Hyang Dwijendra's Journey
Taman Pule Temple, a holy place located in Bali, has a very interesting history and is closely related to the journey of a holy figure named Dang Hyang Dwijendra. This temple is one of the important spiritual destinations for Hindus in Bali.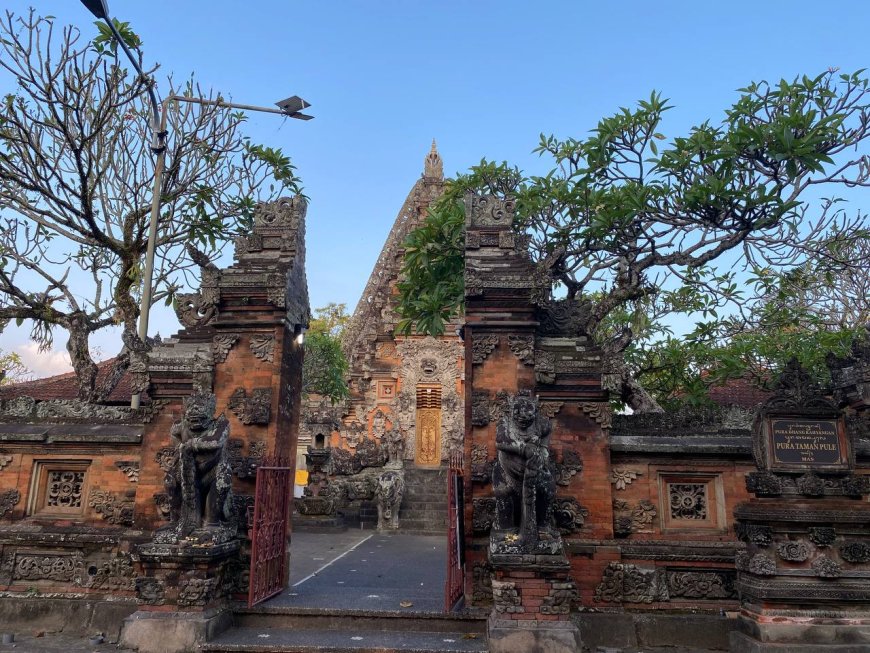 Taman Pule Temple (Photo Source: Editorial Collection)
A sacred place for Hinduism in Indonesia is a certain area that is considered holy or has been sanctified by a certain ceremony. The holy place is a medium for practicing the teachings of Hinduism based on the Vedas and a means of helping to get closer to Hyang Widhi. The sacred place for Hindus is called a temple. One of the famous temples in Bali and has an interesting history is Taman Pule Temple.
Taman Pule Temple is a temple located in Pakraman Mas Village, Ubud Subdistrict, Gianyar Regency, Bali Province, precisely to the east of Mas Village field. As the boundaries of this temple, the north and east are the river, the south is the area of Puri Krama Banjar Tarukan and Satriya, and in the west is the Mas village field. The area of Taman Pule Temple according to the measurement of the National Defense Agency of Gianyar Regency is 17,232 m2 + 3,250 m2: 20.482 m2.
Taman Pule Temple is a Dang Kahyangan Temple, a temple to honor saints who are very meritorious in carrying out and spreading the teachings of dharma. The history of Taman Pule Temple is believed to be closely related to the arrival of a Maha Rsi Dang Hyang Dwijendra to Bali.
According to the story, Dang Hyang Dwijendra arrived at Purancak Beach, then continued his journey into the inland of Bali to the east. The villages visited included Gading Wani, Mundeh, Kapal, and Kuta. In Gading Wani Village, Dang Hyang Dwijendra was welcomed by Ki Bendesa Gading Wani because he was able to cure the people of a plague. Then, in Geguritan Sebun Bangkung, it is written that Ki Bendesa Gading Wani was educated to become a priest and was given spiritual teachings.
Dang Hyang Dwijendra's arrival in Bali had spread to the village of Mas, Ubud sub-district. Therefore, Ki Bandesa Mas picked up Dang Hyang Dwijendra from Gading Wani Village to Mas Village to be dormitized. Dang Hyang Dwijendra agreed and he was welcomed and housed in the Bendesa Mas pasraman. From that village, Dang Hyang Dwijendra spread the teachings of Siwa Sidhanta, even Ki Bendesa and his people became Dang Hyang Dwijendra's students. As a sign of devotion and gratitude, Ki Bendesa handed over his daughter Ni Ayu Mas to be married to Dang Hyang Dwijendra. From this marriage, a son named Ida Kidul was born.
During Dang Hyang Dwijendra's stay, Desa Mas was very safe and peaceful, no disturbances or illnesses befell the inhabitants, no one was jealous of the others, everything planted flourished, and everything bought was very cheap. That is how peaceful Mas Village was.
One day, Dang Hyang Dwijendra held a meeting with Ki Bendesa Mas with the intention of building a temple. This plan was approved by Ki Bendesa and the entire local people. Finally, the temple was named Pule Temple. In addition, a park was made to the east of Pule Temple which was used as a place to socialize. Because Pule Temple is close to the park, the temple is called Taman Pule Temple.
After Parahyangan was built in Taman Pule, Dang Hyang Dwijendra's pasraman was named Griya Taman Pule. Within this garden, a pond was built for ritual cleansing purposes and the water was taken from Ki Bandesa Mas' well. Until now, this pond is often used for healing or purification purposes. Through time, this pond also became known as Taman Kalembu or Beji Temple.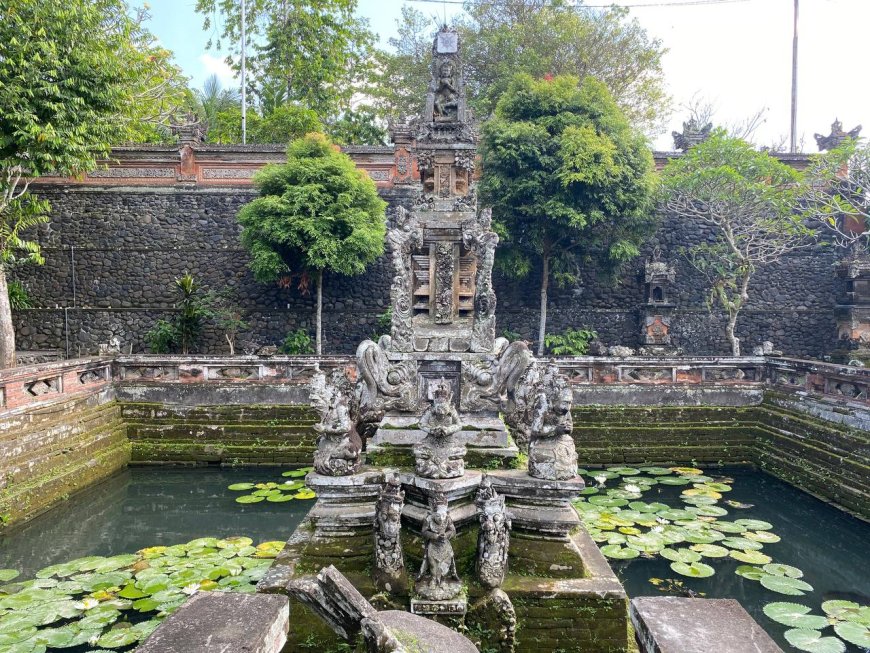 Pond in Beji Temple (Photo Source: Editorial Collection)
Taman Pule Temple consists of several parts, namely Beji Temple, Anyar Temple, Middle Jroan, and Jroan of Taman Pule Temple. The first part is Beji Temple. This temple building is located on the east side of the entrance to the Taman Pule Temple area. Every visitor who comes must pray at Beji Temple before continuing to Jroan of Taman Pule Temple. Beji Temple has a pond covering an area of 1.5 m2. In the center of the pond is the Pelinggih Padmasana 'linggih' of Dang Hyang Dwijendra surrounded by statues of his eight sons (purusa). The statues consist of 1 Putra Kemenuh in the west, 3 Putra Manuaba in the north, 2 Putra Keniten in the east and southeast, 2 Putra Mas in the south and southwest.
The second part is Anyar Temple. Anyar Temple is believed to be the 'pangastawa ring arca' of Dang Hyang Dwijendra. Here there is a large banyan tree that adds to the sacredness of Anyar Temple. The third part is the Middle Jroan of Taman Pule Temple. This temple is believed to be the seat of Ida Ratu Gede Anglurah Agung. The fourth part is Jroan of Taman Pule Temple which is the main temple where prayers are held. This main temple houses Ida Bhatara Kawitan Bendesa Manik Mas / Ida Dang Hyang Dwijendra, there is also a Padmasana which is used as a 'pangastawa' to Ida Sang Hyang Widhi Wasa.
Grand Kori of Taman Pule Temple (Photo Source: Editorial Collection)
Taman Pule Temple also has unique features that make it different from other temples in Bali. One of the uniqueness of this temple is the very distinctive architectural form of the temple. Taman Pule Temple has a beautiful and magnificent central door (grand kori) with Balinese carvings. Inside the temple complex there is also a sacred pond surrounded by statues of the embodiment of the son (purusa) of Dang Hyang Dwijendra. In addition, Taman Pule Temple is also surrounded by green and natural trees. The existence of this tree provides a calm and peaceful atmosphere for visitors to the temple.
Taman Pule Temple not only has unique architecture, but also provides a deep spiritual experience for all visitors. The beauty of the surrounding nature and the peaceful atmosphere inside the temple make Taman Pule Temple a very worthy place to visit for anyone who wants to feel the magic and spiritual energy that exists on the island of Bali.