Dive into the beauty of Leke-Leke Waterfall
Waterfalls are a manifestation of natural wonder that hypnotizes the mind and touches the soul. They represent natural beauty that not only delights the senses, but also offers serenity and happiness to those who dare to explore its charm. One of the various exotic waterfalls in Bali that attracts tourists is Leke-Leke Waterfall.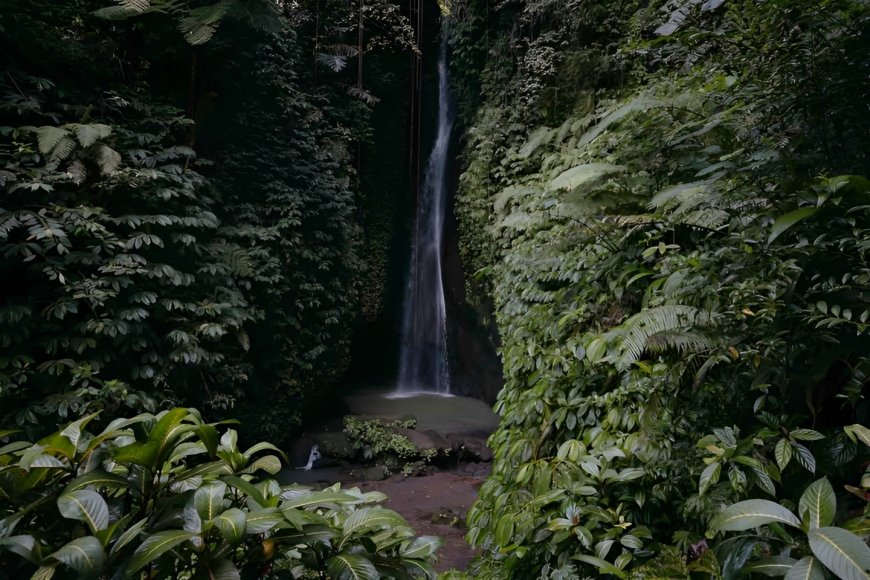 Leke-Leke Waterfall (Source: Editor's Collection)
The beach with beautiful white sand might immediately come to your mind when talking about Bali. But besides being filled with beach views, the Island of the Gods also presents a panorama of waterfalls that are no less fascinating. This waterfall is named Leke-Leke Waterfall.
Located in Banjar Kerobokan, Mekarsari Village, Baturiti District, Tabanan Regency, Bali, Leke-Leke Waterfall offers a journey to hidden beauty. The word  "Leke-Leke"  comes from Balinese  as "KIPUAN KEBO" in Indonesian means "puddle like a buffalo drinking place"  which was once this place used as a buffalo drinking place. This place really immerses you in an alluring mysterious atmosphere. To reach this waterfall, you have to go through walking paths and on foot through the enchanting rainforest. The trip itself is an unforgettable adventure.
To enter this waterfall, visitors will be charged Rp 25 thousand for local tourists, while the entrance ticket for foreign tourists is Rp 50 thousand. To get to Leke-Leke Waterfall, visitors must walk through a winding path for about 20 minutes with views of the forest along the way to this waterfall. To come to Leke-Leke Waterfall, it's good during the golden time, which is under 12.00 WITA or when the sunlight is not too hot.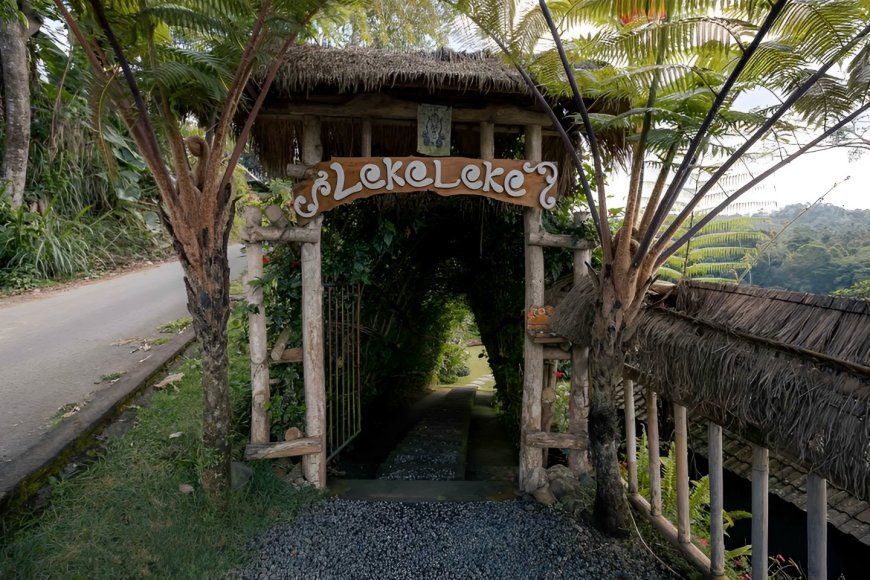 Leke-Leke Waterfall Entrance Gate (Source: Editor's Collection)
When you arrive at Leke-Leke Waterfall, you will be greeted by an amazing view. The waterfall has a height of about 30 meters and the water flows gently into a deep pool.  One of the things that makes Leke-Leke Waterfall so interesting is the clarity of the water and the naturalness of its environment. The pool under the waterfall is very tempting for swimming or playing water. The water is cool and refreshing, creating the perfect place to relax and have fun. Many visitors also choose to sit on the rocks around the waterfall, while enjoying the beauty of the surrounding nature. 
Leke-Leke Waterfall is also considered a sacred area by locals, so you are expected to maintain ethics, politeness, and words when visiting this tourist destination. And there is a prohibition for women who are menstruating or are experiencing kebelan (time grieving because the family died) to visit the Leke-Leke Waterfall area.
One aspect that makes Leke-Leke Falls so special is the feeling of tranquility and peace you feel here. Away from the noise of the city, you will feel like you are isolated in beautiful nature. The sound of gurgling waterfalls and green rainforests creates a deep feeling of peace, relieving everyday stress and worries. In addition, Leke-Leke Waterfall is also often used as a prewedding shooting location. The beautiful natural backdrop and romantic atmosphere make it the perfect place to capture your happy moments.
Tips for Visiting Leke-Leke Waterfall
1. Best Time to Visit: The best advice is to come on mornings or weekdays to avoid crowds of tourists. This will give you a calmer and more relaxing experience.
2. Proper Clothing: Wear comfortable clothing suitable for water play if you plan to swim. Also be sure to bring a change of clothes.
3. Pay Attention to Hygiene: Always keep clean around the waterfall by disposing of garbage in its place.
4. Permissions: Please ensure that you comply with local regulations and obtain permits if necessary to do activities in the area.
Leke-Leke Waterfall is one example of Bali's natural beauty that is still natural and exotic. It is the perfect place to escape from everyday life and soak up the wonders of nature. If you are planning a trip to Bali, be sure to include Leke-Leke Waterfall in your list of destinations for an unforgettable experience.