Banyumala Waterfall: A Hidden Natural Wonder in Bali
Bali, an exotic island in Indonesia, is known for its stunning natural beauty, including white sand beaches, green rice fields, and of course, spectacular waterfalls. One of the most stunning waterfalls in Bali is Banyumala Waterfall.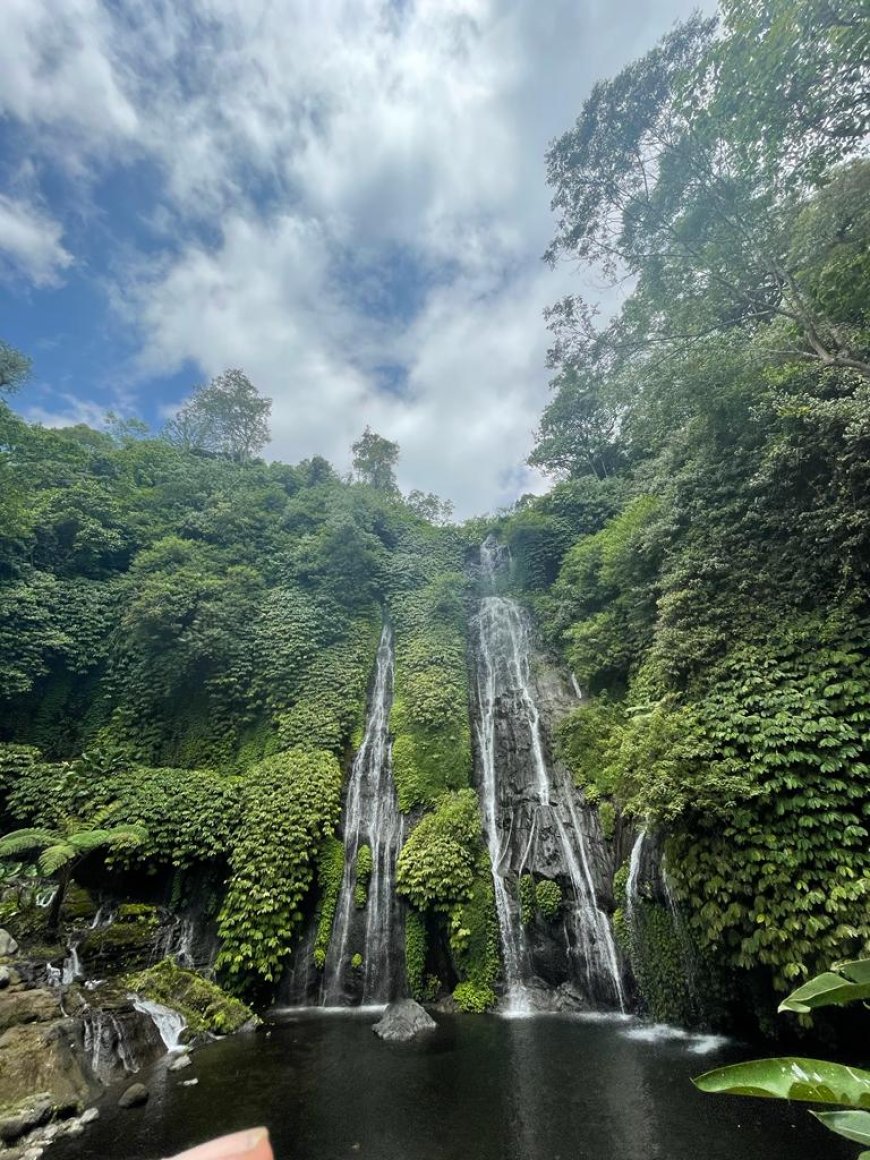 Banyumala Waterfall (source: Editorial Collection)
Banyumala Waterfall (Source : Editorial Collection)
Banyumala Waterfall is one of Bali's hidden natural wonders nestled in a valley amidst lush jungle in Wanagiri village, Buleleng, this waterfall has become a favorite destination for travelers who want to witness Bali's unspoiled natural wonders.
It is also known as the "Twin Waterfall" as it consists of two streams of water that separate before falling from a high cliff. Banyumala Waterfall offers breathtaking views and unforgettable moments of beauty. The perfect blend of the peacefulness of the tropical forest, the sound of gurgling water, and the serenity of nature is mesmerizing.
The journey to Banyumala Waterfall if starting from Denpasar city center will take about 1 hour 45 minutes with a distance of about 65.2 kilometers, you will arrive at this destination. Along the way, you will pass Lake Beratan in Candikuning Village, which provides a peaceful feel with its green trees and serene scenery.
Banyumala Waterfall is a true testament to the incredible natural beauty of Bali. When you arrive at this location, you will immediately be mesmerized by the towering view before you. There are two main streams of water that fall from the cliff, forming a beautiful pool below. This waterfall is the embodiment of pure natural beauty and invites everyone to experience it.
The scenery presented by Banyumala Waterfall is a perfect amalgamation of lush tropical forest, rock cliffs, and gently tumbling water. It is a great place to escape the hustle and bustle of everyday life and experience the peace of nature. The sound of rippling water and chirping birds complement the peaceful and calming atmosphere around this waterfall.
Not surprisingly, the popularity of Banyumala Waterfall continues to grow over time. Travelers from all over the world come to witness this natural wonder. Instagram and other social media have played a huge role in increasing its popularity, with visitors sharing mesmerizing photos of their visit. However, this popularity also raises the question of how to preserve the natural beauty of these waterfalls in the face of increased tourism.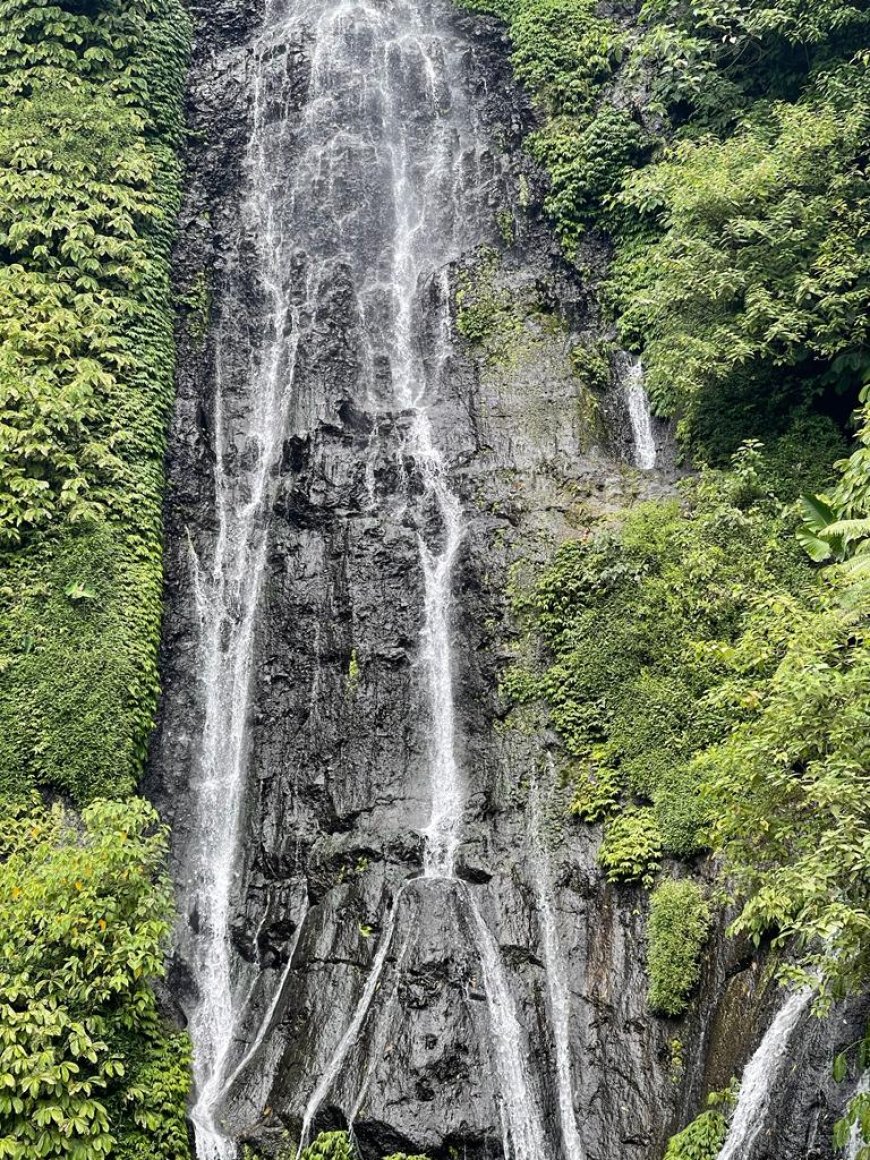 Banyumala Waterfall (Source : Editorial Collection)
When we talk about natural beauty like Banyumala Waterfall, we often want to know more about its origins and history. This waterfall is not only a product of nature, but also has an interesting story and history.
The origin of the name "Banyumala" itself refers to the Indonesian language. "Banyu" in Javanese means "water," while "mala" means "sacred." So, literally, "Banyumala" can be translated as "Holy Water." This name may reflect the spiritual or sacred role that this waterfall plays in the local culture.
Banyumala Waterfall not only offers incredible natural beauty but also holds some interesting mysteries and quirks that make it different from other waterfalls in Bali.
One of the most striking aspects is the structure of the waterfall which consists of two streams of water that separate before falling off the cliff. This creates a mesmerizing look, like twin waterfalls merging into one.
For many tourists visiting Bali, Banyumala Waterfall is one of the top choices on their list of destinations to visit. However, before you decide to engage yourself in a deep journey into the mystery and natural beauty of this waterfall, there are a few things you need to know.
Upon arrival at the destination, you will pass through a wooden walkway that resembles a staircase, with some parts of the path going downhill. If you are not careful, you will slip and fall.
Banyumala Waterfall can be enjoyed throughout the year, but the best experiences usually occur during Bali's dry season, from April to September. The sunny weather will make the experience even more enchanting. The not-so-deep pool also adds safety and comfort for those who want to swim or just play around the waterfall. In addition, the relatively shallow level of the pool makes it suitable for sunbathing and relaxing by the pool while enjoying the sound of gurgling water.
The existence of the waterfall far from residential areas presents a natural and calm atmosphere. The diversity of flora that grows shady and green on the cliff rocks, accompanied by the fresh coolness of the waterfall, makes Banyumala Waterfall even more natural and peaceful.
Banyumala Waterfall is a testament to how rich and diverse nature is in Bali. The beauty of this waterfall invites us to climb higher and explore deeper into the unexplored wonders of nature. The uniqueness of this waterfall, with two streams separating before the fall, adds a touch of mystery that makes it different from other waterfalls on the island.
With all its beauty and tranquility, this is the perfect place to seek a beautiful and relaxing nature experience in Bali. So, don't miss the chance to explore the beauty of this captivating Banyumala Waterfall while you're in Bali.
However, the increasing popularity also brings challenges. To preserve Banyumala Waterfall, it is our responsibility to maintain and protect the surrounding environment. We also need to take care of our own safety and that of other visitors while exploring the sometimes difficult terrain.