Examining the Uniqueness of Batu Pageh Temple in Ungasan Village
Batu Pageh Temple is a unique temple located inside a cave. This temple is believed to be the hermitage of Danghyang Nirarta in the past. Being above the height of the cliff makes this temple has a stunning view, so visitors can simultaneously travel because near Batu Pageh Temple there is a beautiful beach.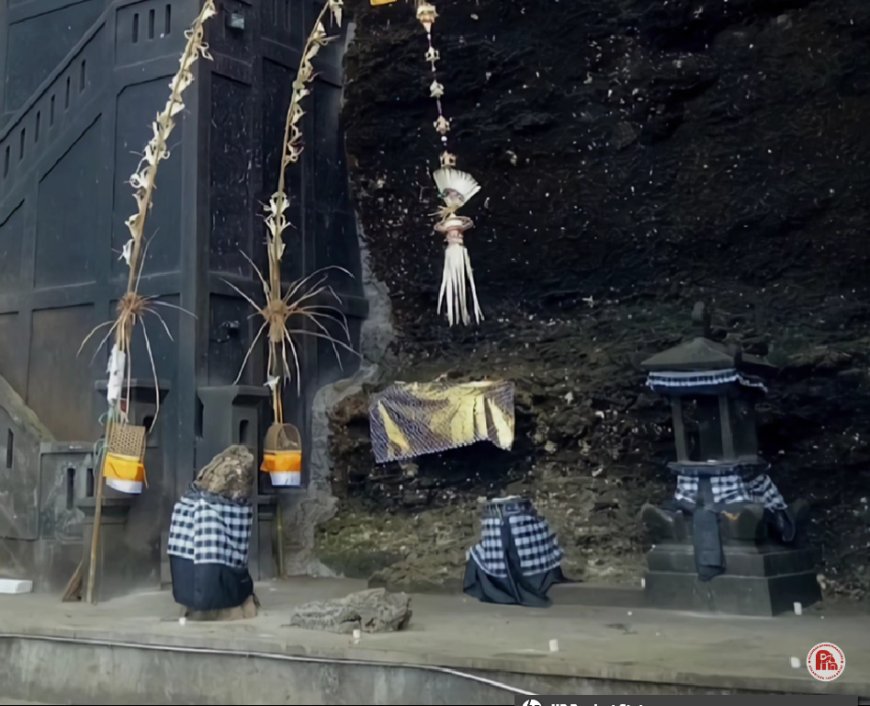 Batu Pageh Temple (Photo Source: Pujangga Nagari Nusantara)
The island of Bali is known as the "Island of a Thousand Temples" due to the presence of tens of thousands of temples throughout the island. Bali is one of the most famous tourist destinations around the world, known for its natural beauty, rich culture, and above all, its temples scattered all over the island. With the presence of thousands of temples in Bali, the nickname "Island of a Thousand Temples" proudly describes the island's cultural and religious diversity. Moreover, among Bali's famous cultural and religious treasures, there are also various small islands in the vicinity that have their own charm and uniqueness.
A temple is a place of worship for Hindus, used to invoke safety and purity. Throughout the province of Bali, there are various kinds of temples that are used as places of worship by Hindus. The temples in Bali have various forms and have their own characteristics. Among the various types of temples in Bali, some are located in natural caves. The existence of temples in caves gives a unique look, which is one of the things that distinguishes Bali. These temples give a mystical and spiritual touch to the experience when performing religious ceremonies or traveling on the island. One example of a temple located inside a cave is Batu Pageh temple.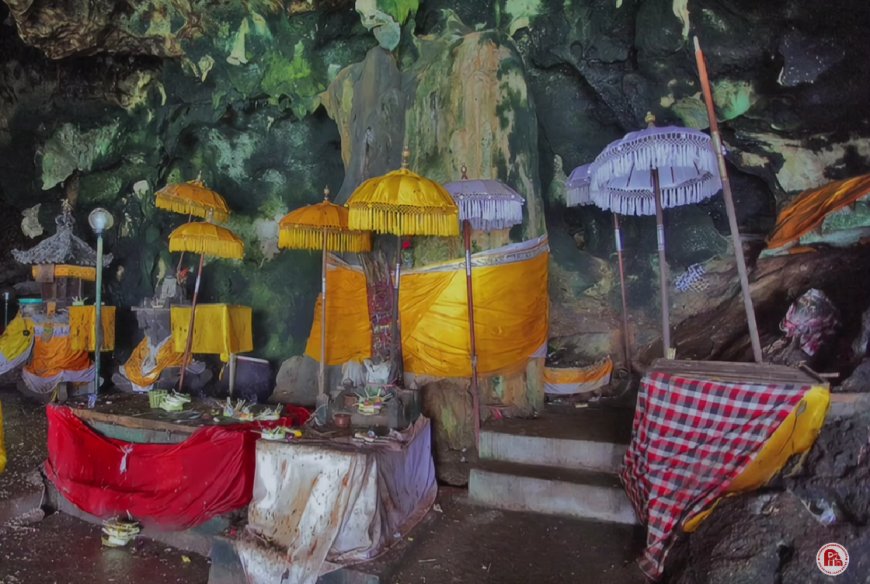 Batu Pageh Temple (Photo Source: Pujangga Nagari Nusantara)
Dalem Batu Pageh temple or usually the local people call it  Batu Pageh  temple is one of the temples located in a natural cave. Batu Pageh Temple is located in the southern part of Bali Island, precisely in the village of Ungasan, South Kuta District, Badung Regency, Bali Province. Being above a height of about 10 meters makes this temple has a very amazing view to the eye, therefore in addition to the general public, Batu Pageh Temple is also not infrequently visited by tourists to see the uniqueness of this temple. Batu Pageh Temple has the main uniqueness of being located in a high cliff cave, however there are other things that make this place unique. Another unique thing about Batu Pageh Temple is that in the cave of Batu Pageh Temple there are pelinggihs, one of which is the Yoni Phallus of Lord Shiva which is believed to be a place to beg for offspring. Piodalan is usually held on Sukra Kliwon Sungsang. In addition, another uniqueness is that there are many bats that live in the ceiling of the cave. Besides bats, there are also long-tailed monkeys that live around the Batu Pageh Temple.
Batu Pageh Temple is located in the middle of a cliff plateau and is believed to be the resting place of Dang Hyang Nirarta, a holy figure. Batu Pageh Temple has a connection with Taman Sari Temple, which is used as a place of pesraman, while Batu Pageh is used as the hermitage of Dang Hyang Nirarta. There is evidence showing that Dang Hyang Nirarta once visited Batu Pageh Temple, such as pratima-pratima and stones that are believed to be the place of his hermitage in the past. In addition, Taman Sari Temple is also associated with Ratu Mas Masambling or Biang Agung, who also stopped by there. Originally, Batu Pageh Temple was included in the khayangan jagat category, although today it is only recognized by the local community. Reporting from the youtube channel Pujangga Nagari Nusantara, Batu Pageh Temple has a mystical thing, there are often creatures that mysteriously disappear or what is called "Wong Samar".According to the belief that Ida Bhatara Bhagawan Palingsir and Biang Agung are known to have Wong Samar.In addition, Ratu Gede Mas Macaling Dalem Nusa Penida also resides in Batu Pageh Temple which has Wong Samar.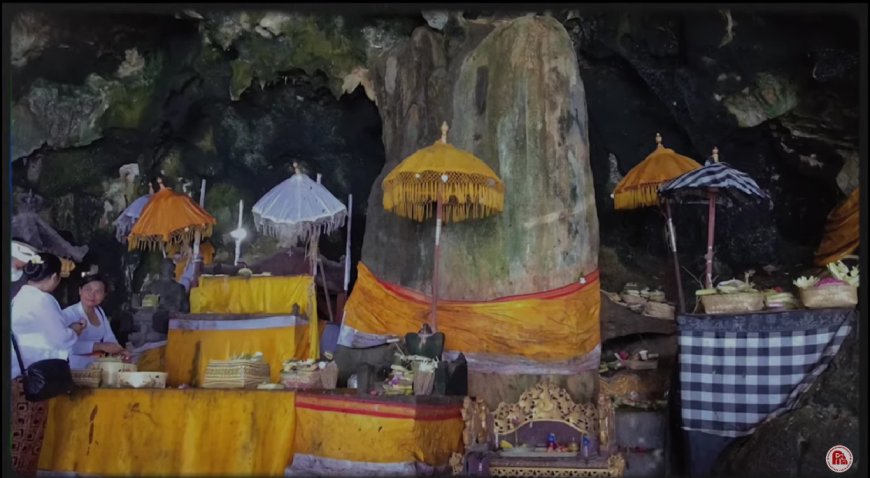 The Appearance of a Large Rock (Photo Source: Pujangga Nagari Nusantara)
Getting to Batu Pageh Temple from Denpasar city center takes about 1 hour. When arriving at this temple, visitors can park their vehicles in front of the temple area. The parking area is directly in front of Taman Sari temple, which is the first temple in the Batu Pageh area. To continue the journey, you can pass the Taman Sari Temple and from the back, there is a road equipped with stairs, when climbing the stairs it is expected to always be careful not to fall, this is because it is a little steep.
By walking for about 10 minutes along this road, you will reach your destination, which is Batu Pageh Temple located inside a cave in the middle of a cliff. Meanwhile, to reach Green Bowl Beach, friends take a different path from the parking area, by going down many stairs. Visitors have the opportunity to enjoy the stunning beauty of Green Bowl Beach. The beach has beautiful white sand and blue sea water that stretches out, creating an awesome view. The stalactites hanging from the mouth of the cave are additional natural wonders that enrich the experience around the temple.
When we visit Batu Pageh Temple during major holidays, there will be pemangku who are on guard and in charge of praying. The pemangku will also organize and direct the Hindus who will pray at this Batu Pageh Temple. If during the weekdays we can contact a pemangku if we want to come to pray. When arriving friends can do prayers, first friends can start from Taman Sari Temple then proceed to Pelinggih Kepandean first, after praying there, then we can continue to Dalem Batu Pageh Temple. However, before performing prayers we need to do pengelukadan first, the implementation of penglukadan aims to cleanse from all forms of negativity in the self, including sins both arising from the past and those related to current actions, is an effort to cleanse ourselves from moral burdens or mistakes. After completing the cleansing process, it can be continued with the prayer process.
For friends who want to visit Batu Pageh Temple. To pray at Batu Pageh Temple, on big days, prayers will be led by a Pemangku. However, on weekdays, you can contact the Pemangku on duty or ask the local guard. The first temple in the Dalem Batu Pageh area is Taman temple which is located next to the parking lot. There, you can offer canang raka or sodaan, and offer two cigarettes to the statues and temples. There are some tips when you want to visit this temple, First, if it is a weekday, you can contact Jro Mangku beforehand to get instructions and guidance during prayers. Prepare 3 pejati to be offered at Taman temple , Pelinggih Kepandean, and Batu Pageh temple. Also, prepare canang raka and sodaan. Watch out for monkeys around the temple. Take good care of your belongings and avoid disturbing them.