Get to know Aci Tabuh Rah Pengangon, a classic and unique tradition in Kapal Village
Bali has a variety of customs and traditions that persist in each region. In Kapal village, there are unique traditions that are preserved by the people until this day. This tradition is called Aci Tabuh Rah Pengangon.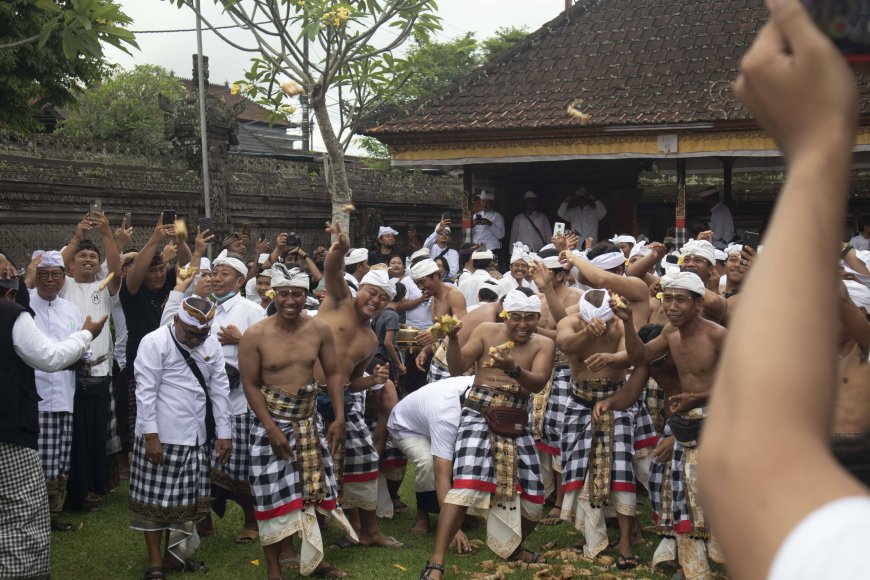 Aci Tabuh Rah Pengangon Procession (Photo Source: Editorial Collection)
Aci Tabuh Rah Pengangon is a sacred tradition that is highly preserved by the people in Kapal Village, Mengwi District, Badung Regency. This tradition is a form of gratitude and a request for prosperity towards Sang Hyang Widhi in his form as Shiva.
The emergence of this tradition is closely related to the arrival of Patih Kebo Iwa who was sent directly by King Bali Asta Sura Ratna Bumi Banten who came to Kapal Village to restore Puru Sada Temple around the 13th century AD. When Kebo Iwa arrived in Kapal Village, the people there were experiencing a lean season.
Knowing this condition, Patih Kebo Iwa performed samadhi at Khayangan Puru Sada Temple to ask for guidance in solving the problems that occurred there. Patih Kebo Iwa then received instructions for the community to make offerings addressed to Sang Hyang Shiva Pasupati.
The offerings are made using ketupat and pillows as an embodiment of purusa and predana (source of life). Purusa (male) is symbolized by a pillow cake, and predana (female) is symbolized by ketupat.
In its meaning, Aci Tabuh Rah Pengangon means, Aci means offering, Tabuh means proclaiming, Rah means energy, Pengangon is another name for Sang Hyang Shiva. So it can be concluded that Aci Tabuh Rah Pengangon is an offering made in the form of energy offered to Sang Hyang Shiva.
Aci Tabuh Rah Pengangon itself is a tradition where the union of purusa and predana occurs when throwing ketupat and pillows cake into the air so that the union of the two elements occurs which symbolizes the creation of life.
The Aci Tabuh Rah Pengangon tradition is carried out every year, precisely on Purnama Sasih Kapat, the Balinese calendar. This tradition is carried out at the Desa lan Puseh Temple, Kapal Traditional Village.
The procession will begin with group prayers at the Desa Lan Puseh Temple of Kapal Traditional Village, then the community will gather in the outer temple area to prepare to carry out the Aci Tabuh Rah Pengangon tradition.
The first part of the procession was carried out by a small group of people in front of the long bale area of ​​the Village Temple with the groups divided into two, women's groups and men's groups. This procession is carried out for approximately 15-30 minutes until the ketupat and pillows cake on both sides have been thrown.
The second procession is a procession carried out in the area outside the temple, namely on Kapal Main Road right in front of the Kapal Desa Lan Puseh Temple. This procession involves all the people in Kapal village. People are free to fall into which group, whether in the north or south. People will throw ketupat and pillows cake at opposite groups until the ketupat and pillows are all thrown and wrecked.
Implementation of Aci Tabuh Rah Pengangon (Photo Source: Editorial Collection)
After the procession is finished, there will be fire fighters and sanitation services who will help clean up the remains of the Aci Tabuh Rah Pengangon procession with the help of the community.
According to public belief, the Aci Tabuh Rah Pengangon tradition is obligatory to be held every year. During the war of independence around 1944, this tradition was not held. As a result, society experiences many disasters and illnesses.
Therefore, even though the Covid-19 pandemic occurred, people did not dare not carry out this tradition. The tradition is still carried out on a small and closed scale during the Covid-19 pandemic.
The Aci Tabuh Rah Pengangon tradition has now been recognized as an intangible cultural heritage and is located in the Kapal Traditional Village. This tradition will continue to exist and remain sustainable in society, especially in Kapal Village as a form of offering and gratitude from the community to Ida Sang Hyang Widhi for the gifts that have been given.