Revealing the Charm of Bongkasa Village and the Story of Ki Dalang Tangsub
Bongkasa Village, a village that holds a wealth of fascinating potential to explore and boasts an intriguing historical narrative worth delving into.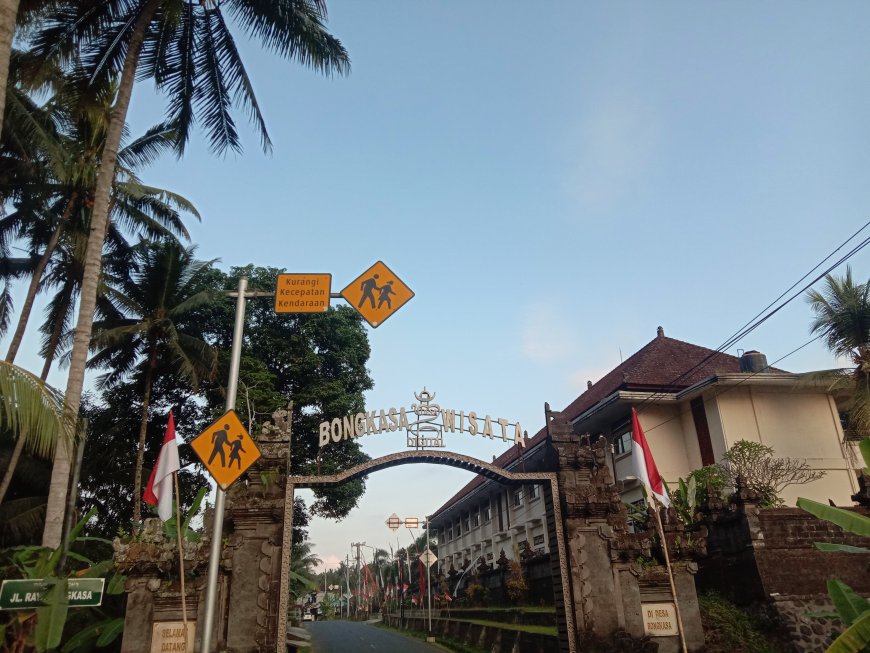 The entrance gate to Bongkasa Village (Source of Photo: Editorial Collection)
Bongkasa Village is one of the 18 villages nestled within the Abiansemal District of Badung Regency. Geographically, it sits at an undulating highland approximately 230 meters above sea level. Notably, Bongkasa is a tourism-oriented village strategically located adjacent to Ubud, separated only by the Ayung River. It's no wonder that this village is a popular destination for tourists.
Originally, Bongkasa comprised 13 Administrative Banjars and 3 Customary Villages, with a population of 7,627 individuals inhabiting an area of 6.3 square kilometers. Given the substantial population, communities from Banjar Karangdakem I, Banjar Karangdalem II, and Banjar Tegalkuning voiced their aspirations. Through deliberations in these three banjars, they successfully reached an agreement that transformed the face of Bongkasa Village. This led to the division of Dinas Village into two entities: Bongkasa Village, consisting of 10 Administrative Banjars, and the newly formed village, composed of 3 Administrative Banjars.
Looking at the newly formed village, it's noteworthy that all three banjars share a common meaning: Banjar Karangdalem I, Banjar Karangdalem II, and Banjar Tegalkuning, incorporating the words "karang" and "tegal," signifying land as the creation of the Almighty and part of the five fundamental elements known as Pertiwi. This rich symbolism and the consensus reached during the deliberations led to the christening of the new village as "BONGKASA PERTIWI VILLAGE."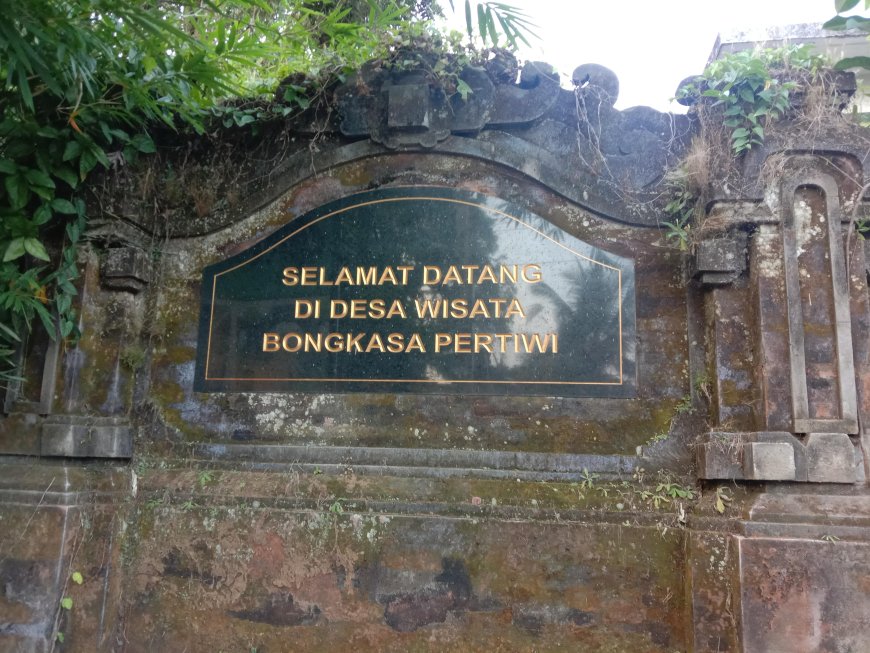 Welcome signboard of Bongkasa Pertiwi Village (Source of Photo: Editorial Collection)
Behind the present-day allure of Bongkasa Tourism Village, which draws numerous visitors, lies a captivating and extensive history. It is said that in ancient times, this area was a wilderness of forests and thickets, with undulating terrain to the west of the Ayung River. At that time, this land fell under the domain of the Mengwi Kingdom. I Gede Geredegan and I Made Tanggu, trusted emissaries of the Mengwi King, were dispatched to clear the forests to the west of the Ayung River. Soon after, news spread of the severe illness of the King's consort, or "Rabi" in local parlance. This news reached the ears of the parents of Jero Ketut Tangsub in Manuaba, Gianyar. Promptly, Jero Ketut Tangsub was sent by her parents to Puri Mengwi to offer aid to the King's consort.
Upon arriving at the gates of Puri Mengwi, Jero Ketut Tangsub approached a rojak vendor situated beneath a banyan tree and inquired about the compensation for those who entered and exited the palace grounds. Sensing a tone of mockery in Jero Ketut Tangsub's query, the vendor reported the incident to the ministers at Puri Mengwi. On hearing the report, the ministers were incensed and sought to kill Jero Ketut Tangsub. This commotion reached the ears of the Mengwi King, who summoned Jero Ketut Tangsub to his presence. She was instructed to attend to the King's consort and heal her ailment. Failure to do so would result in immediate execution.
With the inner strength she possessed, Jero Ketut Tangsub successfully healed the King's consort. In gratitude for this miraculous recovery, Jero Ketut Tangsub was gifted a plot of land spanning 10 hectares, located to the northeast of Puri Mengwi. She bid farewell to the King and set off in search of the promised land. The Mengwi King directed I Gede Geredegan and his wife to accompany Jero Ketut Tangsub on her journey eastward. Along the way, Jero Ketut Tangsub clutched a palm leaf manuscript, a "lontar," in her hands. Upon reaching a highland area, Jero Ketut Tangsub gazed to the east and witnessed a ray of red light piercing through the sky, illuminating the earth below. This radiant crimson glow exuded an aura of sanctity, an experience shared by Jero Ketut Tangsub and I Gede Gredegan.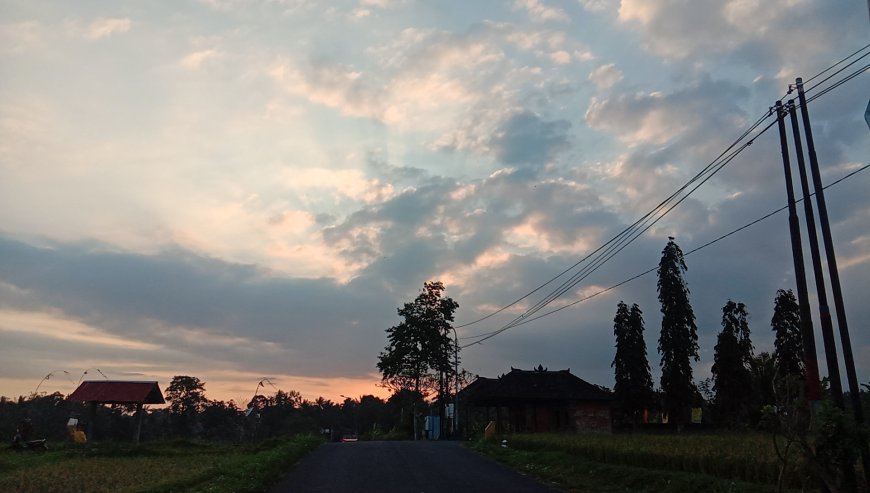 Golden-red light in Bongkasa village (Source of Photo: Editorial Collection)
It was here that Jero Ketut Tangsub sat to rest, holding the "gendek" she had brought with her, and began composing verses in the "pupuh ginada" form, inscribing them onto a palm leaf from her collection. After crafting several stanzas, Jero Ketut Tangsub proceeded towards the source of the golden-red light. She scrutinized the characteristics of the light, interpreting them as "Rangde Langit," meaning a reddish-white light emanating from the sky, referred to in Balinese as "Bang Angkasa." Over time, this phenomenon became known as Bongkasa, the village we now recognize as Bongkasa Village, Abiansemal District, Badung Regency, Bali Province. With its fertile soil and promising security, Bongkasa continues to thrive.
Bongkasa Village is not only a witness to history but also a guardian of Bali's authentic cultural heritage and the enduring beauty of its natural surroundings. In addition to its historical significance, the village holds a wealth of stunning tourist attractions. For instance, Banjar Karang Dalem I offers a breathtaking view of subak rice fields, while Banjar Karang Dalem II is renowned for its silver craftsmanship. Meanwhile, Banjar Tegal Kuning captivates visitors with river rafting adventures along the Ayung River. Though the village homes are scattered amidst the picturesque rice fields, this arrangement only enhances the charm of the natural surroundings. In addition to its tourism potential, Bongkasa Village is blessed with a bountiful natural environment. This encompasses rivers and verdant agricultural land, leading a majority of the Bongkasa populace to engage in both agriculture and tourism.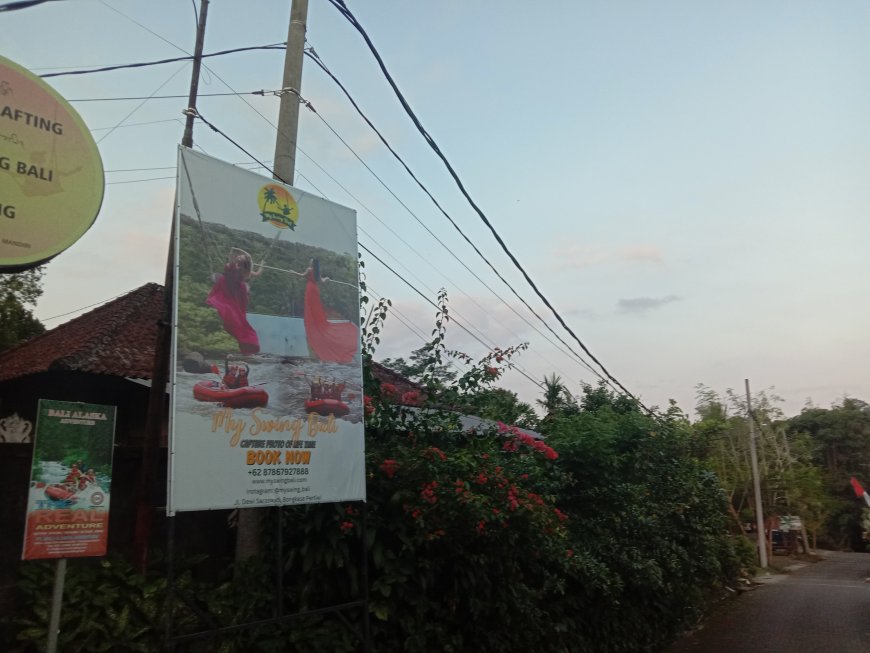 One of the tourist spots in Bongkasa Village (Source of Photo: Editorial Collection)
In the realm of agriculture, Bongkasa Village boasts a wide array of natural resources, ranging from various vegetables to fruit such a mushrooms, rice, corn, sweet potatoes, coconuts, mangoes, bananas and durians. As for tourism, the village offers a plethora of activities, including river rafting, All Terain Vihicle (ATV) rides, the iconic swing perched atop a hill, and agro tourism. Bongkasa Village isn't just a witness to history, but also a guardian of the authenticity of Balinese culture and the enduring beauty of its enviroment that remains preserved to this day.