Mekepung Tradition: The Fun and Elegance of Traditional Buffalo Racing in Bali
Traditions are habits that are carried out continuously because they are considered beneficial for a group of people, so they are preserved. One of them is the Mekepung Tradition, which is a buffalo racing game carried out by farming communities in Bali Province, especially in Jembrana Regency. This tradition has been passed down from generation to generation and is still being preserved to this day, so that this tradition has become integrated into the lives of the people. In this article, we will explore more deeply the Mekepung Tradition.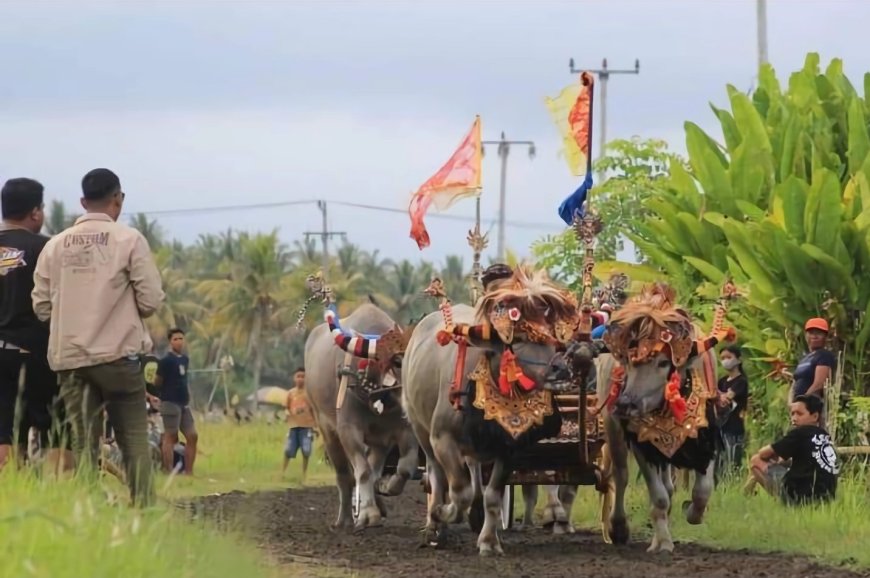 Mekepung Tradition (Photo Source: Editorial Collection)
Mekepung is a buffalo racing attraction originating from Jembrana Regency, Bali. The word "Mekepung" itself comes from the word "mekepung-kepungan," which means "chasing." This Mekepung tradition is a combination of entertainment and respect for the important role of buffalo in Balinese agriculture. The Mekepung tradition has its roots in the stages of processing rice fields. Before fields can be planted, the soil must be loosened until it becomes mud suitable for planting, a process known as "plowing." Farmers in Bali, especially in Jembrana Regency, usually use cows or buffalo to help in the plowing process. Plowing activities are often carried out in mutual cooperation, so that one plot of rice field can be plowed by several pairs of buffalo.
The Mekepung tradition in Jembrana has a rich history, starting in the 1920s. In those days, plow riders known as "sais" played an important role in Mekepung events. They appeared in typical clothing similar to royal soldiers, wearing headscarves, scarves, trousers, slings and no footwear. Apart from the riders, the racing buffaloes are also decorated very beautifully. They wear colorful cloth and "gerondongan" (large gongseng) around their necks. When these buffalo walk and pull the lampit, the sound produced is like music, creating a very distinctive atmosphere.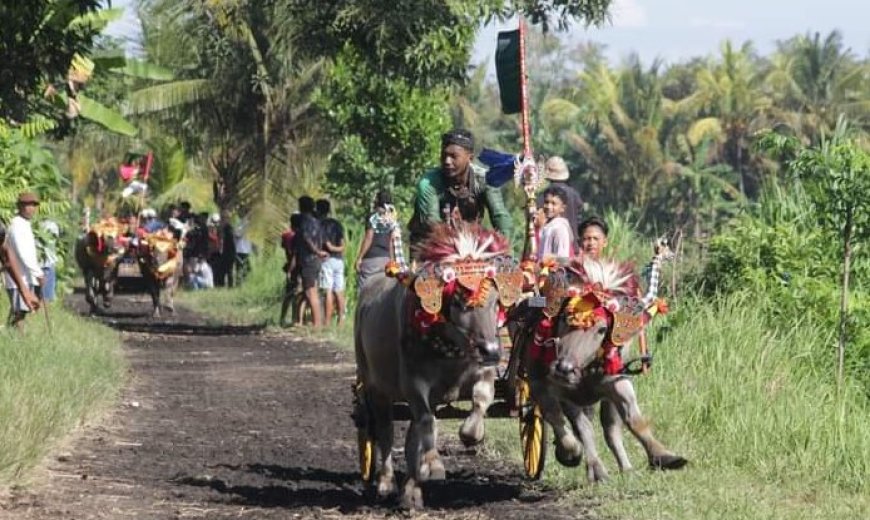 Mekepung Tradition (Photo Source: Editorial Collection)
However, because every time they finished mekepung, the bodies of the "sais" riders were always dirty and covered in mud, in 1960 the venue for mekepung was shifted to a dry road around the rice fields. At that time two mekepung organizations were formed, namely the "East Ijo Gading Team" with a red flag covering the areas of Banyubiru, Kaliakah, Tegal Badeng, Moding, Pala Sari, Melaya to Gilimanuk and the "West Ijo Gading Team" with a green flag covering the Mendoyo, Poh Santen, Tegal Cangkring, Penyaringan, Yeh Embang, Yeh Sumbul and Yeh Leh. This organization provides structure and rules for the implementation of Mekepung, as well as creating healthy competition between regions that participate in this tradition.
The Mekepung track has a shape like the letter "U" which is around 2-3 kilometers long. The unique thing is that the start line is also the finish line, so the "sais" riders and their buffalo have to make a round trip on the same track. At this point usually the "sais" riders will hit the buffalo pair hard so they can run as fast as possible and win the race.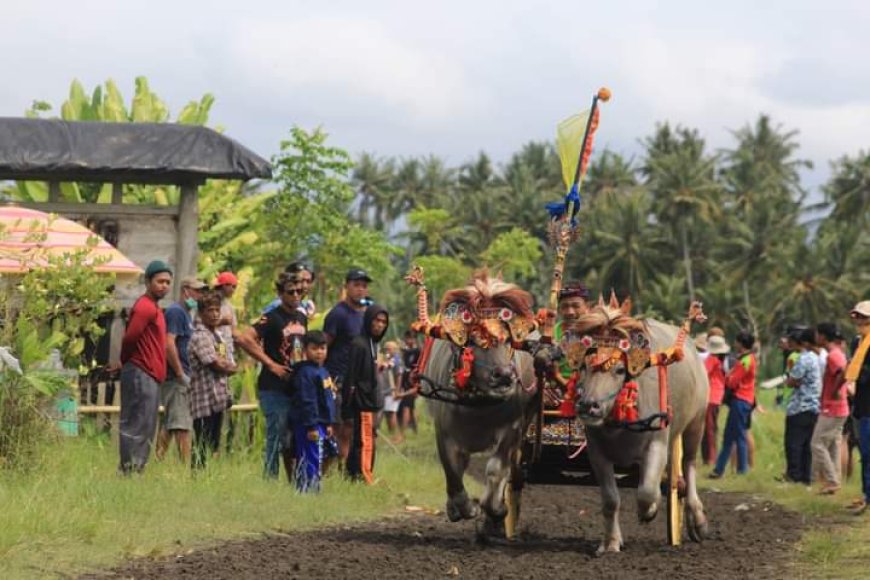 Mekepung Tradition (Photo Source: Editorial Collection)
Determining the winner in Mekepung is not only based on which pair of buffalo reaches the finish line first. The interesting thing is that the winner is also determined by the distance and relative speed between the participants. A participant will be considered the winner if he reaches the finish line first and can maintain a distance of 10 meters from the participant behind him. This creates an interesting element of strategy in the race, as participants must decide when is the right time to speed up and keep their distance from other participants.
However, if the participant behind him manages to reduce the distance to less than 10 meters, then the participant behind him will emerge as the winner. This rule provides an opportunity for slower participants to catch up to participants who are in front of them and makes the race more dynamic.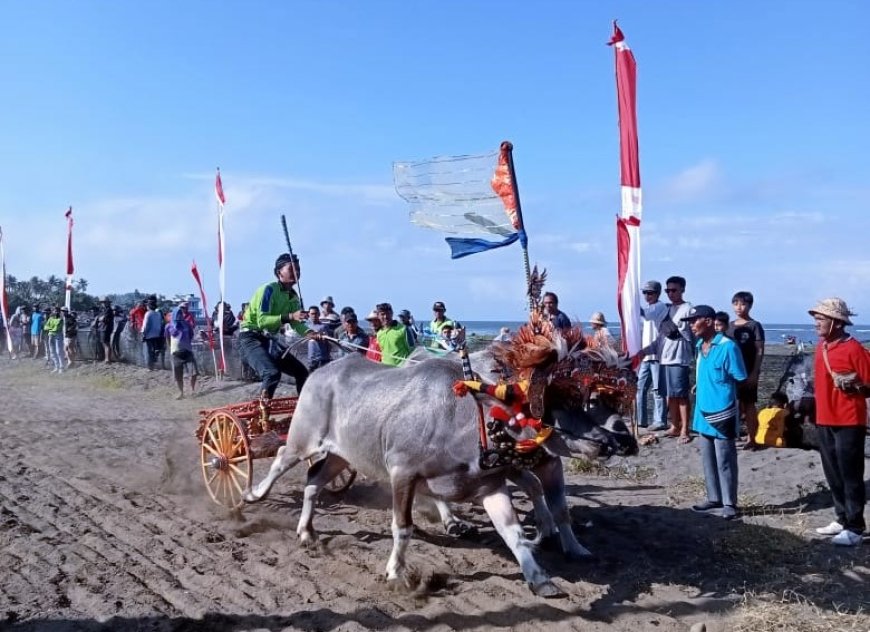 Mekepung Tradition (Photo Source: Editorial Collection)
For the people of Jembrana, Mekepung is not just an ordinary buffalo race. This tradition has a deep meaning. Mekepung is considered a form of gratitude to Sang Hyang Widhi Wasa for the abundant harvest. Mekepung is also an opportunity to strengthen brotherhood between residents and show tenacity and a spirit of never giving up. It is also hoped that the implementation of the Mekepung competition will have a positive impact on other sectors such as agriculture and livestock, because the Mekepung tradition has been proven to be able to prevent the conversion of agricultural land.
By preserving and developing the Mekepung Tradition, we will get benefits in terms of tourism, economy and cultural preservation. In every Mekepung race, we can see the hard-working buffalo being honored and celebrated. This tradition is a clear example of how cultural heritage can become a strong tourist attraction and make a significant contribution to the development of a region and a country. As such, Mekepung is a perfect example of how cultural traditions can be preserved and valued while supporting local economic growth.