The Beauty of the Waves' Tears.
Devil's Tears is a tourist attraction that offers the natural beauty of sea waves and cliffs. This place has a peaceful and tranquil atmosphere. Furthermore, it features a garden and a spacious sea view, making it worth visiting during your vacation.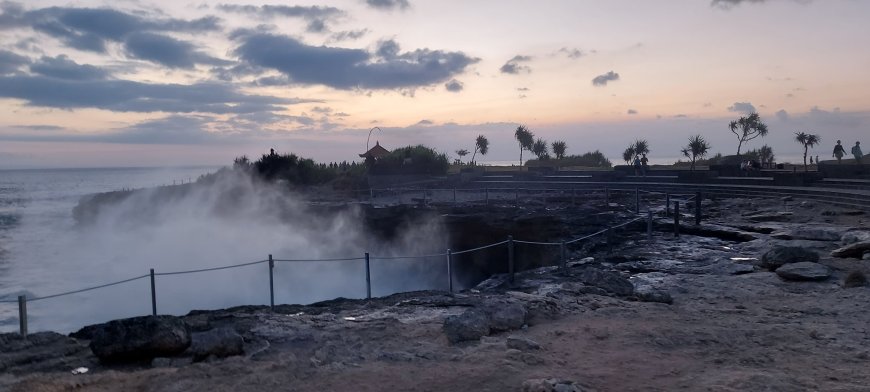 Devil Tears (Photo Source: Editorial Collection)
Devil Tears, or in Indonesian, "air mata setan," may sound like the name of a terrifying horror movie, but Devil Tears is actually the name of a tourist destination located in Nusa Lembongan. This place may have a somewhat frightening name, but behind that eerie name lies a unique and beautiful tourist destination that you can visit while vacationing in Nusa Lembongan. The unique and stunning natural beauty of this place is sure to leave you with beautiful memories during your Nusa Lembongan vacation.
Nusa Lembongan is a quite famous island among tourists, known for its beautiful white sandy beaches. In addition to its renowned white sandy beaches, Nusa Lembongan offers other tourist attractions, one of which is Devil Tears. Devil Tears presents you with a view of waves crashing against cliffs, creating high and beautiful sea spray that delights the eyes. Devil Tears also provides a vast seascape, perfect for relieving stress and fatigue. This tourist spot also boasts a spacious garden that visitors can use as a place for exercise while enjoying the soothing sound of the waves. This expansive garden is adorned with various beautiful plants that enhance the beauty of this tourist destination.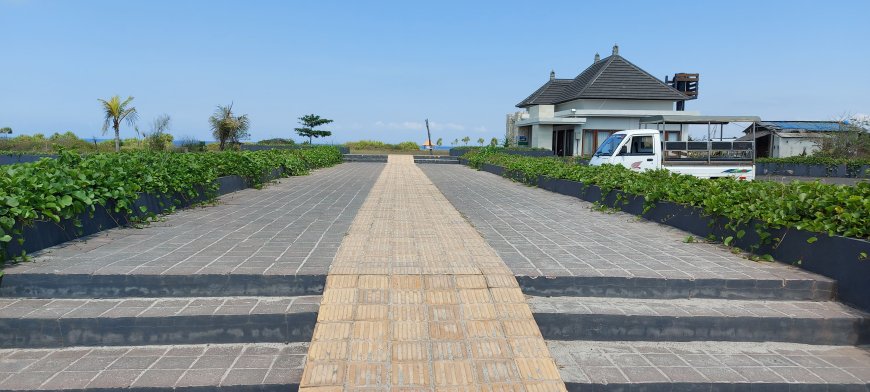 The Road to Devil Tears (Photo Source: Editorial Collection)
To enjoy Devil Tears, you need to travel to Nusa Lembongan first by taking a fast boat. Sanur Harbor and Kusamba Harbor provide fast boat services for crossing over to Nusa Lembongan. The journey from Sanur Harbor to Nusa Lembongan takes approximately 30 minutes, while from Kusamba Harbor, it takes about 15 to 20 minutes to reach Nusa Lembongan. Once you arrive in Nusa Lembongan, you can rent a motorcycle or a car near the beach where you disembark from the fast boat to continue your journey to Devil Tears. Devil Tears has ample parking space, so you don't need to worry about parking. Devil Tears is located near a destination called Dream Beach, famous for its attractive white sandy beach.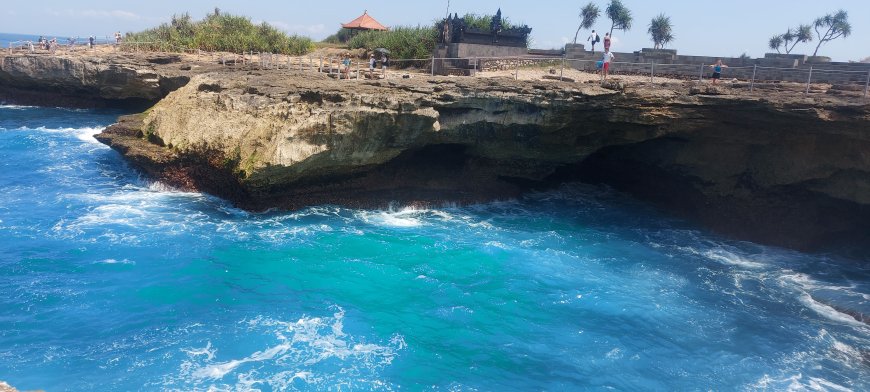 Devil Tears (Photo Source: Editorial Collection)
Devil Tears is already managed by the local government, so the place has facilities in place to support tourism activities. If you find yourself hungry or thirsty, there are places to purchase food and beverages here. Devil Tears also provides seating areas near the cliffs that visitors can use to watch the waves crashing against the cliffs and creating beautiful sea spray. Additionally, this place offers other supporting facilities such as restrooms and more.
The management of Devil Tears has established an entrance fee for visitors, which is 25 thousand Rupiah for adults and 15 thousand Rupiah for children. The fee is collected to ensure the continuous maintenance of Devil Tears, preventing it from becoming damaged or dirty. Additionally, the entrance fees are used to develop facilities that can enhance this tourist destination.
Devil Tears is suitable for those who want to unwind and relieve stress. Your stress can dissipate at Devil Tears because the place offers a peaceful atmosphere and beautiful scenery. It's not just the beautiful scenery, Devil Tears also provides the soothing sound of crashing waves that can calm your mind and alleviate the stress and fatigue you may be experiencing.
Devil Tears also offers equally stunning views compared to other tourist destinations. Therefore, this place is worthy of being used as a backdrop for your selfie photos. If you visit this tourist spot at the right time, you can witness the beauty of the high sea spray, making it a memorable keepsake from your visit here. Devil Tears is often chosen as a photography location because of its uniqueness and the beauty of the sea spray.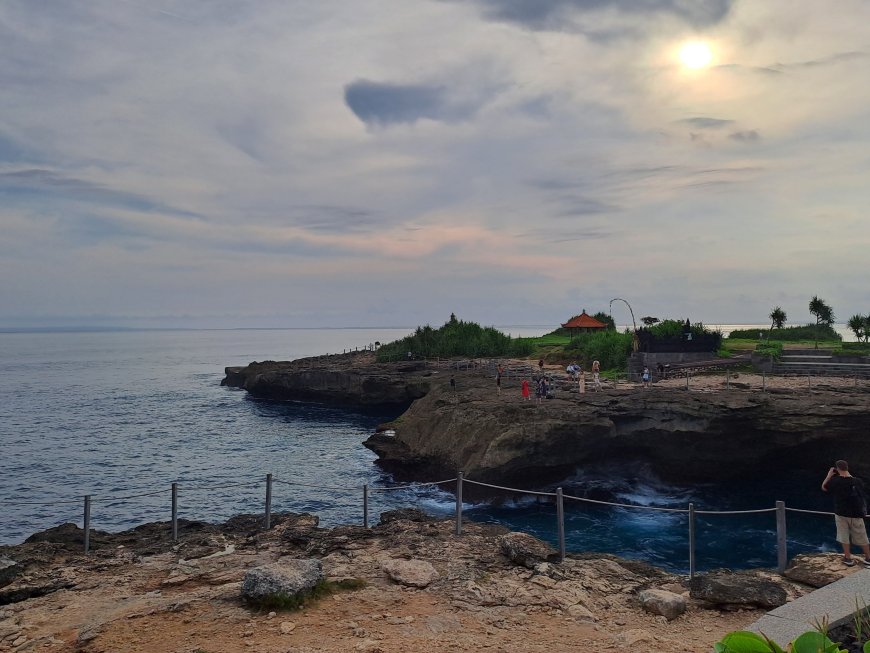 Devil Tears (Photo Source: Editorial Collection)
In Indonesian, Devil Tears is translated as "air mata setan" which literally means tears of the devil. The reason this tourist attraction was given the name Devil Tears is because it showcases sea spray created by the waves crashing against the cliffs, resembling tears. This unique phenomenon is what inspired the name Devil Tears, or "air mata setan," for this location.
The word "Devil" in the name Devil Tears is not just for decoration. It is included in the name because this place can be hazardous if you do not follow the rules. One of the rules that visitors must adhere to is not getting too close to the cliff edges. This must be done to prevent you from being pulled or tossed by the waves. When visiting Devil Tears, you must remain behind the safety lines provided by the site's management to ensure your safety during your visit.
Devil Tears is best visited during high tide. When the sea level rises, the waves at Devil Tears also become larger. The larger waves create higher and more beautiful sea spray. Furthermore, if you visit this place in the evening, you will have the opportunity to witness the beauty of the high sea spray while enjoying the captivating sound of the waves, all against the backdrop of a stunning sunset.
Devil Tears is a must-visit when you are exploring Nusa Lembongan. Devil Tears offers unique and beautiful scenery, and it also provides a tranquil and peaceful atmosphere. The serene ambiance, coupled with the soothing sound of crashing waves and the beautiful seascape, can help alleviate feelings of boredom and stress. Furthermore, this tourist spot is easily accessible, making it a destination you should consider adding to your list of places to visit while in Nusa Lembongan.