The Uniqueness of Suluban Beach Turns Out to Be the Origin of Its Name, a Must-Add to Your Bali Vacation Wishlist!
With its unique natural beauty, surfer-friendly waves, and alluring sunset views, Suluban Beach is a must-visit tourist destination in Bali. With affordable entrance fees and a variety of activities to enjoy, this beach offers an unforgettable experience on the island of Bali.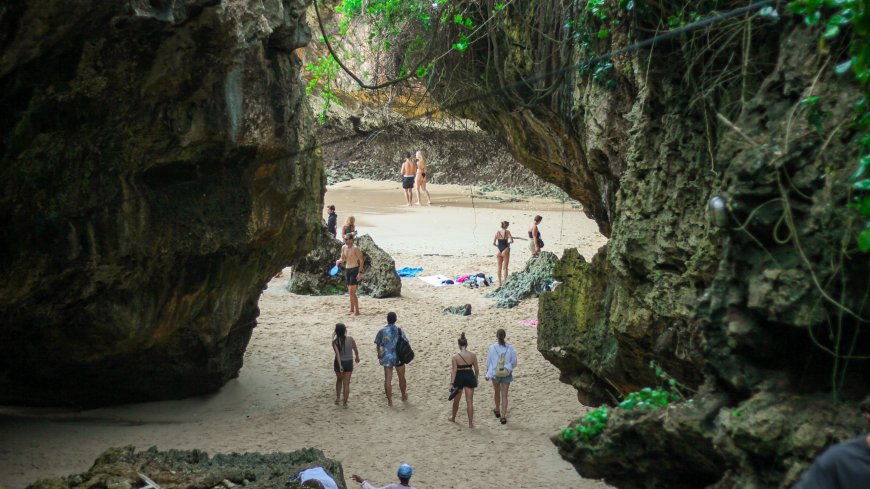 Suluban Beach (Source : Editorial Collection)
Bali, the exotic island in Indonesia, is renowned for its stunning beaches, rich culture, and vibrant nightlife. One of Bali's hidden gems is Suluban Beach, located in the village of Pecatu, South Kuta District. This beach offers a captivating combination of majestic limestone cliffs, enticing waves, and a tranquil atmosphere.
Suluban Beach, situated at the southern tip of Seminyak in Bali, was originally more famous among surfers. However, it has now garnered the interest of adventurous travelers seeking an exclusive natural experience. Nonetheless, reaching this beach is no easy feat. Access involves descending a narrow footpath and conquering steep stairs. But don't worry, during this challenging journey, you'll come across various stalls selling Bali's unique souvenirs, including handicrafts, clothing, and hats, adding an exotic touch to your adventure.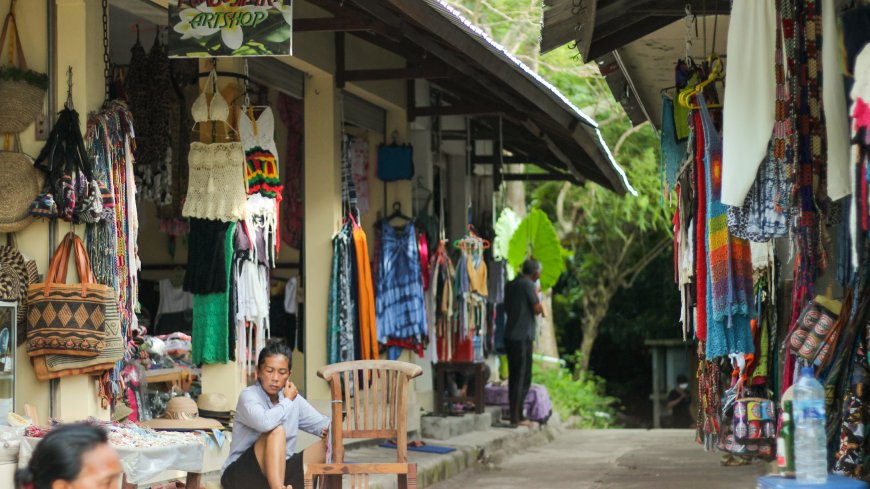 Kiosk at Suluban Beach (Source : Editorial Collection)
One of the most striking features of Suluban Beach is its breathtaking limestone formations. Towering and grand limestone rocks shape natural cliffs that give the beach its name. You can explore hidden tunnels beneath these cliffs, providing a unique sense of exploration. These tunnels offer amazing views of the crashing waves above you.
The name "Suluban" has an interesting origin, rooted in the local Balinese language. In Balinese, "Suluban" means "to pass below" or "enter through below," referring to the access to the beach through tunnels or crevices beneath the limestone cliffs. The beach is nestled between these magnificent limestone cliffs, and to reach it, visitors must journey through a narrow tunnel beneath the cliffs, creating the impression of passing beneath the rocky overhangs.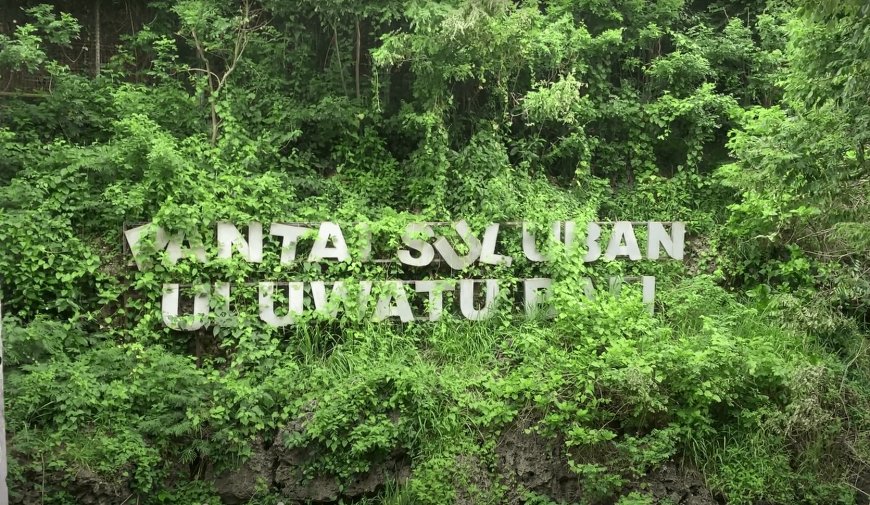 The Nameplate for Suluban Beach (Source : Editorial Collection)
Furthermore, "suluban" also alludes to this unique access, providing an extraordinary adventure experience for visitors to Suluban Beach. The name Suluban Beach reflects its distinctive character and is one of the main attractions for tourists wanting to visit this Bali gem.
Suluban Beach is a haven for surfers due to its strong and consistent waves. You'll see many talented surfers waiting for the perfect wave here. Even if you're not an experienced surfer, just watching their impressive skills can be incredibly entertaining.
Despite its popularity among surfers, Suluban Beach is also the perfect place to relax and enjoy the beauty of Bali's nature. Beyond the powerful waves, there are calmer spots along the beach, suitable for swimming and body-surfing.
Notably, the beach is also home to fascinating marine life. Snorkeling and diving are popular activities at Suluban Beach, revealing a colorful underwater world. You can encounter various fish species, beautiful coral reefs, and other marine creatures inhabiting the waters around the beach. It's the perfect opportunity to explore Bali's underwater diversity and add a new dimension to your adventure at Suluban Beach.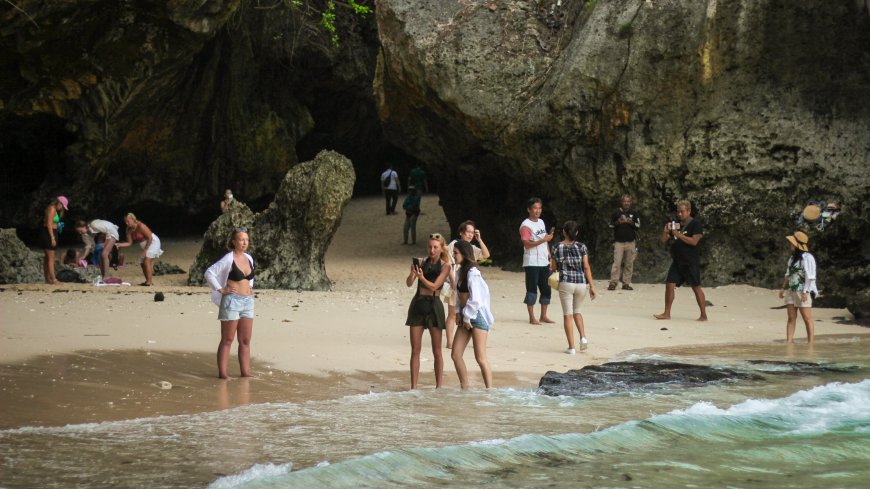 Suluban Beach (Source : Editorial Collection)
Suluban Beach offers more than just stunning scenery. There are also unique spots that add to its appeal. Visitors can relax inside small caves formed by the limestone rocks around the beach. These caves provide a comfortable place to rest and unwind, and you can explore them when the waves are not too big.
The most interesting thing is the sunset moment at Suluban Beach. When the sun sets on the horizon of Suluban Beach, the atmosphere becomes even more magical. The fiery red hues of the sunset reflect on the waves, creating an extraordinary landscape. It's the perfect time to unwind at one of the cliffside cafes, enjoy delicious food and refreshing drinks while sharing stories with friends or family. Some cafes even have pools, offering a refreshing experience when you feel like taking a dip in a more tranquil setting.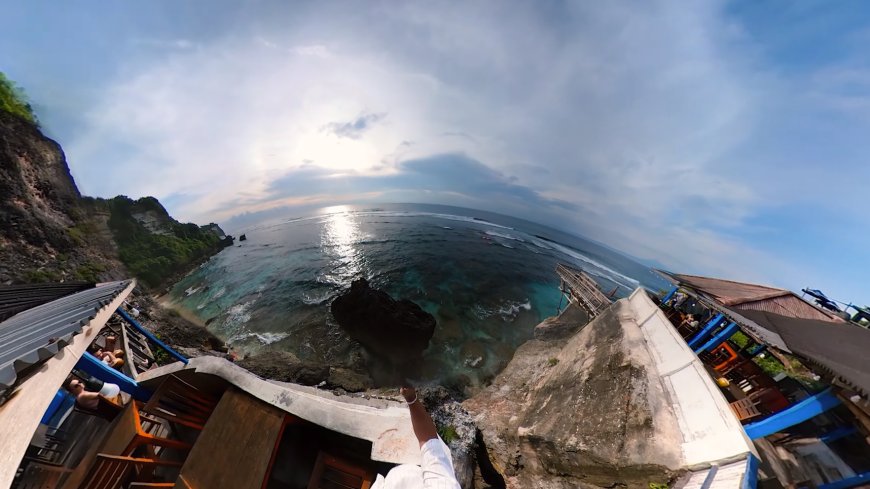 The View from The Cafe over The Coastal Cliffs (Source : Editorial Collection)
As the sun goes down, Suluban Beach undergoes a transformation into a more romantic place. Hidden tunnels beneath the cliffs are illuminated with simple lights, creating an exceptionally special atmosphere. Many couples come here for a romantic dinner with the soothing sound of waves in the background.
Suluban Beach is open 24 hours a day, and there is no entrance fee. However, visitors need to pay a parking fee of 1,000 rupiahs per motorbike or 5,000 rupiahs per car.
Suluban Beach is one of the best places in Bali to experience unparalleled natural beauty. Hidden amidst the stunning limestone cliffs, this beach offers a different experience from Bali's mainstream beaches. If you're looking for a serene, exclusive, and beautiful place to spend your time in Bali, Suluban Beach in the village of Pecatu, South Kuta District, is the perfect choice. Don't forget to bring your camera to capture the incredible natural beauty.
In preserving the cleanliness and beauty of Suluban Beach, it is essential for visitors to maintain this environment. All visitors are expected to dispose of their trash properly and avoid damaging the coral reefs or marine life. By doing so, Suluban Beach can remain an attractive and sustainable hidden paradise for future generations.