Tirtha Harum Temple: Historical Steps of the Birth of the King of Taman Bali
Temples are sacred places for Hindus with their own unique history. One of the Kawitan temples in Bangli, which is quite famous, is Tirta Harum Temple. This temple was the forerunner to the founding of the kingdom in Bangli as well as the creation of Satria Taman Bali and Mahagotra Tirta Harum.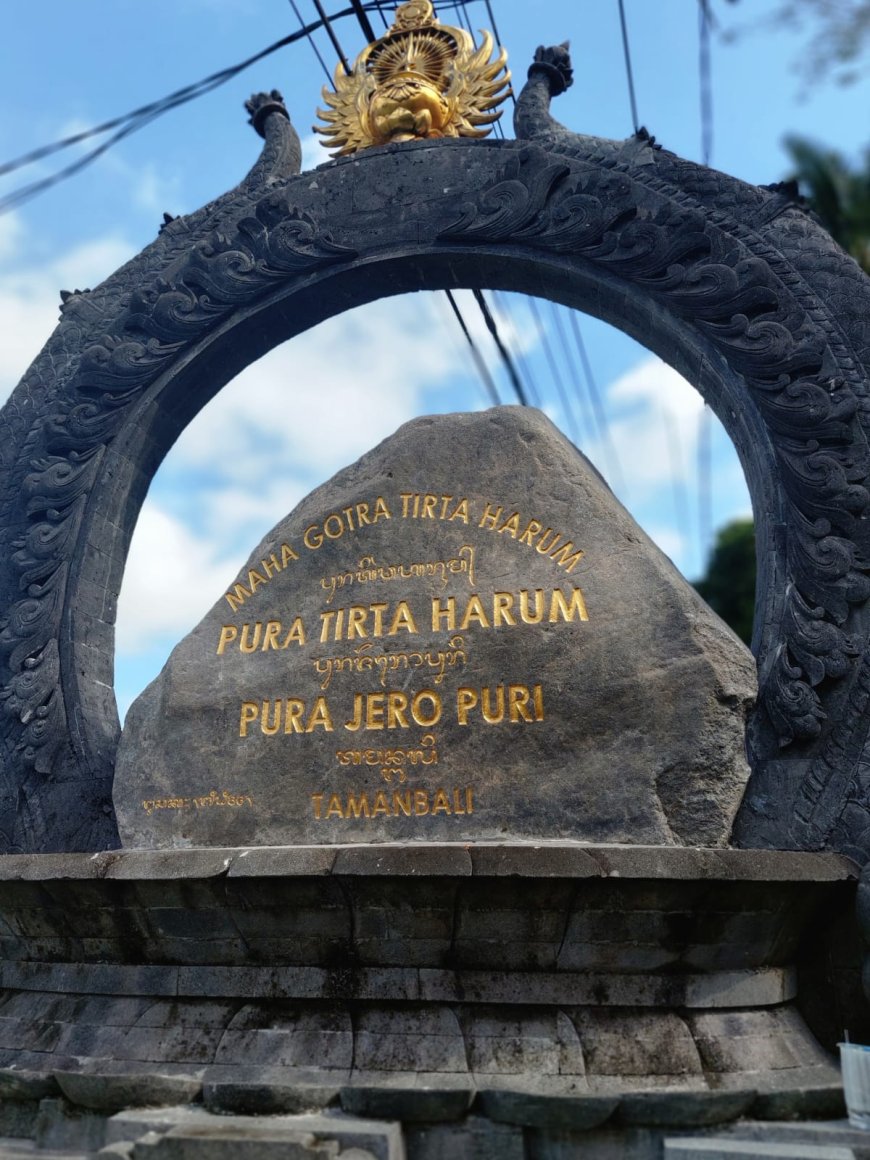 Tirta Harum Temple (Photo Source: Editorial Collection)
The island of Bali is famous as the Island of a Thousand Temples, which always has its own characteristics so that it attracts domestic and foreign tourists. The majority of Bali's population is Hindu, this is the reason for the large number of temples in Bali. Temples, as sacred places for Hindus, often present distinctive religious rituals. Not infrequently, these ritual activities attract the attention of tourists and cause admiration. Based on their function and characteristics, temples are grouped into 4 types, namely Dang Kahyangan Jagat Temple, Kahyangan Tiga Temple, Swagina Temple, and Kawitan Temple. One of the Kawitan temples that is steeped in history and beautiful surroundings is Tirtha Harum Temple.
Tirta Harum Temple is the Kawitan Satria Taman Bali and Mahagotra Tirta Harum Temple, located in Tegalwangi village, Nyalian, Banjarangkan District, Klungkung Regency. This temple is approximately 34.9 KM from Denpasar City which can be reached in 1 hour 8 minutes. This temple is easy to visit using two wheels or four wheels. However, this vehicle can take us to the starting gate of the struggle to get to the temple location. This is because Tirta Harum Temple is located in a forest area that can only be accessed on foot with two route options, namely the route from Tamanbali Village and the route from Nyalian Village. If you start from Tamanbali Village, you will find another temple called Pura Jro Puri.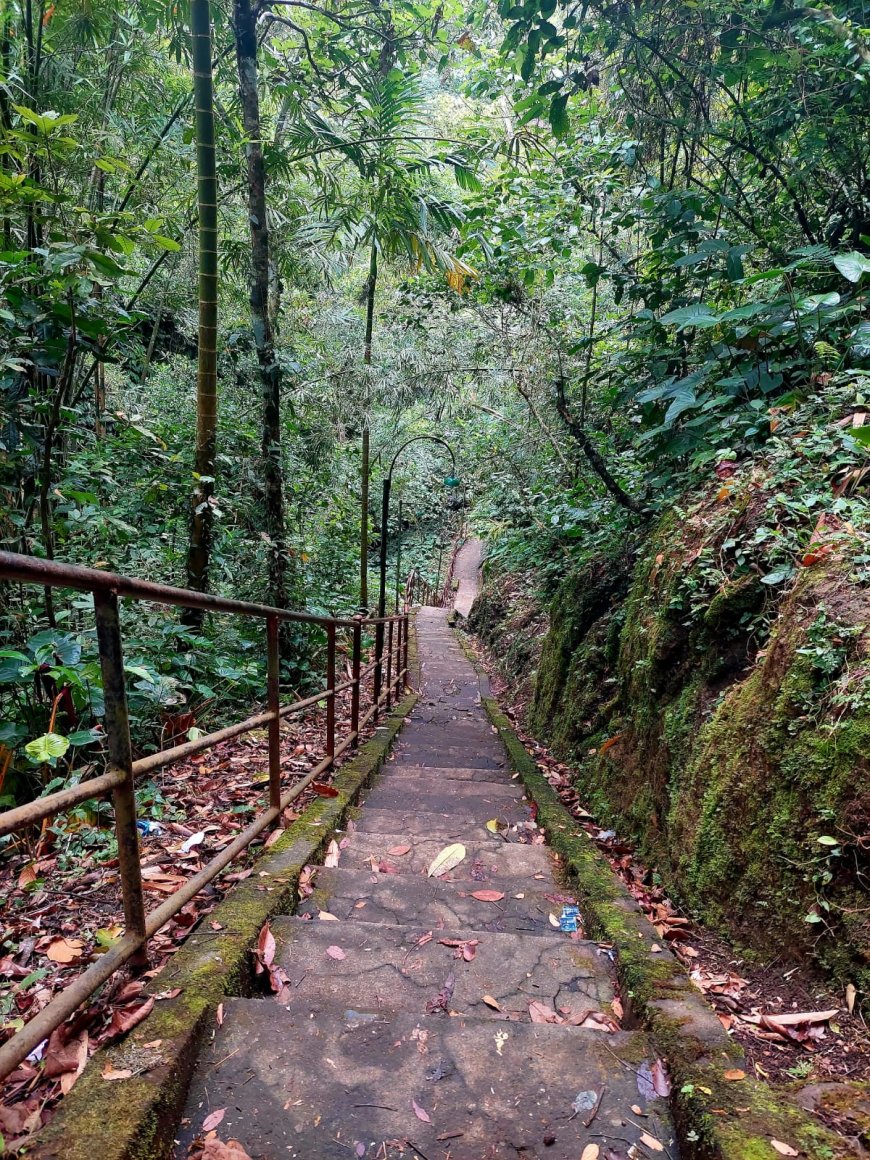 Journey to Tirta Harum Temple (Photo Source: Editorial Collection)
The steps covered by the green surroundings can relieve fatigue. During the trip, you will also be entertained by the changing songs of birds. Apart from that, there is also the roaring sound of the clear water of the Melangit River which separates Bangli and Klungkung Regencies. When you arrive at Tirta Harum Temple, you have to cross a bridge that connects over the Melangit River. The layout and spatial structure of Tirta Harum Temple uses the Tri Mandala concept, namely Nista Mandala, Madya Mandala, and Utamaning Mandala.
Nista Mandala or Jaba Sisi is the outermost area of Tirta Harum Temple where there are several shrines. The first linggih is the Pengulun Tukad Pelinggih, whose function is to ask for safety and ask permission to enter the Tirta Harum Temple area. The shrine can be found right after you cross the bridge. Next, Pelinggih Melanting, which functions as a place to ask for fertility, prosperity and safety in business. Lastly, there is Pelinggih Penglukatan which is believed to be a place to ask for offspring and work, so that things will be easier and smoother. Apart from Pelinggih, in the Jaba Sisi area there are also several springs that come from cracks in the rock walls. The sacred building in Jaba Sisi is Bale Bengong as a place to rest or gather for kawitan members.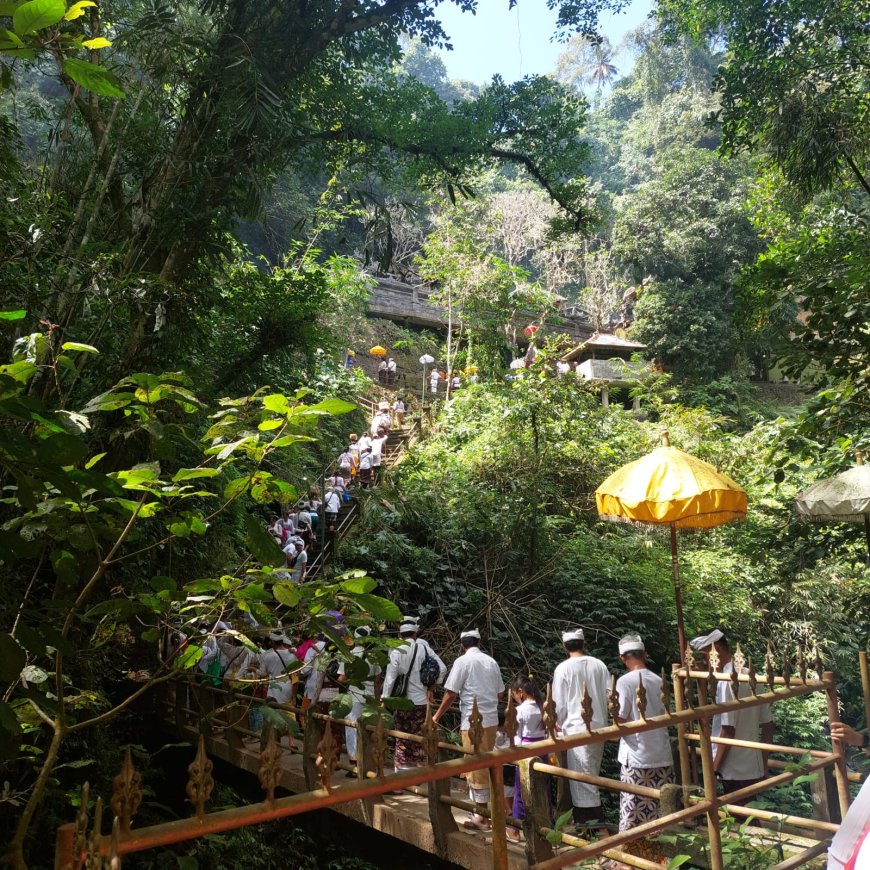 Nista Mandala or Jaba Sisi Area (Photo Source: Editorial Collection)
The next area is Madya Mandala or what is known as Central Jaba, there are several sacred buildings with their respective functions. Among them, Pelinggih Lebuh is a Pelinggih to worship Ida Bhatara Baruna as the ruler of the seas. Then, there is Bale Gendongan or Bale Kulkul as a place to sound the kulkul as a sign of the piodalan ceremony at Tirta Harum Temple. Apart from that, there are also several sacred buildings for meeting or gathering places for temple leaders, stakeholders, and kawitan manners, namely Gedong Pesamuan and Bale Pesantian. On the other hand, the Bale Wastra in this area is used as a place to store all the equipment for the Piodalan ceremony. Don't forget, there is the Pelinggih Apit Lawang and the Bentar Temple as markers to enter the Utamaning Mandala area.
In the Utamaning Mandala or Jeroan area, you will find many Pelinggih, because this area is the center of the Tirta Harum Temple. The main pelinggih found in Utamaning Mandala is Gedong Tirta, which is the Pelinggih Piteken or the place where the holy spring at Tirta Harum Temple originates, as well as being the abode of Bhatara Vishnu. The gedong also functions as a place for the Ida Bhatara-Bhatari Pura Tirta Harum gambling hall so that not just anyone can enter it. Next, there is the Pelinggih Pepelik Panca Rsi which is a meeting place or meeting for the Gods. Next, there is the Pelinggih Taman Tirta as a place for purifying (cleaning) all Pralingga Ida Bhatara before the piodalan is carried out. There is something unique about Pelinggih Taman Tirta, where on the edges or walls there are reliefs that tell the historical story of the founding of Tirta Harum Temple as well as the forerunner to the creation of kingdoms in Bangli Regency.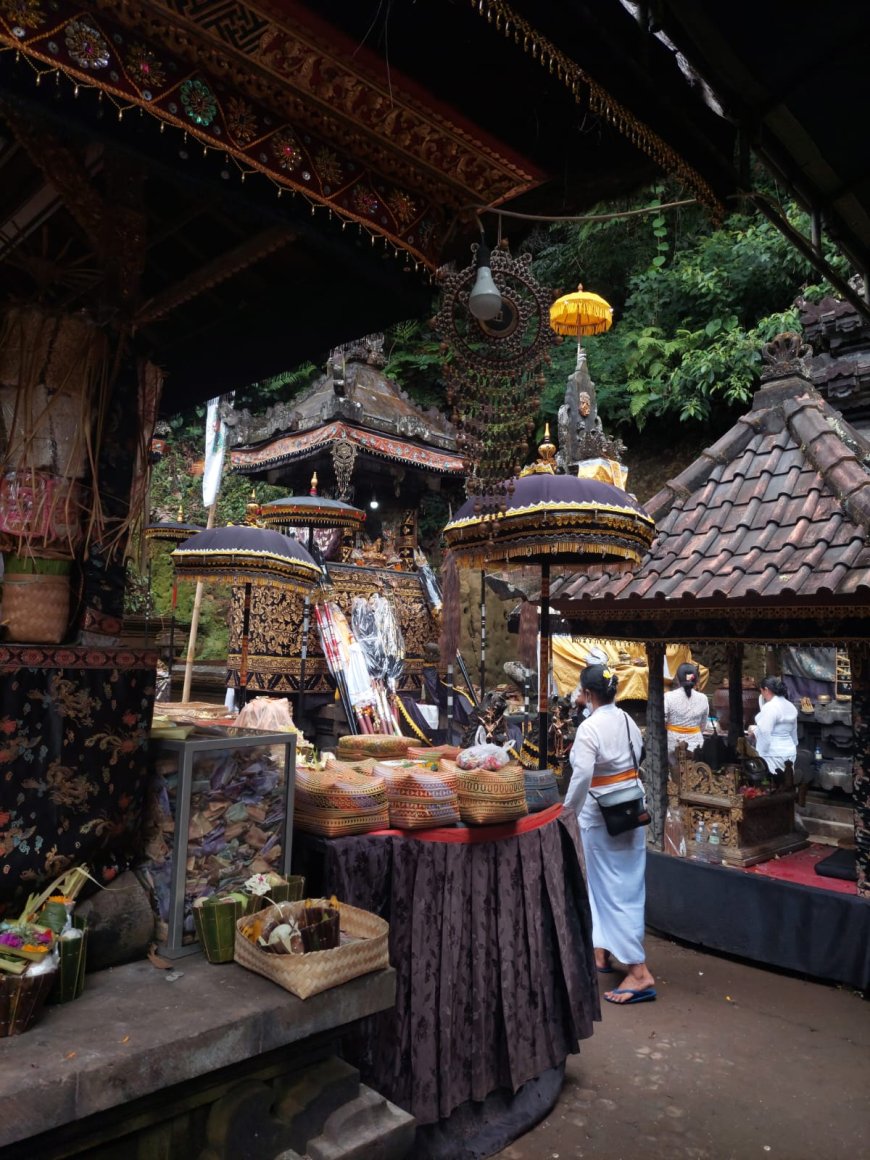 Utamaning Mandala Area at Pura Tirta Harum (Photo Source: Editorial Collection)
Other Pelinggih's are almost the same as temples in general, namely, there is Padmasana which is used as a form of sradha devotion to Ida Sang Hyang Widhi Wasa. Then, Pelinggih Meru Tumpang Tiga is Pelinggih Ida Bhatara-Bhatari Kawitan or a place of worship for the ancestors of Kawitan Satria Taman Bali along with Mahagotra Tirta Harum. Furthermore, Pelinggih Ngelurah functions as the guardian of the gods and the deliverer of human devotion to the Gods. Next, the Pelinggih Panggungan is a place for serving upakara offerings. And finally, Pelinggih Basic as a place of worship to Ida Bhatara Ananthaboga as the ruler of the earth. On the other hand, there are also several Pelinggih Pesimpangan such as Pelinggih Pesimpangan Ulun Danu (place of worship to Ulun Danu Temple), Pelinggih Mundar-Mandir (Pelinggih Pesimpangan Semeru). Apart from the pelinggih, there are also several sacred buildings in the Utamaning Mandala area, namely Bale Pepelik (Pelinggih Pengaruman), Bale Peselang, Bale Piyasan, and Bale Pawedan Alit.
Tirta Harum Temple has been established since six and a half centuries ago, to be precise around 1350 AD, which was during the arrival of Bhagawanta such as Danghyang Subali and Dangyang Jaya Rembat. The history of Pura Tirta Harum begins with Ida Danghyang Subali's request for a descendant who would become king in Central Bali. Therefore, Ida meditated in the middle of the Narmada Temple in Taman Bali, so that her wish could come true. After this meditation was finally granted, Ida had a daughter named Ida Dewi Njung Asti who was born in Tirta Harum. Then, Ida asked for help from her sister, Ida Danghyang Jaya Rembat, who had been meditating for a long time around the temple area, Goa Puri to be precise, to raise and care for her daughter.
On the other hand, the Gelgel Kingdom experienced decline during the reign of Ida Dalem Botoh Dalem Ketut Nglusir. Therefore, the Majapahit Kingdom sent Ida Sri Wijaya Rajasa to restore the glory of the kingdom to the Bali region. On one occasion, Ida Sri Wijaya traveled to Tirta Harum to take a bath. Then he met Ida Dewi Njung Asti who had grown up. Starting from this meeting, communication was created up to the level of marriage. After marriage, they had a son named Sang Angga Tirta. After living for approximately 10 years in Bali, Ida Sri Wijaya was called back to Java by the Majapahit rulers.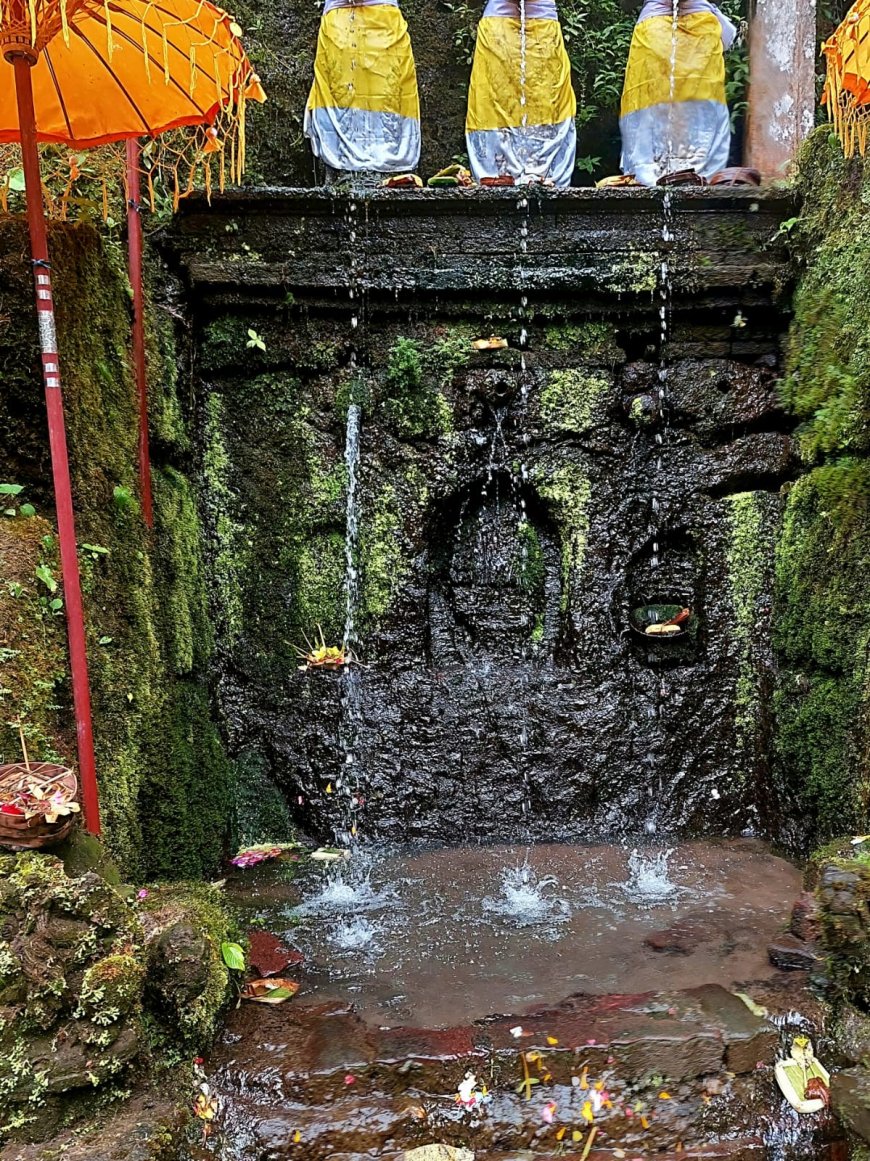 Pelinggih Penglukatan at Tirta Harum Temple (Photo Source: Editorial Collection)
Ida Sri Wijaya's son, Sang Angga Tirta, was trained from an early age by the favorite pupil of his grandfather's brother, Ida Danghyang Jaya Rambat, whose name was Ki Dukuh Suladri. When he was an adult, Sang Angga Tirta, known as Sang Anom, married Dewa Ayu Mas Dalem from the Gelgel kingdom. Then, the grandfather gave advice that if Sang Angga Tirta had his own house and offspring, he should name it Satria Taman Bali. Apart from advice, Danghyang Subali also gave a keris called Ki Lobar.
The mother-in-law asked Sang Angga Tirta to become king in the Bangli area, but he refused and preferred to meditate in Batu Madeg. Meanwhile, his wife and child, I Dewa Garba Jata, lived in Tirta Harum. When his son grew up, he looked for Sang Angga Tirtha at his hermitage to take him home. But he didn't want to go home, his son was ordered to return to become king in the Taman Bali Kingdom, and gave him advice on staying alive in Tirta Harum and guarding the Ki Lobar keris. Finally, I Dewa Garba Jata succeeded in bringing glory to the Taman Bali Kingdom while continuing his lineage called Satria Taman Bali, as well as establishing the Tirta Harum Temple. Piodalan Tirta Harum was held at Anggarkasih Juluwangi.