Explore the Peson Wood Trail in the Mangrove Forests of the Island of the Gods
Exploring Bali's Enchanting Mangrove Forests: Beauty and Community Impact. Discover the mesmerizing beauty and vital role of Bali's mangrove forests for both tourism and the local community. Explore their biodiversity and positive impact, emphasizing a stable ecosystem and active community engagement in preservation.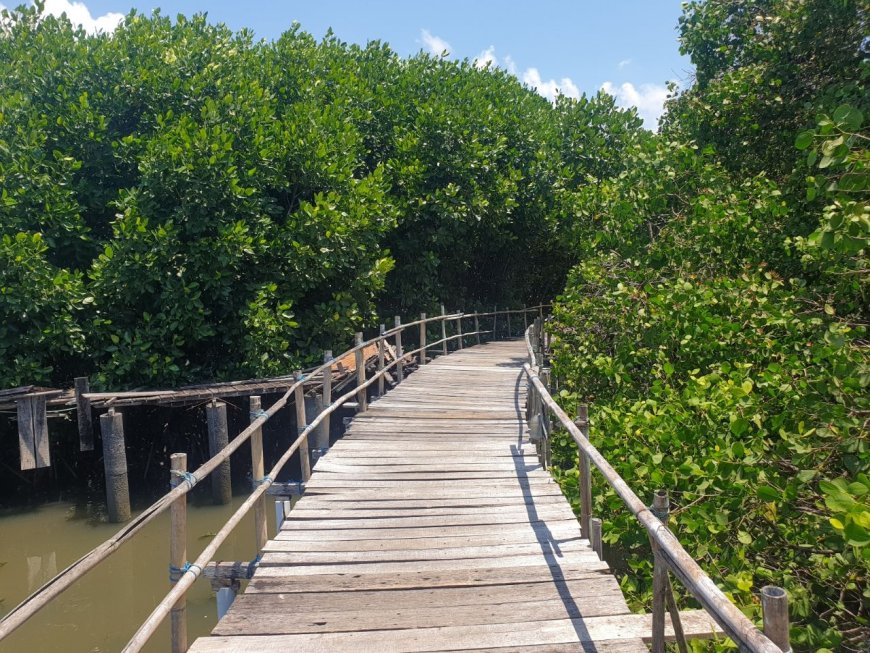 Mangrove Forest (Source Photo : Own Collection)
The mangrove forest, also known as the mangrove swamp, is surely not unfamiliar to you when you hear its name. Especially after it recently garnered attention during the G20 Summit held in Bali.
This location was chosen as the main gathering point for world leaders due to its natural beauty that represents Indonesia's concern for the environment. They gathered to enjoy the beauty and lushness of the mangrove ecosystem at the Taman Hutan Raya (Mangrove Forest Park). This forest park is located not far from I Gusti Ngurah Rai International Airport, precisely on Jalan By Pass Ngurah Rai, South Denpasar, Denpasar City, Bali.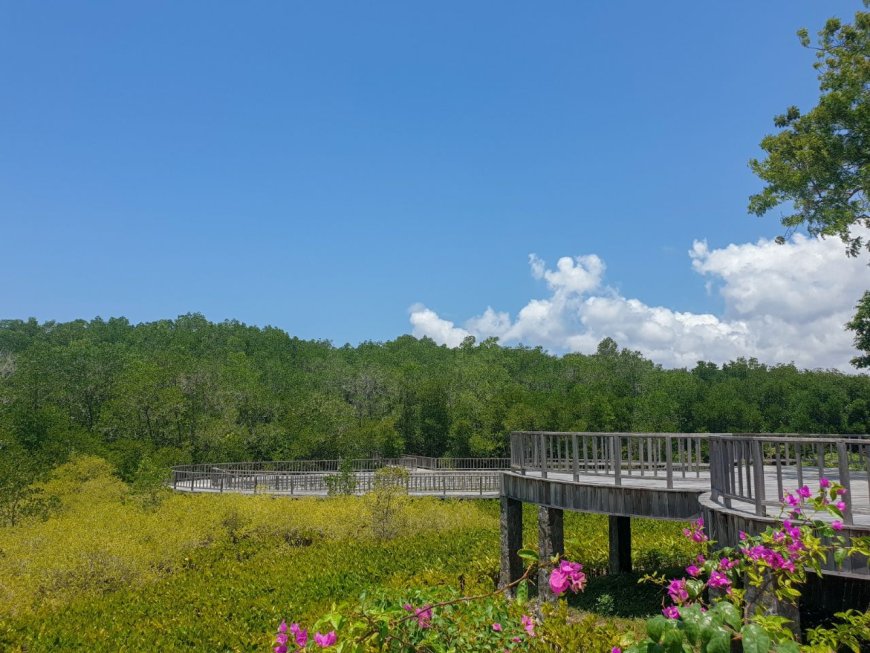 Tahura Mangrove Ngurah Rai (Source Photo : Own Collection)  
The mangrove forest is a coastal ecosystem that grows in the intertidal zone, directly influenced by the ebb and flow of tides. This ecosystem falls under the category of saline forests, where the land is constantly inundated with brackish and seawater, providing a habitat for various plants along the coastlines of tropical and subtropical regions. Primarily, mangrove trees with strong roots and roots that branch out into the ground thrive in these inundated environments, allowing them to survive in flooded conditions.
According to information from indonesia.go.id and other reliable sources, the initial movement by the Governor of Bali and the Department of Forestry at that time to develop this forest was due to the awareness of the local community in preserving the mangrove ecosystem. Previously, the area had been neglected due to pests that attacked shrimp and fish ponds in 1984. Subsequently, Minister of Forestry Decree number 888/Kpts-II/92 was issued on September 8, 1992, designating this area as the Prapat Benoa Suwung Nature Tourism Park. It is now known as the I Gusti Ngurah Rai Forest Park, the only forest park owned by the island of Bali.
The location of the Tahura (Taman Hutan Raya) is strategically positioned, covering an area of approximately 1373 hectares in the heart of Bali's business and tourism growth center, nestled between Kuta, Sanur, and Nusa Dua. The Tahura area is also adjacent to the Muara Nusa Dua Reservoir, which serves as a raw water source supplying the Kuta, Nusa Dua, and Tanjung Benoa regions. If you're looking to explore and discover tourist destinations in Bali other than beaches, temples, mountains, and more, this Forest Park can be a recommendation for those in Denpasar and its vicinity. For just an entry fee of Rp. 10,000 per person, you can visit and appreciate the vast beauty of the mangrove forest from 08:00 AM to 05:00 PM (WITA).
Visitors are allowed to bring their own drinks and light snacks to be taken into the mangrove forest. There are ample wooden seats available to use for light relaxation. However, visitors are reminded to clean up their own trash, as there are limited trash bins in the forest. It's advisable to bring your own trash bag. For visitors who are unfamiliar with mangroves, there's no need to worry. Tahura provides facilities that support visitors in enjoying and understanding the mangrove ecosystem better. Information boards are available, providing in-depth explanations about the ecosystem, biodiversity, benefits, and ways to preserve the mangroves.
Inside, a 1.8 km wooden path will be provided, allowing visitors to comfortably adventure through the vastness of this mangrove forest. At the end of the trail, there's a viewing deck approximately 20 meters high. From this viewing deck, visitors can enjoy the view of the southern coast of Teluk Benoa with its lush mangrove forest. The tower is also suitable for bird enthusiasts as it offers opportunities for bird watching.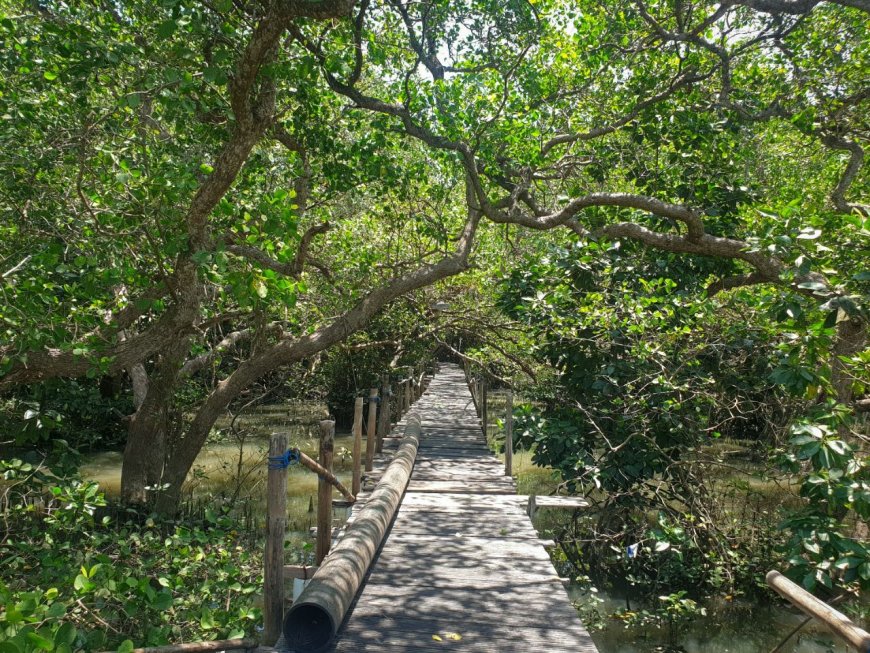 Wooden Path on Mangrove Forest (Source Photo : Own Collection) 
With the lush and verdant trees, the atmosphere in the mangrove forest remains cool during the day, complemented by a gentle breeze along the coastal edge, adding to the freshness. This makes the ideal time to visit the Forest Park more flexible. As long as it's not raining, you can explore the mangrove forest to capture those must-not-miss photo moments.
Beyond the visually pleasing beauty, the mangrove forest in Tahura also plays a crucial role for nature, humans, and the future. The presence of the mangrove forest helps prevent erosion of the soil due to the high water levels. Additionally, it serves as a natural laboratory supporting research and serving as a conversion area for various rare bird species and other wildlife.
Tahura serves as a home to several specific animal species, especially various bird species, such as Lesser Frigatebird (Fregata minor), Common Tern (Sterna hirundo), White-throated Kingfisher (Halcyon chloris), Zebra Dove (Geopelia striata), and Spotted Dove (Streptopelia chinensis). Additionally, there are aquatic animals in the vicinity of the forest and open waters, including green sea turtles (Chelonia mydas), hawksbill turtles (Eretmochelys imbricata), sea cucumbers, crabs, and various other fish.
The composition of flora and fauna species in Tahura differs from other regions, influenced by the climatic conditions, water salinity, and unique soil types in Bali. Some mangrove species dominate more in Bali compared to other areas, such as Oriental mangrove (Rhizophora mucronata), Hoary mangrove (Rhizophora apiculata), White mangrove (Avicennia alba), Holly-leaved mangrove (Acantus ilicifolius), and Apple mangrove (Sonneratia alba). Currently, the flora and fauna environment around Tahura is collectively managed by the government, environmental organizations, and local residents to maintain its cleanliness, especially from the influx of trash carried by the currents from Teluk Benoa. This is essential as Tahura primarily functions as the frontline defense for the southern part of Bali against wave erosion. According to local residents responsible for cleanliness, they can clean around 60 kg of trash entangled in the mangrove roots in a day.
The presence of Tahura also facilitates scientific activities and in-depth studies related to the mangrove ecosystem. With research laboratory facilities, analyses and tests can be conducted on soil, water, and biological samples collected from the mangrove forest. Environmental Monitoring Stations are also located at various points within the mangrove forest to monitor and record real-time data related to temperature, salinity, water quality, and other environmental parameters.
Tahura Ngurah Rai is a mangrove forest that serves as both a tourist destination and a natural environment crucial for human survival. It helps protect the soil and acts as the lungs of the world. Preserving and taking care of it has become our duty, especially for those living in Bali. The small actions we take, such as reducing plastic waste, have a significant impact in the future to ensure that this natural asset can be enjoyed by future generations.